It's #TimeToSmile during Oral Health Month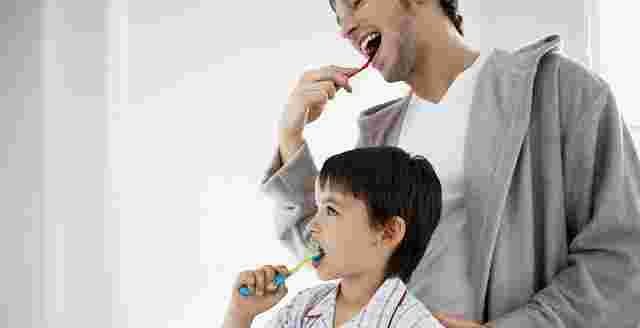 The importance of your smile can not be underestimated. For the first time ever, oral care leader, Colgate, partnered with the American Dental Association for this year's "Share More Time, Share More Smiles" campaign to engage and educate Hispanic families about the importance of proper oral care. In support of the program, Colgate and the ADA have provided healthy dental tips for families on www.colgate.com and MouthHealthy.org. Make your smile shine bright with the tips below. , along with other educational videos, documents, children's games, and resources.
Dental Visits
·         Planning ahead is the best way to make a habit of routine dental visits.  If families want to avoid the rush to go back to school in August, then plan on getting appointments for the beginning of the summer.
·         You should be visiting the dentist for routine check-ups every six months.
Making Brushing Fun
·         Position tooth brushing as a fun game – where sticky plaque is the bad guy, and their tooth brush is the superhero.
·         Try letting your child pick out his or her own toothbrush and toothpaste.
Proper Brushing Techniques
·         When brushing teeth, place the tooth brush at a 45 degree angle and brush back and forth in short, tooth-wide strokes. To clean the insides of the teeth, tilt the brush vertically and make several up and down strokes.
Food Choices Are Important
·         Because juice is high in sugar and calories, water and milk are always the best options for your little one. In fact, water and milk are the best beverages for your teeth, period.
·         Call it soda, call it pop. But sugary, carbonated beverages by any name are bad news for your child's teeth. One can of soda is the amount of sugar recommended for three days for a child.
·         Whether it's the crunch or the fact that they're shaped like their favorite animals, kids love crackers and chips. The truth? Many crackers are cookies with salt. Not only do the carbohydrates in things like crackers and chips break down into sugar, they also tend to get stuck in the tops of your teeth for long periods of time.
For more information along with other educational videos, documents, children's games, and resources visit www.colgate/sonrisas.com and MouthHealthy.org
THIS ARTICLE IS WRITTEN BY