JAMAICA: "The Most Beautiful Land…'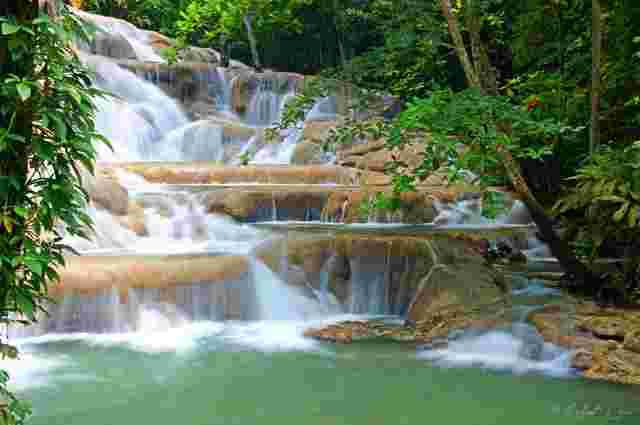 Jamaica shares the same historical origin with other countries of Latin America and the Caribbean. Although it's now an English-speaking island, it was discovered by the Spaniards and Christopher Columbus on his second voyage in 1494. Upon first gaze it's reported Columbus called it "the most beautiful land ever seen … the mountains touch the sky."
If you have not visited, or even if you have; now may be the best time to fall in love all over again with Xaymaca, the island's original name meaning land of forests and waters.
Today the island of Jamaica offers beautiful beaches and multiple attractions for all kinds of tourists, such as Columbus Park in Ocho Rios that commemorates the great historical moment of the discovery. The Columbus Museum explores the impact of the discovery and offers a bit of the pre-colonial history of Jamaica's indigenous peoples.
From nautical relics to the history of the sugar industry, the outdoor Columbus Museum, overlooking the harbor in Discovery Bay, is full of fascinating artifacts from the past of Jamaica.
Other attractions in the tourist destinations in Jamaica are:
Kingston: Spanish Town – Before Kingston became the capital of Jamaica, the former capital under the Spanish rule was what is now called Spanish Town. This town near Kingston owns many historical buildings, including the Cathedral of Santiago, the oldest in Jamaica.
Montego Bay: Rose Hall – History lovers will enjoy visiting this old Georgian-style plantation, famous for the legend of the "White Witch of Rose Hall". Aside from this daunting legend, the mansion is an authentic historic gem is widely regarded as a visually stunning property.
Negril: Seven Mile Beach – Seven Mile is one of the most famous beaches in the world on the island of Jamaica. With luxury hotels and excellent service, the holiday destination fully satisfies the needs of guests who want to relax beside the Caribbean Sea.
Ocho Rios Dunn's River Waterfalls – This breathtaking waterfall of 180 meters high is ideal for the adventurous travelers. Upriver from a beach of the Caribbean Sea and gradually work up small waterfalls is a unique and rewarding experience.
Port Antonio: Blue Lagoon – A favorite destination for swimmers, this natural lagoon is a mixture of fresh and salt water that offers an unusual experience. The famous movie "Blue Lagoon" was filmed here and is where the name comes from.To learn more go to www.visitjamaica.com
THIS ARTICLE IS WRITTEN BY