Dark Rebel Rider – The Latest Fragrance From JOHN VARVATOS Is Here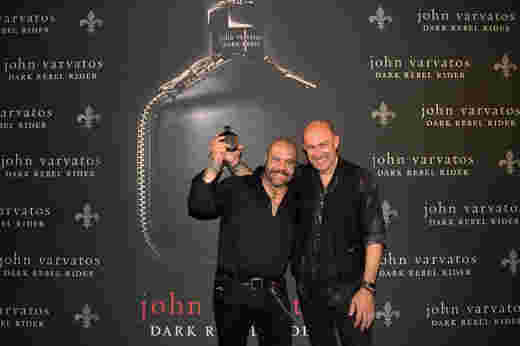 To celebrate his latest collection, and as a fitting close to the recent New York Fashion Week: Men's, designer John Varvatos has introduced his newest fragrance, Dark Rebel Rider.  We attended the exclusive event, held at the Bowery store location – once home to the notorious nightspot CBGB's – to bring you all the details. This served as the afterparty for the Varvatos' Spring/Summer 2017 Fashion Show, and as the last official event of NYFWM, in partnership with the Council of Fashion Designers of America (CFDA).
The night was filled with high energy and a sensual vibe, fitting for such a hot and sexy fragrance. As Varvatos said at the event, "Dark Rebel Rider is an extension of the Dark Rebel fragrance collection, which originally launched in 2015. The fragrance is inspired by the bad-boy biker, who walks to his own beat and has an edge but also doesn't try too hard."
He continued, "Just like my clothes, the Dark Rebel Rider fragrance is iconic, timeless and represents a courageous attitude. It is a clear expression of a personality that defies the norm."
Tyler Bryant & The Shakedown, a band on the rise and specially selected by John Varvatos, were the evening's featured performers. There to support the fragrance launch were musicians Machine Gun Kelly and Travis Mills, as well as actor Corey Hawkins and athlete/model Dale Moss. The event also kicked off an exclusive visual week of John Varvatos Dark Rebel Rider at Bloomingdale's.
The highly provocative aroma of Dark Rebel Rider awakens a bold, adventurous perspective that simply cannot be ignored. The fragrance is the result of a long-standing collaboration between Varvatos and Givaudan Vice President of Perfumery, Rodrigo Flores-Roux. "Dark Rebel Rider captures the heart and soul of rebelliousness and bad boy idols through ultra-sexy leather and ambery notes," said Flores-Roux. "It is luminous but has incredible gravitas and depth; it is supple and sensual but delivers a punch. It is voluminous but never heavy, it is an extraordinary olfactive chiaroscuro."
Fragrance Notes include:
•Top Notes: Bitter orange and citron, saffron, marjoram and hyssop
•Heart Notes: Florentine iris roots, osmanthus absolute, black violet, rockrose resin, Somalian frankincense, Sumatran bark resin and Tolu balsam
•Background: The fragrance was built around Russian Leather, one of the most luxurious leathers in the world and joins a comfortable background of cocoa bean absolute, vanilla extract, atlas cedarwood, patchouli, and tarred madras wood that exude a woodsy sweetness
AVAILABILITY:
Dark Rebel Rider is now available exclusively at Bloomingdale's. It will arrive at other fine retailers beginning August 2016.
MSRP: 4.2 FL. OZ – $89.
THIS ARTICLE IS WRITTEN BY