'Justice League' & Gillette Explore "The Best A Super Hero Can Get"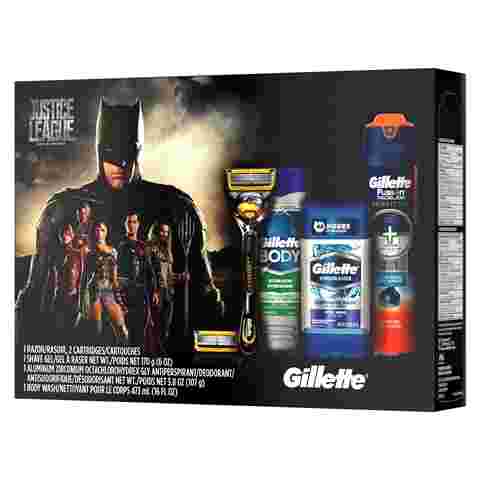 Gillette continues to live up to the motto of "The Best a Man Can Get," this time through a unique partnership with  Warner Bros. Pictures' "Justice League." The brand is taking on a new challenge – exploring how to evolve its technology to become "The Best a Super Hero Can Get."
To officially kick off the partnership, Gillette has unveiled a long-form video spot highlighting the types of considerations its highly advanced researchers will need to bear in mind for this mission, based on the extreme environmental factors that are faced by our Super Heroes daily when helping to save the universe. From Aquaman's saltwater irritation to The Flash's windburn, Gillette's Research & Development team is on a quest to further understand the grooming needs of this next generation of humans – the Justice League.
Additionally, just in time for the holiday season, Gillette will further celebrate the partnership with six limited edition gift packs – one per "Justice League" Super Hero – available at retailers nationwide starting late October.
Providing the ultimate fan experience, Gillette in partnership with Warner Bros. is also excited to share exclusive virtual reality content, available now for free download via the Apple App Store and the Google Play Store. Through this interactive journey, you can join the Justice League in a thrilling Virtual Reality experience that allows you to step into the shoes and feel the powers of the DC Super Heroes: Batman, Wonder Woman, The Flash, Aquaman, and Cyborg.
About the Justice League Limited Edition Gift Packs
Justice League Batman  Regimen Special Edition Gift Pack
1 Gillette Fusion5 ProShield razor, 2 razor cartridges, 1 ProGlide 2-in-1 Shave Gel, 1 Hydrator Body Wash, 1 Gillette Clear Gel Antiperspirant/Deodorant | MSRP: $14.99

Justice League The Flash  Sensor3 Sensitive Special Edition Gift Pack
8 Gillette Sensor3 Disposable razors, 1 Gillette Series Sensitive Shave Gel | MSRP: $9.99
Justice League Aquaman  Fusion5 Special Edition Gift Pack
1 Gillette Fusion5 razor, 3 razor cartridges, 1 Fusion Hydra Gel Hydra Smooth Shave Gel | MSRP: $9.99
Justice League Cyborg  MACH3 Turbo Special Edition Gift Pack
1 Gillette MACH3 razor, 4 razor cartridges, 1 Gillette Series Sensitive Shave Gel | MSRP: $9.99
Justice League Superman  ProShield Chill Special Edition Gift Pack
1 Gillette Fusion5 ProShield Chill razor, 2 razor cartridges, 1 ProGlide 2-in-1 Shave Gel,| MSRP: $9.99
Justice League Wonder Woman  Venus Swirl Special Edition Gift Pack
1 Venus Swirl razor, 2 razor cartridges,  1 Gillette Venus with Olay UltraMoisture – Violet Swirl Shave Gel, 1 Olay Soothing Body Wash | MSRP: $14.99
THIS ARTICLE IS WRITTEN BY