LA LA LAND Sweeps Golden Globes Winning Record Setting 7 Awards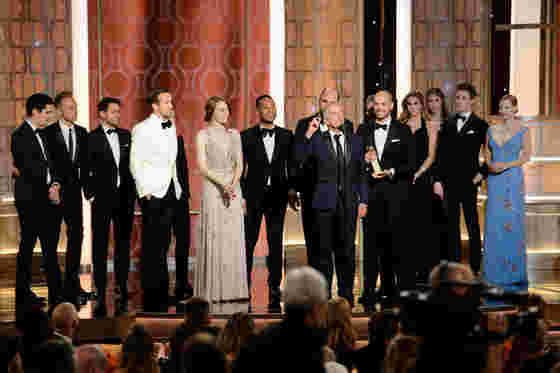 Tonight, the Hollywood Foreign Press Association (HFPA) announced the winners of the 74th Annual Golden Globe Awards. First-time show host Jimmy Fallon led the star-studded event which aired on NBC live from The Beverly Hilton. Meryl Streep was honored with the Cecil B. DeMille Award and gave an emotional speech highlighting the importance of diversity and freedom of the press. And the big winner was 'La La Land,' collecting a record-setting seven awards including Best Film Musical or Comedy, Best Actor for Ryan Gosling and Best Actress for Emma Stone.
In receiving the Cecil B. DeMille Award Streep gave one of the most powerful speeches of the night offering strong criticism of the president elect as she said, "Disrespect invites disrespect.  Violence insights violence.  When the powerful bully others, we all lose…  This brings me to the press.  We need the principled press to hold those in power accountable." In closing she said, "We have to remind each other of the privilege and the responsibility of the act of empathy.  We should all be very proud of the work Hollywood honors here tonight.  As my friend, the dearly departed Princess Leia said to me once, 'Take your broken heart.  Make it into art.'
This year's trophies were presented by an all-star list of celebrities including Ben Affleck, Casey Affleck, Drew Barrymore, Kristen Bell, Annette Bening, Matt Bomer, Pierce Brosnan, Naomi Campbell, Steve Carell, Jessica Chastain, Priyanka Chopra, Matt Damon, Viola Davis, Laura Dern, Leonardo DiCaprio, Gal Gadot, Cuba Gooding Jr., Hugh Grant, Jake Gyllenhaal, Jon Hamm, Goldie Hawn, Chris Hemsworth, Felicity Jones, Michael Keaton, Anna Kendrick, Nicole Kidman, Brie Larson, John Legend, Diego Luna, Sienna Miller, Mandy Moore, Jeffrey Dean Morgan, Timothy Olyphant, Dev Patel, Sunny Pawar, Chris Pine, Brad Pitt, Eddie Redmayne, Ryan Reynolds, Zoe Saldana, Amy Schumer, Sylvester Stallone, Sting, Emma Stone, Justin Theroux, Carrie Underwood, Vince Vaughn, Milo Ventimiglia, Sofia Vergara, Carl Weathers, Kristen Wiig and Reese Witherspoon.
Produced by dick clark productions in association with the HFPA, the Golden Globe Awards are viewed in more than 236 countries worldwide and are one of the few awards ceremonies to include both motion picture and television achievements.
Lorenzo Soria is President of the HFPA. Allen Shapiro, CEO of dick clark productions; Mike Mahan, President of dick clark productions; and Barry Adelman, Executive VP of Television at dick clark productions servedas executive producers.
Here's the full list of winners:
MOVIES
Best Motion Picture, Musical or Comedy
La La Land
Best Picture, Drama
Moonlight
Best Actor, Musical or Comedy
Ryan Gosling, La La Land
Best Actress, Musical or Comedy
Emma Stone, La La Land
Best Actor, Drama
Casey Affleck, Manchester by the Sea
Best Actress, Drama
Isabelle Huppert, Elle
Best Supporting Actor
Aaron Taylor-Johnson, Nocturnal Animals
Best Screenplay
Damien Chazelle, La La Land
Best Animated Film
Zootopia
Best Foreign-Language Film
Elle
Best Director
Damian Chazelle, La La Land
Best Original Score
La La Land
Best Original Song, Motion Picture
"City of Stars," La La Land
Best Supporting Actress
Viola Davis, Fences
TELEVISION
Best Actor, Television Drama
Billie Bob Thornton, Goliath
Best Actress, Television Series Comedy or Musical
Tracee Ellis Ross, Black-ish
Best Television Series Comedy or Musical
Atlanta
Best Performance by an Actress In A Mini-series or Motion Picture Made for Television
Sara Paulson, The People v. O.J. Simpson: American Crime Story
Best Television Limited Series or Motion Picture Made for Television
The People v. O.J. Simpson: American Crime Story
Best Performance by an Actor in a Supporting Role in a Series, Mini-Series or Motion Picture Made for Television
Hugh Laurie, The Night Manager
Best Performance by an Actress in a Supporting Role in a Series, Mini-Series or Motion Picture Made for Television
Olivia Colman, The Night Manager
Best Performance by an Actor in a Mini-Series or Motion Picture Made for Television
Tom Hiddleston, The Night Manager
Best Actress, Television Drama
Claire Foy, The Crown
Best Television Drama
The Crown, Netflix
Best Actor, Television Series Comedy or Musical
Donald Glover, Atlanta
THIS ARTICLE IS WRITTEN BY