LAS VEGAS Dining: The Culinary Program at Caesars Palace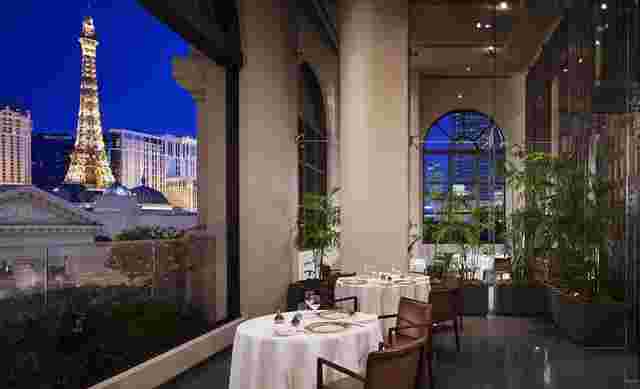 If you're lucky enough to make it to Las Vegas for 'The Money Fight' at T-Mobile Arena  we have a few options to complete your visit and turn it into an unforgettable experience. In preparation, we spent 72 hours in Sin City, tasting food created by top chefs like Guy Savoy, Gordon Ramsay and Giada De Laurentiis. Put their restaurants on your list this weekend while you're in town.
Nowadays, more than 32 million people flock to Las Vegas for a fabulous place to stay, over-the-top entertainment, and some of the best fine dining around. With so many amazing meals to be had, we'll start our Guide with our three favorite choices from Caesars Entertainment Corporation.
It's been a couple of weeks since we were hobnobbing with Gordon Ramsay at Gordon Ramsay Steak inside Paris Las Vegas (not to mention attending his fourth Las Vegas restaurant opening Fish & Chips), and we can't forget discovering Giada, and the private tour Guy Savoy gave us of his kitchen at Restaurant Guy Savoy inside Caesars Palace.
Go To Gordon Ramsay Fish & Chips
Take a trip to The LINQ Promenade and you'll find Hell's Kitchen host Gordon Ramsay's brand-new restaurant Gordon Ramsay Fish & Chips. Walk past a fire hydrant painted in the Union Jack flag's traditional red, white and blue colors as you stroll through the red telephone box doors.
The grab 'n' go location, which comes with 14 seats, offers patrons everything from its signature made-to-order Fish & Chips combo (think even-coated battered cod fillets topped with seasoned, fried crispy bits) to its Just Chips selection (we love the Dirty #2— the fries come with truffle, Parmesan, chives and lemon zest). Walk down an assembly line and watch the cooks prepare your box in front of your very eyes. The box comes with two holders for any condiments of your choosing—our favorites are the spicy ketchup and the curry and mango sauces. Be sure to wash the meal down with Ramsay's delicious sticky toffee pudding shake. One sip and you'll feel like you've been transported to the other side of the Pond.
GORDON RAMSAY FISH & CHIPS
3545 Las Vegas Blvd. South, Las Vegas, NV 89109
www.gordonramsayrestaurants.com
————————————————————————————————————
Savor A Five-Star Meal At Restaurant Guy Savoy
For a romantic evening out with your significant other, take her to The Restaurant Guy Savoy. The experience, which is unparalleled, will make her heart pitter-patter. Situated inside the Augustus Tower at Caesars Palace, it's a quick elevator ride down to the second floor if you're staying in The Laurel Collection by Caesars Palace (this is where the Augustus and Octavius towers are located). If you're at a different property on the Strip and you're running late because you can't decide which bow tie to put on, don't worry. Once your reservation is made, you own the table for the evening. Take your time. It will be waiting for you upon arrival.
From the moment you sit down, your servers will be at your beck and call. First up is the bread cart. You'll want to try everything from the seaweed ciabatta and tastes-just-like-a-carrot roll to the baguette and caramelized onion options. But don't fill up because you'll need to save room for Savoy's signature dishes.
The artichoke and black truffle soup tastes best when you dip the small slice of toasted mushroom brioche topped with black truffle butter directly into the bowl. It's OK if this gets a little messy—you have the waitstaff's approval. Another item you might want to try is the white truffle and poached egg that sits atop a bed of cauliflower purée. This special dish, which Savoy himself makes when he is in town, can be requested at the time you secure your reservation.
Don't say no to the cheese cart that stops by your table. Everything from Comté, Epoisses and Roquefort are showcased here. Indulge in a few pieces before diving into dessert. Our taste buds went crazy for the chocolate fondant, crunchy praline and chicory cream confection. We promise, yours will too.
RESTAURANT GUY SAVOY
Caesars Palace, 3570 S Las Vegas Blvd, Las Vegas, NV 89109
www.caesars.com
——————————————————————————————————————
End The Weekend With A Bang: Brunch at Giada
You'll love everything about Giada. The fun photo booth at the front of the restaurant (across from the hostess stand) steals the show before you even get inside. Snag a table for two by the oversized retractable windows and delight in Strip views while you're there. The brunch selection offers something for everyone. Preferred plates? G's baked pasta, which comes with a crispy piece of Parmesan on top of it, is seriously scrumptious. And one knife dive into the Carbonara pizza causes its sunny side up egg to spill smoothly onto the Gruyère, Fontina and pieces of crumbly Pancetta on the baked pie—it's to-die-for!
Other plates pleasing to the palate include the Italian chicken and waffle, pastry assortments (the chocolate croissant monkey bread is a must-have) and the lobster hash (think marble potatoes, Nueske's bacon, lobster meat, peppers, tomato, onion confit with sunny side up eggs and toast). Finish off brunch with the limoncello soufflé (it takes 15 minutes to bake). It's seriously perfect. Super moist, fluffy, warm, eggy, lemony and comes with the perfect top. A dish has never tasted so good. Order this with a scoop of buttermilk gelato—it's life changing.

GIADA
The Cromwell Las Vegas Hotel & Casino, 3595 S Las Vegas Blvd, Las Vegas, NV 89109
www.caesars.com
THIS ARTICLE IS WRITTEN BY