Last Minute VALENTINE'S DAY Gift Ideas!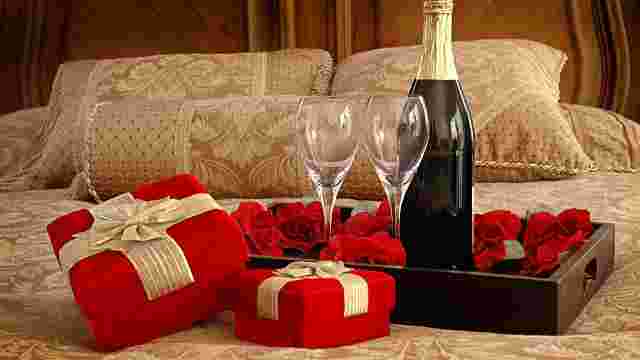 It's almost here! That fateful day for romance with absolutely no exit strategy. She's expecting, and you have to deliver. If you're still looking for Valentine's Day gift ideas, have no fear. We've compiled a few suggestions that can still make you emerge as the champ you are. And yes, we have a couple of suggestions for mom.
And being an equal opportunity provider we've even included some suggestions for the ladies in case they come to HOMBRE looking for ideas of what a guy really wants.
FOR HER
EAU DE LACOSTE SENSUELLE –
Feminine and sensual EAU DE LACOSTE SENSUELLE recreates the feeling of the evolution from a sunny day to a cool and refreshing evening – the spirit of EAU DE LACOSTE SENSUELLE is playfully and sensually transformed into a bottle, perfect for the evening ahead.
 BOSS MA VIE Pour Femme – $67
Boss Ma Vie Pour Femme is the new fragrance by Hugo Boss. Enjoy life and its pleasure in the right moment. The essence of romance.
ArtCarved Stackable Rings For Her
Delicate bands offered in multiple gold colors, featuring rope, braid, and diamond accents, which Can be worn individually, stacked, or in layers. Wide diamond bands with intricate open work designs Provide an elegant and stylish look.
Find it at www.ArtCarvedBridal.com
Callina
Help her cozy up with a chic cape $275, scarf $95 – $145 or sweater dress $299. Callina fuses style + comfort in an effortless way.
Diamondere
A classic cult favorite, jewelry on Valentine's Day is never cliché, especially when the diamonds & rubies look like this!
Lustina $716, Lavina $2,738, Austina $2,499, Evelyn $424
The Lattissima Pro –
Spare her the Starbucks bill by giving her very own De'Longhi coffee/espresso machine. Whether she's a coffee aficionado or a java newbie, De'Longhi's machines are perfect for any caffeine lover who wants authentic and delicious coffee experience at home.
The Lattisima Pro is ultimate combination of De'Longhi's one touch cappuccino system and Nespresso's capsule system. The Lattissima Pro offers exceptional high-quality espresso taste and simplicity of use in an elegant design. The Lattissima Pro  retails for $599.95
KRUPS XL2000 Milk Frother
Keep a smile on her face by helping her the to whip up dense, dry foam for her cappuccinos or creamy, luscious froth for her lattes.
KRUPS XL2000 Milk Frother $89.99
"Love Letters"
Can anyone argue that a love letter is the most cherished gift a lover can give? This Valentine's Day, Naja introduces its limited edition "Love Letters" panties.
Lace panties with individually customized love notes (that you, the lover, comes up with) printed inside. Each "note" is custom printed and must be 35 characters or less.  And the big plus? For those guys who don't feel quite up to coming up with their own poetry, the folks at Naja will help come up with something she'll love.
What could be more romantic than a secret message discreetly hidden inside her lingerie?  One written by you, of course. May be too late for this Valentine's Day since they need a coupe of weeks notice, but you have to admit is a truly unique gift idea.
Limited Edition Personalized Love Letters Panty available in Navy or Jazzy: $100
Matching Love Letters Lace Bralette available in Navy or Jazzy: $42
For information visit www.naja.co
SUGGESTIONS FOR HER TO GIVE HIM
A tie may be a traditional gift, but Beau Ties has multitude of options destined to set him apart! Visit www.beautiesltd.com
EAU DE LACOSTE L.12.12 Rouge – $69.
Inspired by the LACOSTE L.12.12 white polo shirt designed by René Lacoste in the late 1920s, EAU DE LACOSTE L.12.12 Rogue captures the transformation of the iconic polo shirt into a fragrance. EAU DE LACOSTE L.12.12 Rouge is about reinvigorating his outlook, interrupting his daily routine with playful bursts of energy while injecting a sense of excitement into his life.
The Art of Shaving's Mid-Size Kit –
A revolutionary lightweight shaving regimen designed to deliver the brand's famous close and comfortable shave while leaving the skin with a clean, light and fresh feel. The kit includes: Badger Hair Shaving Brush, Pre-Shave Oil, Shaving Cream, and After-Shave Balm to make his skin glow on that special night!
JAMES BOND 007 | Quantum –
Bond lives on the edge, he is dangerously sophisticated, his confident and charming persona let's you know that you're in for a ride. Just as 007's senses are awakened as he rises to the challenge, this intensely masculine fragrance invigorates body and mind allowing every man to harness fast-thinking and cool calm to accomplish the mission ahead with Bond-like confidence!
Triton TungstenAIR
The leading men's contemporary metal jewelry brand, newest fashion ring collection is TungstenAIR – an innovative, patented new metal that delivers durability and scratch-resistance while being lightweight for any man who has an active lifestyle.  The collection consists of 30 different styles of wear & scratch-resistant men's fashion rings. These rings are perfect forValentine's Day because of the pop of color on the inside and stylish edge design! TRITON TungstenAIR is available in bold colors such as Fire Red, Electric Blue, Midnight and Arctic White. The wide variety of styles and colors will help you easily find the perfect fashion ring for that special guy this Valentine's Day!
Find it at www.TritonJewelry.com
The Dedica –
Delivering an authentic Italian espresso experience, the Dedica is distinguished by its elegant stainless steel construction and a strikingly slim footprint that measures a mere six inches wide.
The Dedica retails for $299.99
Diamondere Cufflinks 
Guys like jewelry just as much as ladies, these cufflinks hit all the marks! **Special tip: Personalize the Era "timepiece" by customizing the clock hands to the recipients time of birth or marriage!
Walt $1,183, Conan $672, Era $1,393
Alpine Headphones –
Valentine's Day is sensory, and these emulate every bit of it with big "Feel Your Music" sound & amazing style! $299
For the "Busy Mom" — Cooking dinner doesn't have to be a huge production… the T-fal ActiFry is the Busy-Mom's Kitchen  Must-Have. The healthy multi-cooker—thanks to its unique technologies – creates lower fat versions of the foods we all love such as French Fries, Stir Fry, and Mac 'n' Cheese with no more than 1 spoonful of oil.  It's incredibly easy to use – simply put in the ingredients, turn on the machine, and let it go. Not to mention, with dishwasher safe parts, it's fast and easy clean up.
(Available at Bed Bath & Beyond for $249)
For the "Tea- Afficionado Mom" –
Give Mom the gift of convenience with the T-fal 1.7L Electric Kettle, which guarantees a hot, delicious brew without the hassle of monitoring the stovetop every minute. Featuring a unique automatic shut-off function, the T-fal 1.7L Electric Kettle will only brew as long as needed, as the water level indicators allow users to measure preferred serving size. It also features a concealed heating element to ensure maximum safety, a hinged and lockable lid to prevent spilling while pouring and an on/off button under the handle so users can start or stop brewing while holding the kettle.
(Available for $39.99)
Elizabeth Taylor White Diamonds Lustre
Make sure mom dazzles with diamonds this Valentine's Day – with White Diamonds of course.  Elizabeth Taylor  White Diamonds Lustre explores a fresh side of the iconic White Diamonds Elizabeth Taylor, with sheer effervescent florals that highlight the heart of the fragrance. It's the perfect gift to give the glamorous, modern woman to make sure she trulysparkles.
White Diamonds Lustre Eau de Toilette Spray 3.3oz./100ml $68.00
Available at Macys and Macys.com
Union & Fifth
This year's Pantone color "Marsala" makes Valentine's Day hues completely on trend! Take advantage with Union & Fifth's designer consigned "Marsala" curated collection —100% of proceeds from sales go directly to charities!
Eskandar Linen Scarf $50, Butter by Nadia Signature Wrap Gown $65, Judith Lieber Fruity Minaudiere $2,200
FOR EVERYONE!
IN THE SPIRIT

DELEÓN Tequila
For Valentine's Day this year, think outside the box (of chocolates). There are few times you can go wrong by giving the gift of a luxury spirit – a good tequila tends to be an underrated asset in anyone's personal bar. And for a memorable evening for the more daring couple, sharing a bottle of high-end tequila trumps the typical champagne.
DELEÓN Tequila is establishing itself as the new standard of luxury in tequila, presented in a bold, bespoke-style bottle made from high quality fragrance-grade glass with fine-line detailing that accentuates the crowning, signature ornate metal closure. Preferably served neat in a rocks glass.
The complete DELEÓN Tequila portfolio delivers six distinctive variants – three ultra-premium and three luxury.  Leading the DELEÓN Tequila line-up is the new Platinum.  Un-aged and unrivaled in finish, DELEÓN Platinum Tequila ($60 MSRP per 750ml) is a provocative Blanco with a rich, complex agave honey that is slow-fermented and twice-distilled.
For the date with a high price tag, the exquisitely bold and refined Leóna ($850 USD) is selected from the DELEÓN private reserves, long-aged and rested in both American Oak and French Sauternes casks.
Sangria Lolea is elegantly crafted and perfect for any date or celebration this Valentine's Day. Add a sophisticated touch of style to your romantic dinner, picnic or home.
Sangria, is a wine cocktail synonymous with social gatherings, celebration and joy! Let your bottle of sangria add a pop of color and great décor to the festivities. Prepared with either red wine or white wine, Sangria Lolea is made with all natural ingredients and has a moderate content of alcohol.
Visit www.sangrialolea.com
Fifty Shades of Grey Wine
Whether you're seeking to make Valentine's Day a sensual, seductive evening, or your significant other is a huge fan of the world-renowned series, Fifty Shades of Grey Wine is the perfect way to set the mood for your intimate night in. Varietals include Red Satin, a decadent blend of cherry, cocoa powder creamy caramel and vanilla, and White Silk, which features floral aromas of lychee, honey and pear.
VOGA Italia Wines
For the fashion-forward celebrator, VOGA Italia Wines are a chic way to add a touch of class to your Valentine's Day celebrations. The beauty of the bottles are eclipsed only by the excellence of the wines inside them. From white to red, still to sparkling, crisp to sweet, the wines of VOGA Italia are brilliant articulations of the famed terroirs from which they hail, rich in flavor and full of character. The collection includes Pinot Grigio, Prosecco, Sparkling, Moscato, Dolce Rosso and Red Fusion in 750ml, as well as a 187ml version of the distinctive Sparkling bottle referred to as Baby VOGA.
Absolut Elyx
Absolut's newest luxury vodka, Absolut Elyx – is made from single-estate wheat from Råbelöf Castle in Sweden. Perfect for the special man or lady in your life! Recent fans include Kate Upton, David Arquette, as well as Chloe Sevigny.With a rich and silky taste, Absolut Elyx is the most delectable, distilled vodka adorned in a beautifully  designed copper and glass bottle. While creating the quintessential Martini, drink on the rocks or add some strawberries for a romantic twist – you can also now engrave your love's name on the bottle for extra romance. Try the Ingrid cocktail to impress any woman in your life.
Absolut Elyx retails at $49 in select high-end retailers: www.absolutelyx.com. www.facebook.com/absolutelyx.us
or follow @absolutelyx. Personal engraving can be ordered for $59 at: http://www.reservebar.com/products/absolut-elyx-custom-engraved-bottle-1
Ingrid Cocktail
3 PARTS ABSOLUT ELYX
1 PART BITTERS (CAMPARI)
3 PARTS FRESHLY SQUEEZED PINK GRAPEFRUIT JUICE
1 PART SUGAR SYRUP
2 DASHES ORANGE BITTERS
HALF AN EGG WHITE
COCKTAIL COUPE VESSEL, GARNISHED WITH EDIBLE FLOWERS
SHAKE ALL INGREDIENTS FIRST WITHOUT ICE TO EMULSIFY EGG WHITE. SHAKE WITH CUBED ICE AND STRAIN INTO A CHILLED COCKTAIL COUPE
THIS ARTICLE IS WRITTEN BY