LOEWS MIAMI BEACH HOTEL: Luxury Redefined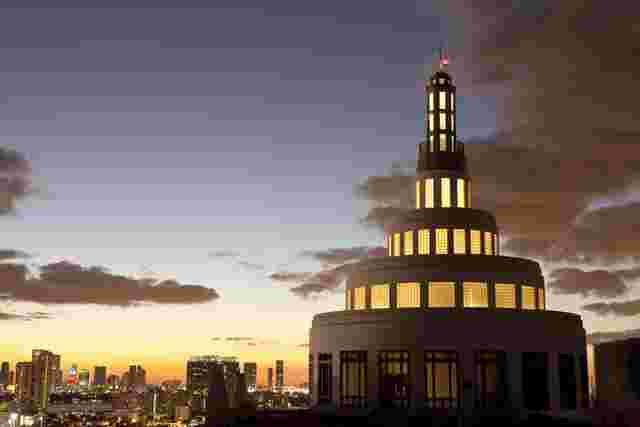 The peak atop an Art Deco tower on 16th Street and Collins Avenue – visible from most points in South Beach – is the beacon of light signifying you've reached Nirvana. Located in the heart of Miami's pleasure center, Loews Miami Beach is undoubtedly the ideal luxury resort hotel for your week at Art Basel (December 1 – December 4, 2016), the South Beach Wine & Food Festival (February 22 – 26, 2017), or just about any time 'the Magic City' calls your name.
Although its proximity to the area's best restaurants and shopping in Lincoln Road or Ocean Drive make it a prime location, it's unlikely you'll want to venture very far from your hotel room. Why? Because Loews has everything you need, including one of the most enchanting beachfronts in South Beach, premier bars and restaurants, exclusive boutiques, a picture perfect promenade leading to the idyllic pool, and a relaxing spa just waiting for you to exhale. Beyond being a haven for luxury travelers in search of the ultimate bliss, Loews remains a favorite destination for locals who rank the property top in personalized attention, with some of the best culinary and cocktail samplings in town.
With its St. Moritz tower restored to the 1939 art deco origins, the entire complex combines boutique charm with updated opulence. No wonder hotels.com named it the top luxury hotel in Miami, and ABC featured it as a romantic setting in "The Bachelor."
"We were thrilled to be part of such a popular reality series, showcasing our hotel and Miami to viewers from around the world," said at the time Alex Tonarelli, Managing Director of Loews Miami Beach. "The picturesque resort setting, combined with our quality of service and unmatched luxury amenities, make for an authentically local experience."
Getting there
Only 20 minutes from Miami's airport (35 minutes away from Ft. Lauderdale's) the location is central and easily accessible. 5-star dining and exciting nightlife is right out of your front door.
With 790 luxury guest rooms, including 65 suites with stunning views (plus four presidential suites), Loews is one of the largest hotels in South Beach. It makes no difference. The quality of service is so superior and attentive that you will feel as though you're the only VIP guest that matters. Courtesy and friendliness is paramount, it trickles down from the general manager, to the front desk personnel, to the attendants cleaning your room, and handling your luggage. It will exceed your expectations, especially if already used to demanding the best.
Restaurants & Lounges
When it comes to dining, Loews Miami Beach has restaurants consistently named to "best of" lists.
Lure Fishbar
First on the list is the signature restaurant and a seafood lover's delight, Lure Fishbar. After opening a successful venue in New York's Soho, Executive Chef Josh Capon chose Loews for its Miami outpost. The yacht-inspired setting and menu is loaded with fresh seafood and other classic dishes to its natural home in South Beach.
House favorites include a wide selection of sushi, shucked oysters and fresh shellfish. For landlovers the options go beyond seafood, with a full menu consisting of aged steaks, pastas, salads and tempting desserts.
Preston's
In search of an oceanfront restaurant in South Beach? Preston's is the answer. Executive Chef Frederic Delaire oversees all food operations at Loews Miami Beach and this is the restaurant that best showcases his award winning cuisine. The menu features coastally inspired Mediterranean dishes prepared with local flavors. There's even a specially designed children's menu, and coffee lovers will enjoy locally roasted Panther French press coffee, with beans sourced from Bolivia, Colombia, and Nicaragua.
It's hard to beat the views with dining available indoors, or outside on the terrace overlooking the pool and Atlantic Ocean.
Hemisphere Lounge
No need to venture to north Miami, you can enjoy the trend-setting food flavored craft beers from the popular Funky Buddha Brewery right here. Other organic microbrews, small batch bourbons, sipping rums, and smoked cocktail creations are also available to quench every spirit connoisseurs' thirst. Pair your drink with burgers, fresh sushi and dim sum, or favorites from the menu like Cuban sandwiches. 

SoBe Social
Tapas, fresh ceviches and delicate tiraditos abound at this intimate dinner spot.

Nautilus Bar & Grill
Step away from the sun, lounge poolside or escape the waves with a tropical cocktail or light fare from the grill.
SoBe Scoops
SoBe Scoops offers a variety of sweet treats featuring the locally churned Azucar ice cream with unique, Miami influenced flavors, homemade bakery treats and a candy wall.
Room Service
Of course, if you choose to enjoy dinner from the privacy of your balcony overlooking the ocean, there's 24 room service available.
The Rum Line
It was voted 'Best Cocktail Bar 2015' for a reason. The cocktail selections are abundant, but it's the crowd and the atmosphere that set it apart.
When you picture 'Miami nightlife,' this is what you envision. Beautiful people, craft cocktails, vibrant music, the ocean breeze blowing; all under the stars and Miami moon.
The eclectic bar menu showcases original and long lost recipes from the 1930s to the 1960s including signature punches in scorpion bowls and hand-shaken daiquiris in coconut shells. You can complement the libations with a menu of small plates and fresh seafood.
This is a veritable tropical hideaway and a 'must see' for any South Beach visit.
Hemisphere Lounge
For a fun night with dancing and good music choose Hemisphere Lounge. Take in local sounds, classic rock, Latin music, up-and-coming stars and DJs, and savor the flavor of Miami. On my night there the band playing could easily have reached the finals at "American Idol" or "The Voice."
Accommodations
Rooms at Loews Miami Beach are spacious, possessing the most advanced amenities. The 790 guest rooms are comfortable, ranging in size from 350 SF for a superior room, to a 900 SF Bayview Suite with enough space for lounging, living, and 2 balconies; to an over 2000 SF Presidential bi-level suite. You can choose balcony, Miami skyline, bay view, ocean front or multiple combinations.
In addition to complimentary Wi-Fi throughout the entire hotel, amenities in all rooms include iPod docking stations, Keurig coffeemaker with complimentary coffee and tea, spacious work desk and marble bathrooms.
You want spectacular city skyline and bay views, wraparound balcony, private state of the art cardio fitness space, wet bar, a dining table for 6 and a Jacuzzi tub? Loews has a suite with your name. Whether you choose the plush Rotunda Jr. Suite, the elegant St. Moritz Suite, or opt to go big in the Ocean Front Presidential, this will be the envy of all your Instagram followers.
exhale Spa
To complete your Loews Miami Beach Hotel experience be sure to visit exhale. The three-story spa has 15 treatment rooms and a state-of-the-art fitness center with a complete menu of services that will revive and restore your body and spirit.
exhale offers everything from facials to massages, waxing to healing Eastern practices, perfectly leveraging ancient and new spa practices alike.
As a modern hombre be sure to try two of my favorites:
The exhale True Facial, which will leave your face feeling refreshed and restored; and the spa's signature exhale Flow Massage, designed to open locked muscles, free energy blockages, and relieve tension.
Fitness Center & Mind Body Studio
The Fitness Center at the Loews Miami Beach Hotel offers state-of-the-art cardiovascular and strengthening equipment, including free weights up to 50 pounds, stationery and spin bikes, treadmills, elliptical machines, back and chest machines, plus a small studio area for stretching or floor and mat work.
For a full-body workout try their Core Fusion. This is a heart-pumping, soul-seeking, energy-inducing fitness program allowing you to strengthen your body, while refocusing the mind.
One of the main highlights of Loews Miami Beach is its outstanding pool. The tall date palm trees and the long corridor is a prelude of the pleasurable journey you're about to encounter.
Enjoy a laid back day with touches of luxury, like Evian misting, frozen grape kabobs and delicious chilled fruit smoothies courtesy of the concierge. Savor light bites and tropical cocktails to really feel like you've entered paradise.
On the other side of the pool's fence is a charming boardwalk and your private ocean front. Go for a pleasant stroll and just take in the refreshing ocean breeze. There's always the option of jetskiing, parasailing, kayaking or a boat tour.
If sand and the beach is not for you, SOAK will be more your speed.
Here you'll find eight state-of-the-art poolside cabanas with rooftop sundecks, AC, plush furnishings, personal concierge service, and other VIP amenities. Also available are oversized, comfy daybeds, perfect for sunning and relaxing in a tranquil, exclusive environment.
SOAK Cabanas offer a personalized Butler Service, an exclusive and designated area, Apple TV, safe, marble bathrooms with a glass shower, DVD player, Satellite TV, iPad—with Netflix, climate control, Jacuzzi exclusive for the Cabana, daybed area, and sundeck with ocean views. 
Daybeds are oversized plush lounge chairs that will comfortably fit two people for sitting/lounging.
Business Services
It's not all about fun, for our large corporate readership we're including the property's business related offerings. Loews Miami Beach stands out as the largest oceanfront property  south of 40th Street for conventions, conferences and business gatherings. The venue has 85,000 square feet of meeting space and an enormous ocean-view grand ballroom, and can accommodate groups from 10 to two thousand comfortably. All the audio visual needs can be met and there's even a full service mailing and FedEx Business Center. With the beachfront, spa, restaurants and all the amenities available you're sure to make your business much more enjoyable, and therefore more productive.
16th Annual South Beach Food & Wine Festival
This coming February, Loews Miami Beach will once again be the host hotel for the 16th Annual South Beach Wine & Food Festival.
All of the Food Network chefs stay at the property and the venue is home to some of the most exclusive events, including 'Tacos after Dark' hosted by Aaron Sanchez, and the gala Tribute Dinner which in 2017 will honor José Andrés and Maisons Marques & Domaines owners Jean-Claude Rouzaud and Frédéric Rouzaud with Master of Ceremonies Anthony Bourdain.
For more infomation visit Loews Miami Beach at www.loewshotels.com/miamibeach
Loews Miami Beach
1601 Collins Ave,
Miami Beach, FL 33139
T: (305) 604-1601
· Facebook – facebook.com/LoewsMiamiBeach
· Twitter – @loews_hotels #loewsmiami
· Instagram – @loewshotels #loewsmiami
THIS ARTICLE IS WRITTEN BY