London's CLARIDGES Hotel Unveils 2016 Christmas Tree and Enchanted Forest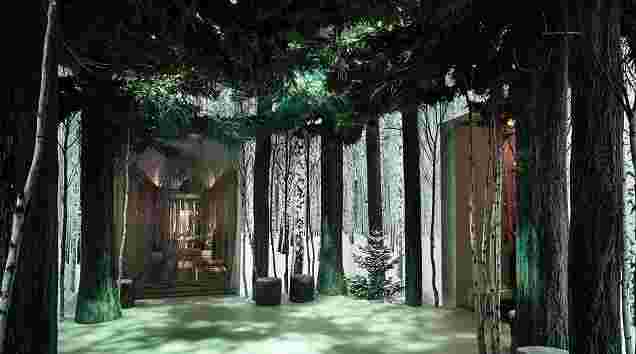 Legendary London hotel Claridge's has unveiled the 2016 Christmas Tree designed by Apple's Chief Design Officer, Sir Jony Ive, and Designer for Special Projects, Marc Newson. Widely regarded as two of the world's most influential designers, they are also long-time friends of the hotel.
Ive and Newson collaborated with renowned British set designer Michael Howells to transform the Claridge's lobby into a magical forest. The festive installation is an immersive experience that plays with the relationship between nature and technology, tradition and the future, and between three dimensions and two.
Lining the walls are a series of four-meter-high light boxes with black and white photographic images of snow-covered silver birch trees. Towering cast models of Scots pine, layered with both natural and photographed silver birch and fir trees, all lead to a canopy of natural green pine. Playing with proportions, a young three-feet-high tree grows amongst the forest, symbolic of the future. A bright white light flows on a continuous cycle, fading from sunrise to night, accompanied by sound effects of a chorus of owls, nightingales, sparrows, and foxes.


Commenting on the installation, Jony and Marc said, "There are few things more pure and beautiful than nature, so that was our starting point, layering various iterations of organic forms with technology. Our aim was to create an all-enveloping magical experience that celebrates our enormous respect for tradition while recognizing our excitement about the future and things to come."
Paddy McKillen, co-owner of Claridge's said "We are honored and delighted that our friends Jony and Marc agreed to take up the challenge of designing our annual Claridge's Christmas Tree. I truly believe that their innovative vision brings the best of tradition and technology together to create some Christmas magic and fun in our lobby for guests and visitors at this festive time of year"
The Claridge's Christmas Tree has long symbolized the start of the holiday season in London, drawing visitors and locals alike to admire its magnificent design. This is the seventh year that Claridge's has invited a favorite guest to reinterpret the tree in their own distinctive style.
THIS ARTICLE IS WRITTEN BY