Los Angeles Food & Wine Festival Brings Culinary Masters To LA From August 25-28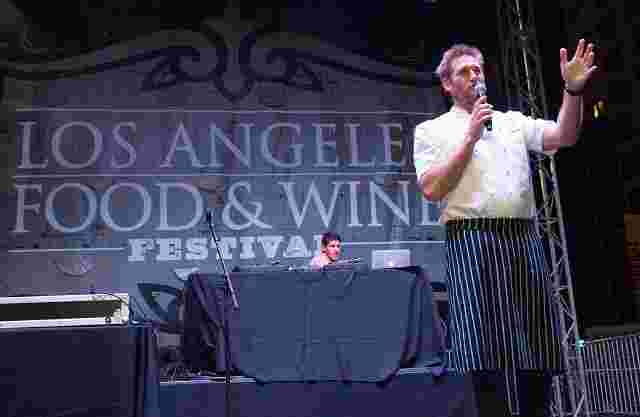 Los Angeles Food & Wine now has tickets on sale at its new website www.LAFW.com for this three-night, four-day, culinary extravaganza that takes over the city of Los Angeles. Spanning the heart of Downtown Los Angeles along Grand Avenue, to the sunny shores of Santa Monica, including the Fairmont Miramar Hotel and Bungalows, as well as the Santa Monica Airport's Barker Hangar, this unparalleled event will have the city under its culinary spell. The Festival is presented by Coastal Luxury Management and founding partners FOOD & WINE and Lexus.
The Los Angeles culinary scene continues to spawn the country's most inspiring and accomplished chefs. Now in its sixth year, the Los Angeles Food & Wine Festival will lure guests into the dining rooms of the most coveted restaurants as a series of Power Lunches take hold of Southern California and its appetite for tantalizing eats.
With unparalleled tastings, lunches, seminars, book signings, and cooking demonstrations, event highlights from this year's festival will include:
·         Amazon Presents Eat the World with Emeril Lagasse, Thursday, August 25 – The evening hosted by Emeril Lagasse will feature a walk-around tasting with culinary creations from all over the map along with beer, wine and cocktails. The inspiration for the global take on the evening comes from the premiere of the upcoming Amazon original series, Eat the World.
·         Lexus at Grand Avenue, Thursday, August 25-Saturday, August 27 – Sweet Lucie's ice cream truck and handcart will feature an ice cream scoop station, and guests can create their own ice cream sandwiches. Grand Avenue attendees can also enjoy dessert drinks such as Brandy Alexanders and adult root beer floats.
·         Grand Avenue Night Market hosted by Jet Tila and Brian Malarkey, Friday, August 26 – The evening will spotlight the street foods from the markets, carts, street stalls, and mom-and-pop joints that span the alleyways, city streets, and corners of every vibrant country from Taipei to Kuala Lumpur including Chefs Elizabeth Falkner, Jeffrey Lunak (Sumo Dog), Tin Vuong (Little Sister), Andrew Gruel (Slapfish), and Kevin Nashan (Sidney Street Café) to name a few.
·         LIVE on Grand Avenue with Tyler Florence, Saturday, August 27 – The city will ignite with electrifying live musical performances, DJ sets, and exciting cuisine from chefs including Timothy Hollingsworth (Otium), Jason Dady (Jason Dady Restaurant Group), and Stephen Kalt (Spartina).
·         Lexus Grand Tasting, Saturday, August 27 and Sunday, August 28 – Gourmands and food-obsessed will be invited to spend a leisurely afternoon at Santa Monica's Barker Hangar, with activations such as NFL Homegating's "slider central" featuring toppings representing each of the 32 NFL teams. At the Lexus Grand Tasting, James Beard Award Winners Stephanie Izard and Laura Werlin will share their knowledge for cheese with attendees at the Lexus Cheese Shoppe, which will be similar to a high-end fromagerie during which attendees can sample a variety of North American cheeses.
On sale now, tickets for individual events range from $105-300, with additional package and VIP options. Please continue to visit LAFW.com for updates and details on full programming of events, chefs, wineries, sommeliers, and mixologists participating at the 6th Annual Los Angeles Food & Wine festival.
Headquartered in the heart of Downtown Los Angeles, with main events taking place directly in front of the iconic Walt Disney Concert Hall and The Broad museum (with closures along Grand Avenue, between 1st and 3rd street), the 6th annual Los Angeles Food & Wine Festival will feature tastings, dinners, lunches, seminars, cooking demonstrations, and special events located across parts of greater Los Angeles, including Downtown, Beverly Hills, Santa Monica, Hollywood, and more.
Tickets are available for purchase by visiting LAFW.com or by calling 855-433-LAFW (5239)
Social Media: Facebook (@lafoodwine), Twitter (@lafoodwine), Instagram (@lafoodwine), Pinterest (@lafoodwine),  #lafoodwine
THIS ARTICLE IS WRITTEN BY