Make It A Special VALENTINE'S DAY At W Hotels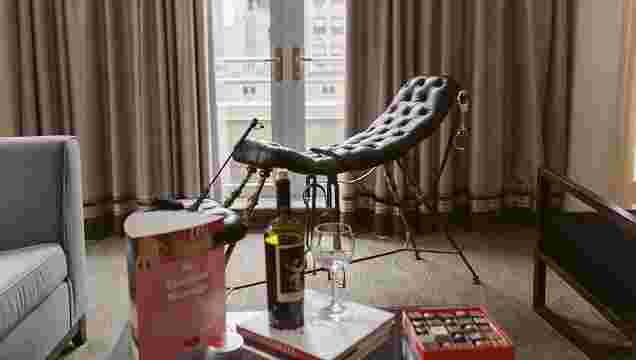 With Valentine's Day coming up W Hotels of New York have developed concepts sure to spice up date night. The different properties will each be offering experiences designed to appeal to all stages of romantic relationships. Whether you're taken, still looking, OR have someone in mind but just need to let them know — the W hotels have it covered with the below programs rolling out through Valentine's Day.
• For those who have their special someone:
This Valentine's Day, W New York will be unveiling a trifecta of experiences designed to Awaken Your Senses in an exclusive collaboration with Pleasure Chest. Since the 1970s, Pleasure Chest has been at the forefront of the NYC adult boutique scene and the Awaken Your Senses Suite will be the first of its kind at W New York. The Suite will contain a number of surprising elements: erotic artwork, a Tally Ho chair (as frequently featured in Hollywood films like 50 Shades of Grey), bottles of Pinot Noir (rumored to contain aphrodisiac properties) and more. Guests seeking a more educational experience may book private time with a Pleasure Chest Educator, who facilities fun, informative discussions with couples. Rounding out the Valentine's Day programming at W New York, the hotel will be offering all guests Awaken Your Senses Kits, which contain luxurious massage candles, glamorous play toys, instructional cards and more.
Rates will start at $350 per night.
• For those who know who their special someone is, but need to let them know:
W New York — Union Square will be hosting a complimentary #WMisconnections pop up. Because first impressions can feel like everything on the NYC dating scene, W New York — Union Square has enlisted a few experts to help guests master the first impression in the hopes of securing that special someone before V-Day. As part of the pop up, a lipstick reader from Lipsology will give you insight into your dating personality, energy, stress level, and more just with a kiss. After learning a bit more about yourself, you can meet with the Misconnections Social Support Team, a creative twist on Craigslist Missed Connections. The team of male models will provide some guidance into finding that stunning someone you may have seen at the hotel —- who you wish you had posted about — as well as some tips for catching your intended at first glance.
• For those seeking their special someone:
W New York- Downtown is launching a program designed to bring on lasting love results from January 30th – February 6th. With a population of more than 8 million, there are plenty of fish in the rough sea of New York City's dating pool. In what reads as the beginning of a modern day love story, this Valentine's Day W New York – Downtown is partnering with renowned matchmaking service, Three Day Rule to offer a Matchmaker in Residence for those seeking a curated love connection.
Three Day Rule's world-class matchmakers will host 30 complimentary consultations and access to their esteemed expertise. Bachelor/ette's will be given access to their database of eligible matches at W New York- Downtown. Three Day Rule guarantees at least one match from their services and a perfect match will receive a Valentine's date that begins with a drink at W New York – Downtown's terrace, a coveted dinner reservation at one of New York City's finest restaurants, plus a month's access to Three Day Rule's services… because you can never have too many options.
• A consultation can be reserved at this link and with only 30 appointments available, the early bird gets the rose.
THIS ARTICLE IS WRITTEN BY