MARCELO CLAURE – Sprint's President & CEO – Honored by Casita Maria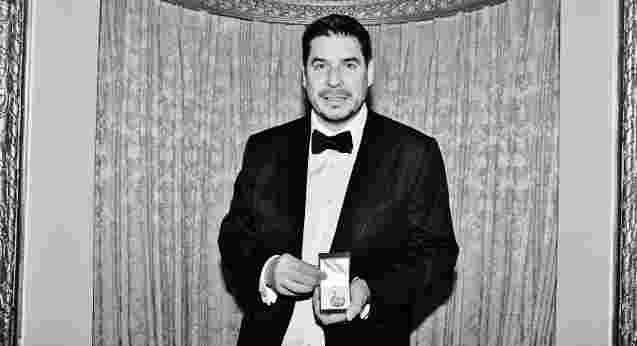 Marcelo Claure, the current President and CEO of Sprint Corporation and one of the most successful businessmen in the nation – who also happens to be Latino – was honored at Casita Maria Center for Arts and Education's "Fiesta" black-tie event at the Plaza Hotel. Other honorees included philanthropist Joanna Fisher and interior designer Hutton Wilkinson.
The Casita Maria Center for Arts and Education's annual black-tie "Fiesta 2016" presented their Gold Medal of Honor to Claure, along with the other honorees as recognition for their important social contributions. As is Fiesta's tradition the gala co-chairs are again Jacqueline Weld Drake and H. R. H. Prince Dimitri of Yugoslavia. Of the 2016 honorees Weld Drake said, "Each year we honor three outstanding individuals who, through their work, exemplify excellence in philanthropy and the arts. This year is no exception. Each understands the role the arts can play in young lives.  We expect, as always, to have a ball."
Past honorees have included Santiago Calatrava, Roberto Cavalli, Patricia Cisneros, John Demsey, France Desmarais, Marta and Placido Domingo, Emilia and J. Pepe Fanjul, Carlos Fuentes, Audrey Gruss, Agnes Gund, Audrey Hepburn, Carolina Herrera, Julio Iglesias, Hilda Ochoa-Brillembourg, Eddie Palmieri, Rodman C. Rockefeller, Daisy Soros, and Lynn Wyatt.
On a night when the Republican presidential nominee referred to Latinos as 'bad hombres,' Claure represents the 'best hombre.'  Under his leadership, since August 2014, Sprint has become an aggressive, agile and innovative competitor in the wireless industry. The company has dramatically improved its network performance, delivered the greatest value to consumers and pioneered revolutionary approaches to wireless service. Sprint, for example, introduced leasing to the U.S. wireless industry, created the iPhone Forever program and rolled out Direct 2 You – an unprecedented service that brings the in-store experience to customers' homes or offices. With these entrepreneurial initiatives and a disciplined approach to managing the business, Sprint has demonstrated solid results, including millions of new connections and record lows in postpaid customer churn.
Recognizing the tremendous obstacles that many disadvantaged young people face without internet access, Claure is spearheading a new initiative to address this challenge. Today, five million U.S. families with school-aged kids don't have internet access at home. This creates a 'homework gap' that puts students in jeopardy of completing their assignments, graduating from high school, getting into college and ultimately succeeding in life.
Sprint will connect up to 1 million underprivileged high school students who are struggling to keep up with their more connected peers. The goal is to provide each participating student an internet-capable device and free Sprint wireless service for up to four years. This is a big step toward closing the homework gap and helping 1 million students succeed in academics and pursue their dreams.
Prior to Sprint, Claure founded Brightstar Corp. in 1997 and soon transformed the company from a small Miami-based distributor into the largest global wireless distribution and services company in the telecommunications industry with gross revenue of $10 billion in 2013. Brightstar was recognized as the largest Hispanic-owned business in the United States every year from 2007 to 2013 (with the exception of 2010). In 2014, Brightstar was sold to SoftBank Corp. for $1.26 billion. Before founding Brightstar, Marcelo was an entrepreneur operating a rapidly growing wireless retail business.
In 2014, Claure's passion for soccer led him to partner with David Beckham and Simon Fuller to launch Miami Beckham United, a venture to establish a Major League Soccer franchise in Miami. He also currently owns BAISA, which operates Club Bolivar, the most popular soccer team in Bolivia.
Claure is a Young Global Leader of the World Economic Forum and a member of Ernst & Young's Entrepreneur of the Year Hall of Fame. He is Co-Founder of One Laptop Per Child, an organization dedicated to providing boys and girls in impoverished communities with low-cost laptops. He is also Chairman of CTIA – The Wireless Association, and a member of the Board of My Brother's Keeper Alliance, a not-for-profit working to eliminate opportunity gaps for young men of color.
THIS ARTICLE IS WRITTEN BY