Michael Strahan Teams Up with JCPenney for Exclusive New Active Lifestyle Collection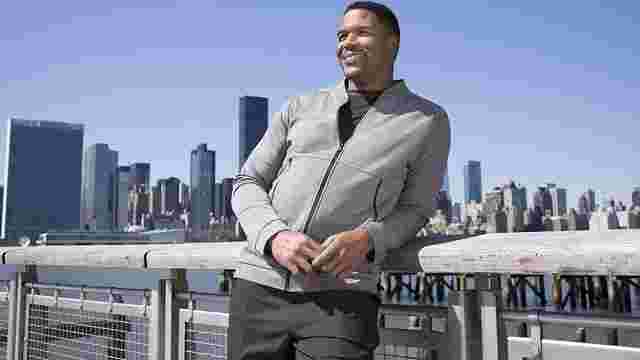 JCPenney and Michael Strahan are teaming up once again, this time to launch MSX by Michael Strahan, an exclusive new line of active lifestyle apparel for men. Available in approximately 500 JCPenney stores and at jcp.com, this is the second clothing line for Strahan at JCPenney. Collection by Michael Strahan, an exclusive line of men's tailored clothing and accessories, launched in 200 JCPenney stores last fall and is now available in 500 locations due to overwhelming customer response.
"I had a lot of fun creating my first line with JCPenney, Collection by Michael Strahan, but I realized that in addition to great tailored pieces, men also need comfortable, stylish clothes that can be worn anytime," said Strahan. "MSX by Michael Strahan is inspired by my active lifestyle and provides men trendy, yet functional pieces that can be worn everywhere – all for a great value. I'm really excited to be part of what's happening in the overall athleisure movement."
MSX by Michael Strahan features an attention to detail not typically found in men's clothing lines including no-chafe seams, auto-lock zippers, UV protection and reflective strips. From tees and polos to jogger pants and chinos, this active lifestyle brand features quick-dri, stretch technology designed to meet the high demands of the day in comfort. Working with the JCPenney design team, Strahan infused his style throughout this collection in a variety of modern colors and fabrics that speak to every man.
MSX by Michael Strahan will be featured in The Men's Store at JCPenney in its own dedicated presentation with sale prices including $12.99 for a performance tank and $25.99 for a knit jogger pant. The brand is also available in big and tall sizes at jcp.com. "Michael Strahan is a great brand partner and his first collection was so successful that it was an easy decision to create a second, more casual line together," said John Tighe, chief merchant for JCPenney. "The highly experienced design and sourcing teams at JCPenney worked closely with Michael to develop an innovative active lifestyle collection that provides men stylish, quality looks for an affordable price. Exclusive collaborations, like the one with Michael Strahan, instill newness into our stores, giving customers a dynamic shopping experience that can't be found anywhere else."
MSX by Michael Strahan is a stylish addition to a comprehensive assortment of active wear brands in The Men's Store at JCPenney including Nike, Adidas and JCPenney private brand, Xersion. For more information visit jcp.com
THIS ARTICLE IS WRITTEN BY