Michelin Star Flavor For Labor Day From Top Chef Finalist Carlos Gaytan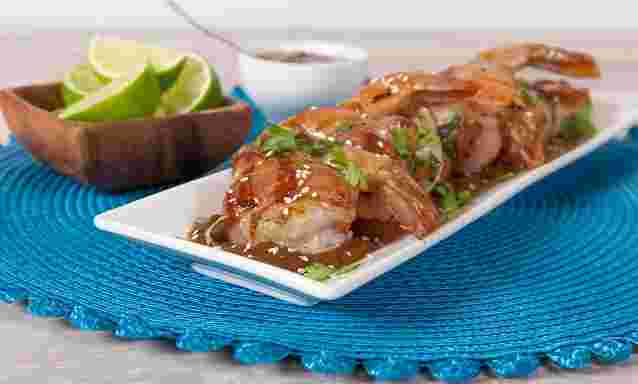 With just a few more weeks left of grilling season, and Labor Day weekend upon us, we wanted to share a simple yet flavor-packed recipe, sure to elevate your grilling game. Known for breaking the expectations of Mexican food, Michelin-starred chef Carlos Gaytan of Mexique in Chicago, is taking the traditional bacon wrapped shrimp favorite and giving it a sweet and spicy kick with a tamarind glaze. This easy-to-make recipe will surely leave your guests impressed, while still giving you the time to enjoy the party. Here's his creative take on Bacon Wrapped Shrimp in Tamarind Sauce.
Chef Gaytan is the first Mexican to earn a Michelin star and to come in third place on Top Chef. In May of 2008, he opened his own restaurant – Mexique in Chicago. He passionately applies his knowledge of French cooking techniques with ingredients that are at the root of Mexican cuisine to create unique Mexican dishes. Mexique received its first star in the Michelin Guide in 2013.
Bacon Wrapped Shrimp in Tamarind Sauce
Created by Chef Carlos Gaytan of Mexique
Serves 3
INGREDIENTS 
18 large shrimp, peeled and deveined
18 fresh epazote leaves*
9 slices of Farmland Hickory Smoked Classic Cut Bacon
1 cup tamarind glaze
1 chile morita**
1⁄4 cup orange juice
2 lemons, juiced
Salt to taste
Sesame seeds
DIRECTIONS
For shrimp
Rinse shrimp and wrap each piece individually with epazote leaves.
Cut each bacon slice in half, and then wrap a slice of bacon around each piece of shrimp.
Insert toothpick in the center of shrimp to ensure bacon is secured. Grill for 5 minutes on each side or until bacon is crispy and fully cooked.
For sauce
Combine tamarind glaze, chile morita, orange juice and lemon juice in a sauce pan. Let sauce cook for 20 minutes on low fire or until sauce starts thickening.
Mix sauce in a blender until smooth.
PLATING 
Pour sauce in the middle of a flat and place shrimp over sauce. Garnish with sesame seeds.
*Use cilantro as a substitute for epazote leaves if unavailable
** Use chipotle chile as a substitute for chile morita if unavailable
THIS ARTICLE IS WRITTEN BY