MOMO Motorsports: The Rebirth Of An Iconic Brand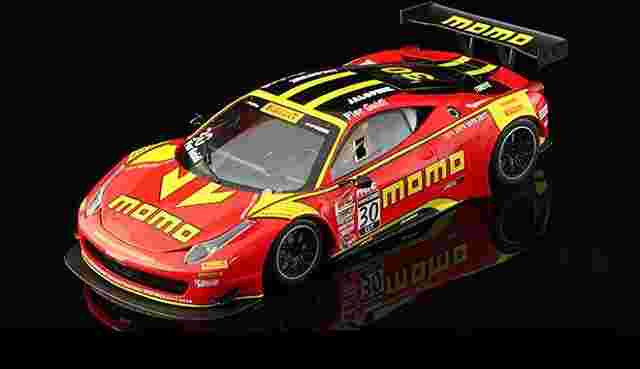 To complement our profile on Henrique Cisneros we bring you the story of MOMO, a company he acquired in 2010, and a growing leader in the world of motor sports. The USA division is based in Detroit, creating products that are sold in over 60 countries. They bring to the market Italian style, a long tradition of quality, racing experience, and technological innovation respectful of the environment. In the continuation of our exclusive interview with Cisneros he speaks about the past and future of MOMO.
MOMO was founded in 1964 by race car driver Gianpiero Moretti in the town Monza in Milan, Italy giving the company its name. Still headquartered in Milan with a growing U.S. presence,  the brand continues to be inspired by simple yet strong values: product quality, superior craftsmanship, maximum safety standards and the highest performance levels.
MOMO's range of consumer accessories includes steering wheels, gear shift knobs and alloy wheels, all the way to race equipment like racing suits and helmets. The airbagged steering wheels have become standard accessories on some regional Subaru and Mitsubishi performance cars. They are sponsors of Lira Motorsports in the ARCA Racing Series and the Camping World Truck Series, and exclusive suppliers of steering wheels for the FIA Formula 2 Championships (formerly GP2 Championships) in Europe and Asia. More recently in the U.S. MOMO has developed a new generation of steering wheels for NASCAR, which are currently used by many top teams and drivers.
MOMO also has a line of watches, eyewear, fragrances, clothing, and accessories made under the MOMO DESIGN label.
In addition, MOMO has brought a number of companies under its umbrella to become a well rounded, one stop shop in the automotive landscape. Among them is WELD, headquartered in Kansas City, Missouri. The equally respected brand is known for its domination of the North American motorsports wheel markets.
MOMO is part of Cisneros Corporation. This parent organization is a third generation global family enterprise led by Eduardo, Andres and Henrique Cisneros. The three brothers continue to grow and push new boundaries. With experience in numerous industries across media, telecom and consumer goods, Cisneros Corp. leverages its vast experience to find and create opportunities around the world.
HOMBRE: Why did you acquire MOMO when you did?
Henrique Cisneros: It was a tough time in the world and we were all drawn to the challenge of bringing this company back. We all love marketing and branding and business in general. Me and my brothers we do everything together in business and it was a great opportunity.
H: What are your plans for the company?
HC: We saw that what was a hobby had a lot of potential worldwide. Our partners at the time saw that we had different plans and we ended up buying them out. Our background has always been on consumer goods, running large factories, thousand of employees, production, management, media. Lets take our experience of a third generation family business to this automotive space and see where it takes us.
H: How do you lead the turnaround?
HC: Step one was new management, new people, and then we started picking and choosing what were the hidden gems out there that we could start rolling into this group and finding the best people possible. My father says there is always someone that does everything better than you, the trick is to find that person and bring them on board. One of the best brands was ADV.1 so we acquired them last year and they are the market leader in the best design wheels. They changed the market for high end cars. Then we decided we need better manufacturing capabilities and we came across WELD.  WELD Racing is a company that like MOMO has been around 50 years. They had an amazing facility in Kansas City with a talented team and within that there are several other brands. We acquired them late last year.
H: What is the strategy for continued growth?
HC: The plan has always been to have a full portfolio of brands. Each with a specific purpose and specific demographic to go after. You have the efficiency of production but you also have a marketing team that is able to leverage the brand where it's supposed to be. You can have global expansion when you have a full portfolio. On a global scale we're going to start offering a complete portfolio to our clients. Before you had one salesman offering one wheel now you can offer 5 or 6 wheels. We also got into the tire business. How do you maximize your distribution? You have wheels. What goes on wheels? Tires, so we launched MOMO Tires and every visit that we do we get to increase the revenue of that visit and make it more efficient.
H: What can you tell us about the expansion?
HC: We're in 140 different countries with all our different brands and every time there is a new acquisition there's a little bit more that you gain. We're always interested in brands first, maintaining that quality and that story to be as unique and real as possible. In the business side we take pleasure in running big corporations that are efficient and that are well run.
H: How is it working with your brothers?
HC: I was head of sales and marketing for a beer company that we have in Venezuela, which is a large company with 5,000 employees. The sales force was a thousand people. My brothers saw what I saw in this (MOMO) from the beginning and we all share the same vision that there is a big opportunity here. Just recently I stepped down from my role in the beer company and now am full time dedicated to the automotive business. My brothers and I split everything. My older brother Eduardo is the CEO, so he oversees the Group and the finances of everything. Another brother Andres is a master manager and extremely good at managing production. And I've always done business development, sales and marketing. But I'm on the chairman level overseeing the automotive growth.
H: Finally, how do you manage your time between racing, business, fun, and family?
HC: Now my full time is dedicated to automotive and racing. This year we're only doing 5 race weekends so it's a half championship which is what we decided to do. That's all I had time for. Instead of the 3 months it would usually be. That's the only way we found time. It's been an interesting start, and for the rest of the year there's a lot of work to do.
THIS ARTICLE IS WRITTEN BY