New 'Power Brush System' From The Art of Shaving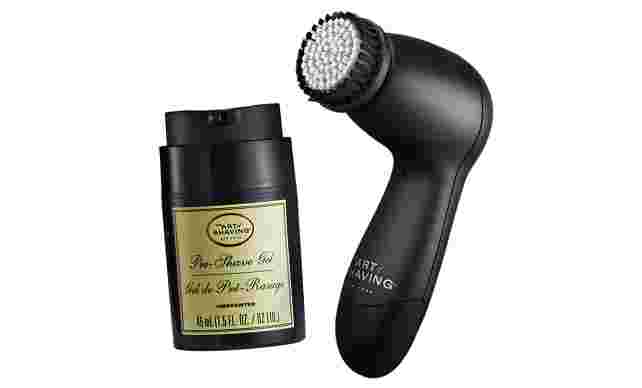 The Art of Shaving has just introduced a new Power Brush System and Regimen to help provide modern men with more advanced grooming solutions. The sleek, spinning Power Brush and Unscented Pre-Shave Gel for Power Brush are made specifically to combat ingrown hair and razor bumps, two of the most commonly cited shaving issues.
Men who wet shave can experience skin irritation that presents itself in the form of nicks, bumps, and razor burn. Razor bumps and ingrown hairs are common conditions frequently brought on by shaving and occur when hair curls back or grows sideways into the skin, becoming trapped underneath. This issue affects many men at some point in their life and is most prevalent among men with coarse or curly hair, anywhere from 50% -80% of African American men who shave. However, razor bumps can affect men and women of all ethnicities.
According to Todd Brisky, The Art of Shaving CEO, "Good skin starts with good shave preparation. It was the foundational belief that inspired our first product – the pre-shave oil – and our "4Elements of the Perfect Shave". Modernizing this step of preparation through the Power Brush system allows us to meet men's grooming needs with a new solution, clinically tested to reduce razor bumps."
"As a board certified dermatologist that specializes in male aesthetics, I have cared for thousands of men with shaving-related skin concerns. I have found that an excellent shaving regimen is essential for achieving personal grooming goals that maximize a man's look and confidence," says Dr. Jared Jagdeo, MD, MS., also an associate professor of dermatology at the university of California Davis in the department of dermatology and the Sacramento VA medical center dermatology service. He has an adjunct appointment at the state university of New York-Brooklyn in the department of dermatology.
The new Power Brush system is designed to be the preparation step in "4 Four Elements of Shaving," replacing the application of pre-shave oil, or in any shaving routine. It's available now at The Art of Shaving retail locations across the nation and at www.theartofshaving.com. Retail prices will be set at $40 for the Power Brush, $20 for Replacement Head (two-pack), $25 for the Unscented Pre-Shave Gel for Power Brush.
THE ART OF SHAVING POWER BRUSH
The Art of Shaving Power Brush is an innovative device for men suffering from in-grown hairs and razor bumps, preparing men for an outstanding shave.
FEATURES
Three speed brush head rotation featuring soft nylon bristles
Water resistant molded thermo-plastic for use in the shower
BENEFITS
Gently exfoliates skin to help release trapped hairs and minimize razor bumps with daily use**.
Features three brush head rotation speeds to personalize exfoliation.
Gentle exfoliation when used with Pre-Shave Gel for Power Brush
Daily or deep cleaning and exfoliation when used with a cleanser
THE ART OF SHAVING PRE-SHAVE GEL FOR POWER BRUSH
The Art of Shaving Pre-Shave Gel for Power Brush helps prepare facial hair for a clean, close shave. The hydrating gel creates a thin layer of protection on your face and neck. The white gel turns clear when activated by the Power Brush.
FEATURES
Lightweight emollient, glycerin and a touch of Shea Butter
Water based, non-comedogenic formula
Unscented, free from synthetic dyes and alcohol
BENEFITS
Lightweight emollients and glycerin provide glide, decrease tug and pull during shave
Shea Butter provides light moisturization keeping skin hydrated during shave
Water-based formula stays on during shave and washes off easily leaving no residue
Pre-Shave Gel color transition helps time usage of the brush for optimal preparation

5 TIPS FROM DR. JARED JAGDEO, MD, MS FOR LATIN & AFRICAN AMERICAN GUYS SUFFERING FROM IRRITATION AND BUMPS
1. Whether you like having a clean shaven look or have to shave for a particular reason, you can shave daily with a good regimen to help manage irritation and razor bumps.
2. Releasing trapped beard hairs is an art. Avoid excess picking or using instruments to try and release trapped beard hair, as this may cause scarring and worsening of razor bumps. The Art of Shaving Power brush combined with Pre-shaving regimen is clinically tested to help reduce the occurrence of razor bumps.
3. Shaving is very personal. When you shave, make sure you use high quality razors and skin care that work well for you.
4. Consider shaving after a warm shower or after exercise. This allows the hairs to fully hydrate, thus reducing tug and pull and increasing comfort.
5. If a regimen does not work for you and you continue to have problems, talk to your dermatologist to determine if you have a medical condition and what other solutions may be.
SKINCARE TIPS
Sunscreen.
Moisturize.
Prepare for your shave.
Curate or streamline products that you use. This could yield better outcomes.
THIS ARTICLE IS WRITTEN BY