New Viking Village Opens In NORWAY'S FJORD Region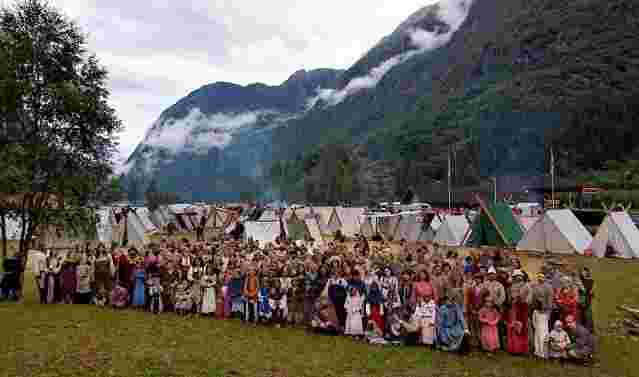 This summer an exciting new attraction opens in the UNESCO World Heritage Fjord, Naeroyfjord. In Gudvangen, for almost two decades, a Viking market has been held every summer. Now in its place a permanent village has been built. The construction started in August 2016, and the first tier of the town opened on May 31. The Viking village is a place for memorable experiences, learning and fun activities. A place where visitors can interact with people re-enacting the past, all in accordance to historical elements.
The town has received the name "Njardarheim"
"Njardarheim" means the home dedicated to the Norse god, Njord. Viking Valley is the name of the whole concept. It is a living, cultural historical site built thematically as a Viking village. Here the captivating stories of the Vikings and the Viking Age is being retold without the confinements of a museum.
The Viking experience
In the village, visitors can join in on an exciting and incredible journey taking them back more than a thousand years in time. Listen to storytelling and understanding who the Vikings were and where they came from. Visitors can learn firsthand what it was to be a real Viking; their community, their travels, their boats and how the Viking Age and its teaching have left a deep mark in history and how it still affects our lives today. Visitors can experience the vibrant sights and sounds of real Vikings. Feel the excitement of archery and axe throwing or learn to play Viking games.
The food in the Viking Age was surprisingly "advanced" as they used a variety of herbs, both for flavor and medicine, such as cinnamon, thyme and basil, many of which was brought back from their trips around Europe. In the food court, there will be constant activities and access to food and drink, made in accordance with traditional Viking cuisine. Standard on the menu is soup with bread, sausage, cabbage salad, freshly baked pan bread with salmon or sausage with wild garlic sour cream.
"Njardarheim" will be open from May 31 to October 1, 2017
For more information visit https://www.uk.vikingvalley.no/practical-information/
https://www.uk.vikingvalley.no/
https://www.visitnorway.com/
THIS ARTICLE IS WRITTEN BY