Neymar Jr's Five Tournament Returns to the U.S.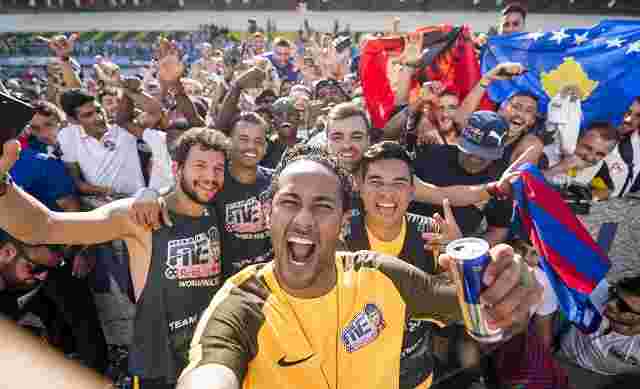 In 17 U.S. cities and on six continents worldwide, a third season of Neymar Jr's Five brings more than 14,000 five-a-side teams together to decide who will reign as global male and female champions of the Brazilian legend's signature tournament. The format is unique and challenging for the male and female divisions – 10 minutes of intense action, no goalkeepers and teams lose a player every time the opposition scores.
In addition, a worldwide search has begun for two lucky fans to join Neymar Jr's team in Brazil for a friendly match vs the male and female champions of his five-a-side tournament. This contest celebrates the launch of a special edition Red Bull can featuring the Brazilian star. The competition encourages individuals to submit creative photos, videos and boomerangs on Instagram using the hashtag #Neymarjrsteam, showcasing their skills and why they should be chosen to be a part of Neymar Jr's team. Visit www.neymarjrsteam.com to learn more.
A year ago, more than 100,000 players from 53 countries took part in Neymar Jr's Five, with Romania coming out victorious. The U.S. men's finalists came from Chicago and they lost in the 2nd round of the World Finals in Brazil.
This year even more teams will compete at qualifiers for the chance to show off their skills at the World Final under the watchful eyes of Neymar Jr. at his Instituto Projeto Neymar Jr in Praia Grande, Brazil. In the U.S., the first qualifier kicks off in Atlanta on March 24 and the U.S. finals will take place in Miami for a third year in a row to decide who moves on to the World Finals in Brazil. In addition, the U.S. is hosting 50+ pre-qualifiers where teams can get accustomed to the innovative format and define strategies for success.
US Qualifier Locations
Atlanta, GA
Chicago, IL
Dallas, TX
Denver, CO
Fresno, CA
Houston, TX
Los Angeles, CA
Kansas City, MO
Miami, FL
Minneapolis, MN
Harrison, NJ (Red Bull Arena)
Orlando, FL
Phoenix, AZ
Rochester, NY
San Antonio, TX
San Diego, CA
Tampa, FL
"I'm very happy to increase the number of players, the number of teams signing up and the number of countries has also increased," said Neymar Jr. "It's very big but I hope it can get even bigger. We have more teams than the World Cup, which has 32 teams. What makes me really excited is that each edition brings more players from more countries so I'm glad to know that everyone wants to participate, and I feel happy to be part of it, this is what excites me the most."
The Brazilian is also gearing up for a thrilling 2018 in which he hopes to win the World Cup and Champions League alongside crowning the winners of the biggest edition of his signature five-a-side football tournament. Since Romania were crowned champions in July 2017, the striker has completed a summer move to Paris Saint-Germain and has set his sights on Champions League glory in his first season in the French capital.
To find out about the qualifiers and the pathway to Brazil, go to www.neymarjrsfive.com and sign up your five-a-side team.
THIS ARTICLE IS WRITTEN BY