New York's OFICINA LATINA: Latin America, No Passport Required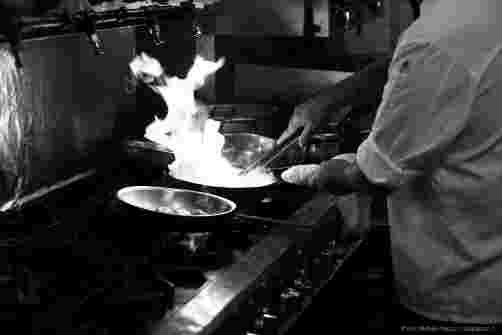 Inspired by Carretera
Panamericana, Italians Paolo Votano
and Maurizio Busato have created one
of the city's most vibrant, colorful and exciting restaurants. By serving a
varied selection of Latin America's best dishes all in one place, it's no
longer necessary to leave New York City to discover stand out items from
traditional menus in Venezuela, Mexico, Peru, Ecuador and more – Oficina Latina has them all.
The friends and business partners took different paths, but
their love for good food, good drinks and good times led them to open Nolita's
newest hot spot. As you'll see from our fashion editorial, Oficina Latina has a
fun and distinctive design. You can go from a cozy table for two, to a sofa
lounge, to an outdoor cafe, to a communal table with friends; all in an
intimate space decorated with authentic items from the owner's many travels.
Of course, all the eccentric design touches would be meaningless
if the food didn't deliver. Fortunately at Oficina Latina the menu surpasses
expectations.
Under the supervision
of Venezuelan Consulting Chef Ilma Lopez, and Mexican
Chef de Cuisine Abraham Trinidad, the menu will take you on a
non-stop culinary journey of multinational tastes, aromas and textures guaranteed
to satisfy the most demanding palette.
There's Ceviche de Calamari y Vieras from Peru,
Sardinas a la Plancha from Uruguay, Arepas
de pollo y aguacate from Venezuela
and Tamal del Dia from Mexico.  Try Churrasco
Argentino, Morcilla, Chivito
Uruguayo, or if you're in the mood for Brazilian the deconstructed Feijoada
is sure to please.
And when it comes to desserts you can't miss with the Tres
Leches, or the chili-caramelized pineapple, softened by fresh coconut
sorbet Piña Picante.
Votano is a lifelong
mixologist and has created some strange yet delicious concoctions.  Have you ever heard of an Avocado-Cilantro
Margarita? How about a Kumquat
Caipiriña? Or a Chipotle
Mezcalita? The names may be
unfamiliar and the combinations unusual but you're sure to find a new penchant
for odd combinations.
Of course if you prefer the brown or white juice there's
a long list of tequilas, rums and cachacas. Some of Latin America's most hard to find cervezas
are also on the menu, along with wine and aperitif imports from Chile, Brazil,
Argentina, Uruguay and Mexico.
The next time
you want a taste of home, or eager to discover the tastes way south of the border; leave
your passport at home, bring your appetite and head to Oficina Latina.
OFICINA LATINA
24 Prince Street, New York, NY 10012 Tel. 646-681-2555
THIS ARTICLE IS WRITTEN BY