Patricia Manterola: A Work Of Art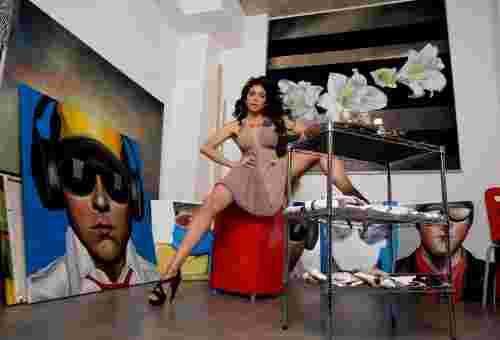 Music, television and film… Patricia Manterola has done it all.  The popular Mexican triple-threat continues finding new challenges in a successful career that began as an 8 year old child actress. 
She went on to become part of Garibaldi, one of Latin America's most successful musical groups leaving for a solo career and starring roles in novelas, television series and feature films. Now she returns to her musical roots with the international release of her latest CD 'Ya Termine.'
For the first time she adds 'composer' to her title in the 13 track CD now available in Banda, Tex and Pop versions and produced by Adrian Posse. We spoke to the beautiful and gifted artist during her exclusive HOMBRE photo shoot.


HOMBRE: Tell us about 'Ya Termine.'
Patrica Manterola: 'Ya Termine' is the seventh record of my career.  It's a very special one because for the first time I wrote all my songs.  I am opening the door to my intimacy, my experiences, my heart; all the songs are inspired by personal moments in my life. It's a very beautiful ride and I'm happy to share it with my fans.
H: Why the title?
PM: That's the name of the first single (laughs). I could make up a story about how it's the end of an era, or something; but that's the name of the single and we decided to use the same title.  


H: How long was the process to finish the CD?
PM: It was a long process. I went to a beautiful place to write, Riviera Maya. Two weeks in my computer writing all the songs, then I went to Mexico City and my friends would come, they are composers and musicians and they would give shape to my lyrics. I had to ask their help to dress these songs. After that I went to Miami and worked with Adrian Posse who has been the producer of my last records and with him we coproduced all the songs and all the arrangements, after that we did the photos. It was about a year long process.  
H: What inspired you to write for the first time?
PM: You know, all my other records were done with big labels and they only saw me as an artist. I wanted to present myself like the woman I am, with the experiences I've had as a woman, much more so than as an artist.  So the time came to open the door to my intimacy. It's not scandalous because it's not the details of my private life, these are the details from my heart.  This is what happens in the heart of a woman, what happens when she suffers a betrayal, when she ends a relationship, how when it ends she needs to be strong.  


H: Is this an experience you want to repeat?
PM: Yes, it's something I want to do again. Not in all my records because I enjoy singing the songs of different composers, but it's definitely something I want to repeat.  
H: And what are you doing in terms of acting?
PM: My last film was 'The Perfect Game.' I was very enthusiastic about this movie. It's done well and I invite everyone to see it. It's a very inspiring story that will motivate everyone, it's based in real events that happened in 1957 with a children's baseball team. If you see this movie you will feel inspired, you will feel like anything is possible.   
H: Let's talk about your role.
PM: Maria is a woman with strong values.  She cares very much about her family. She presents the beautiful face of the Mexican woman. It was inspired in Dolores del Rio, that's how we based how she looked, how she dressed.  


H: Speaking of the great Mexican actresses in history; who inspired you?
PM: Maria Felix and Dolores del Rio were two of the great ones, they were legendary during the Golden Age of Mexican cinema. For this story I saw many of their movies, I was very inspired by those great actresses.  
H: And how do you feel acting in English?
PM:  I went to LA in 1997 to study and learned English then. I was there for a long time and feel very comfortable acting in this language.  I feel very proud to participate in a movie where Americans can see another face of Latinos.  Normally they put us in stories that have to do with drug trafficking or immigration, there are very few movies that show positive roles. 
H: You hosted the Latin Grammys in 2008, are you interested in any more hosting gigs?
PM: Yes, I really enjoy hosting and see myself doing it more. I love it, and will definitely have my own program. It's something I really want to do and will, in the very near future. 

H: What's next?
PM: Well, right now I'm on a promotional tour for the album and I'm excited to do more. I'm judging a talent show and appearing in the Colombian soap and there are many other projects 
H: What is your idea of the 'ideal man'?
H: I don't think the ideal man exists, just as the ideal woman doesn't exist. But a good man should be honest. Honesty is something I admire. I like a man who what he thinks is what he says it's what he does.  


H: What's your idea of the perfect date?
PM: I'm very romantic and dinners are good. I like very small details.  
H: What advice do you give a man to conquer a woman like you?
PM: He should be transparent.  He should not be afraid to get close to an independent woman. Regardless of our strength, we continue to be women, we continue to be fragile.


Photographed exclusively for HOMBRE by Nicholas Guillen 4th
Styling: Ricardo Andres
Hair & Makeup: Emilio Uribe
Clothes: ClaudiaE www.claudiae.com
Accessories: Claudia Gill Designs www.claudiagilldesigns.com   
THIS ARTICLE IS WRITTEN BY