Picture Perfect Argentinian Dining At CHIMICHURRI GRILL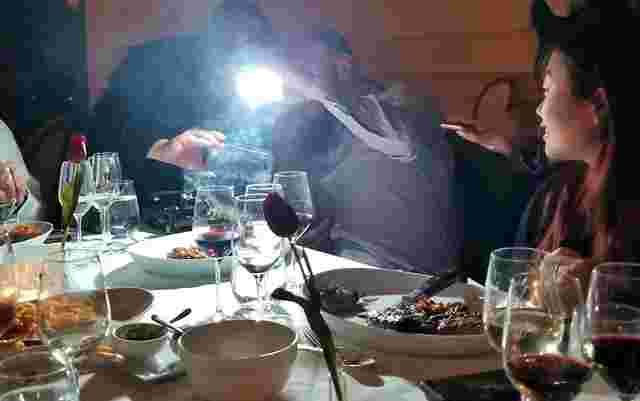 If you want to take a trip through Las Pampas with a stop at the very cosmopolitan Buenos Aires, all you need to do is enter 133 East 61 Street on to your Uber App and be transported to one of the best Argentinian restaurants in New York City: Chimichurri Grill East.
Although there is the smaller, original branch at 609 Ninth Avenue, we're partial to the newer Upper East Side venue that recently opened.
Chimichurri Grill is the vision of husband-and-wife team made up of Alicia Rodriguez, and Carlos Darquea, who also functions as Chef and is responsible for the menu.
The selections listed combine traditional Argentinian specialties, with a sometimes adventurous take on classic dishes. During a recent visit we had a sampling of the standout items served for dinner.
We began the evening with two courses for those willing to step outside their comfort zone. The Mollejas a la Provenzal are grilled veal sweetbreads served with provenzal sauce and crispy potatoes; and the Estofado de Lengua is braised grass-fed beef tongue, with grape tomatoes, peas, and basil. One bite of either and you quickly forget that this is not a common item on your everyday menu. The distinctive preparation and unusual ingredients elevates both of these dishes to create a unique dining experience.
From here we moved on to the more familiar Buenos Aires salad made up of grilled romaine, grilled onions, crispy bacon with a french feta and dill dressing. After a quick palette cleanser made up of the Homemade Passion Fruit Sorbet it's time to prepare for the main course.
Most will come to an Argentinian restaurant for the meat. But in the Tallarines con Frutas del Mar the non-carnivores in your party will find a more than suitable alternative. Here the thin ribbons of pasta are complemented with prawns, little neck clams, calamari, mussels, and halibut, all prepared in a creamy chardonnay and basil sauce. A big winner for any seafood lover.
Finally we move on to the highlight of the evening: Ojo de Bife Ancho. And when we say ancho, we mean ancho. This large wet-aged 32 days grass fed black Angus rib-eye steak served with caramelized sweet vidalia onions and seasoned french fries is guaranteed to satisfy your hunger and leave you with a healthy portion to take home. Besides the succulent taste of the beef, there is more to the dish. Topped with rosemary and a small smoking piece of charcoal, it's the presentation that is bound to make this the 'most liked' post in your Instagram feed.
The evening was completed with a Creme Brulee de Duce de Leche, a perfect ending to a perfect meal. It's worthy to note that Chimichurri Grill has an extensive wine list and each course was paired with the ideal Argentinian wine, most from the the Luca vineyard.
Located in a classically elegant townhouse, and spread out over three levels, the restaurant makes for a perfect escape.
The Tango Bar, on the top level, features curled walnut and green leather chairs from Joan Crawford's Estate, custom-made walnut tables, custom-made Argentine cowhide bar stools, framed vintage photos from Buenos Aires, and a Brazilian granite bar create the atmosphere of a sophisticated Argentine bar.
Stepping further inside you'll find The Pink Room, which features custom-made Argentine leather and wood chairs, a dark green Argentine leather banquette, a Spanish tile working fireplace, classic Argentine framed posters, and peony pink walls to create a stylish, intimate setting. In coming weeks here you'll find live music during an upcoming planned 'Tango Nights.'
Past this level is The Main Dining Room, with custom-made walnut tables draped with crisp white tablecloths, custom-made Argentine leather and wood chairs, a working Italian marble fireplace, a dramatic Argentine cowhide mirror, and original framed color photographs of herbs and spices used in the chef's Argentine dishes, to create a classic, yet contemporary Argentine setting.
Chimichurri Grill is worth a visit, whether you're a local, or just discovering New York City. Besides the dishes mentioned above the restaurant serves a superior selection of classic Argentine steaks from 100% Black Angus grass-fed South American beef, wild fish entrees, sustainable shellfish dishes, organic vegetables and salads, and homemade desserts made to order.
For more information visit www.ChimichurriGrill.com
CHIMICHURRI EAST – 133 East 61 Street, NYC 10065
CHIMICHURRI WEST – 609 Ninth Avenue, NYC 10036
THIS ARTICLE IS WRITTEN BY