PIRELLI Extends Partnership With Los Angeles Dodgers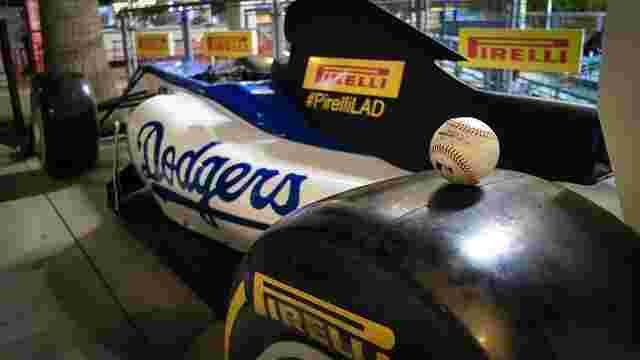 Pirelli will be a Proud Partner of the Los Angeles Dodgers in a new three-year partnership from 2017-2019, which kicked off with a co-branded sweepstakes competition that fans can enter via Dodgers twitter. The expanded sponsorship with one of America's most followed sports teams includes in-stadium branding, retail promotions, event activation and limited edition co-branded merchandise. This aims to integrate the Pirelli and Dodgers brands and grow the relationship even further since they first joined forces in 2014, and ultimately, help boost Pirelli's presence in Southern California.
Drawing on Pirelli's Formula One role and prestige focus via participating in the world's best sporting competitions, a unique highlight for the partnership is a co-branded Pirelli/ Dodgers custom Formula One car that will be on display at Dodger Stadium above the Pirelli branded Dodger bullpen, alongside brand ambassadors to engage fans.  Pirelli will also partner with the Dodgers on two special retail promotions.
The first sweepstakes, now live on Dodgers twitter, @Dodgers, enables fans the chance to win a trip to Miami to watch the Dodgers play the Miami Marlins in July. The second promotion will offer a trip to the Formula 1 Mexico Grand Prix in October.
The Los Angeles Dodgers have a significant and growing fan following, in Los Angeles, nationally and internationally. They are one of the leading teams in Major League Baseball in terms of attendance and fan engagement. As a Proud Partner, prominent Pirelli branding will appear throughout Dodger Stadium, one of the most Instagrammed sports venues in the world.  Branding will include Home Plate rotational signage, Dodgers Bullpen wall permanent signage and LED boards, also featuring Pirelli's 'Power is Nothing without Control' branding. Pirelli will be the presenting sponsor of Clayton Kershaw Bobblehead night and fans also have the opportunity to win co-branded Pirelli and Dodger limited edition caps. Finally, a comprehensive social media campaign will fully support the partnership through home page takeovers of Dodgers.com, video and custom promotions.
"The Dodgers are the perfect fit for Pirelli. We share the same drive for excellence and we want to cast a wide net in Los Angeles for brand visibility.  The Dodgers are an outstanding sports team and more importantly, an integral part of LA culture – and we want to be part of that. Therefore this is an excellent platform to reach our customers and amplify Pirelli's best offerings, from Formula One to fashion and our top tier products being sold out of our P Zero World LA store.  And stay tuned for a special custom blue version of our new colored P Zero tires coming soon…," says Rafael Navarro, Vice President of Communications and Motorsports.
"We could not be more excited to extend our partnership with Pirelli, a global leader in the industry and a brand known the world over for quality, innovation and performance. Partners like Pirelli enhance our ability to reach and engage a diverse global audience, helping us tell the story of this iconic franchise and growing the sport of baseball internationally. We look forward to collaborating with Pirelli; continuing to provide unique activations and experiences for the many Dodger fans in L.A. and well beyond. – Greg Morrison, Vice President of Corporate Partnerships for the Los Angeles Dodgers
THIS ARTICLE IS WRITTEN BY