PIRELLI Illuminates CHRIST THE REDEEMER of Corcovado In Honor of Italy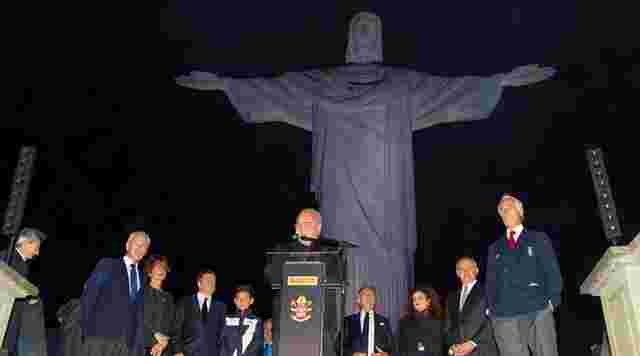 Pirelli, through the visit of Italian Prime Minister Matteo Renzi and in collaboration with the Archidiocese of Rio de Janeiro, celebrated the strong bond that connects Brazil and Italy by illuminating the Christ the Redeemer of Corcovado monument with the Italian tricolore.
Prime Minister Renzi began the event activating the green, white and red lights of Brazil's most famous monument, in the presence of Archbishop of Rio de Janeiro, Cardinal Orani Tempesta; Italian Ambassador to Brazil, Antonio Bernardini; Consulate General of Italy in Rio de Janeiro, Riccardo Battista; Executive Vice Chairman and CEO of Pirelli, Marco Tronchetti Provera; Executive Chairman of Pirelli in Latin America, Paolo Dal Pino and the President of CONI, Giovanni Malagò.
Pirelli, present in Brazil for 87 years and a market leader, has provided the preservation and maintenance of Christ the Redeemer of Corcovado, as well as the monument's social projects since 2014. After financing the monument's restoration two years ago due to damages caused by lightning strikes, this year, Pirelli reaffirms its relationship to Brazil and the Rio de Janeiro city by joining in the safety project related to the area where Christ the Redeemer stands; assuring its ongoing maintenance.
Among the projects is www.bracosabertos.com, the digital platform launched recently by Pirelli and the Archdiocese of Rio de Janeiro that has the objective of valorizing and sharing the numerous goodwill gestures, projects and actions spontaneously done by Brazilians for their community. The website enables stories of individual Brazilians who have dedicated themselves to others to be heard through videos and narratives. It also shared the incredible panorama of Rio de Janeiro seen from the top of mount Corcovado – a window accessible via smartphone or computer from anywhere in the world. For the first time, thanks to Pirelli, the experience includes an exclusive virtual tour within the monument, 360° views of the city and a 24 hour time-lapse of the landscape.
For more information visit www.pirelli.com
THIS ARTICLE IS WRITTEN BY