RESTAURANT GORDON RAMSAY: New Era For London's Culinary Mecca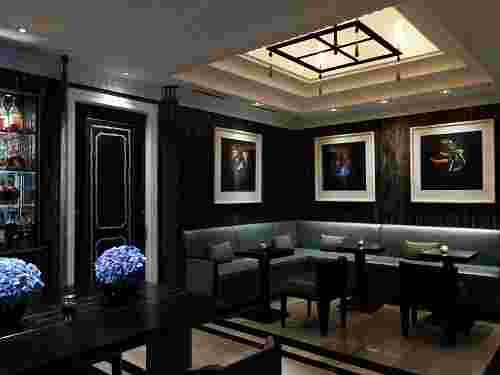 Restaurant Gordon Ramsay, a 12-time recipient of three Michelin stars and 
widely recognized as Britain's best restaurant
has reopened after a four week refurbishment.  It is not only the interior that has been redesigned.  The restaurant has reopened with
Clare Smyth
as the new standing Head Chef in partnership with
Gordon Ramsay
. She is the only female chef in the UK to hold three Michelin stars.
Restaurant Gordon Ramsay, opened in 1998 and was Ramsay's first solo restaurant. In 2001 it made Gordon Ramsay the first Scottish chef to have won three Michelin stars.Since then it has been on most lists of the the top restaurants in the world..
Smyth joined Restaurant Gordon Ramsay in 2002 as a Chef de Partie.  Ramsay, known for his passionate temper as seen in "Hell's Kitchen" is also a perfectionist and  nurturer of a new generation of culinary talent. He recognized Smyth's creativity and potential and became her mentor.  After working for 3 years, she left as senior sous chef to gain experience in other kitchens and to train with some of the world's other celebrated chefs.  Smyth rounded out her knowledge of French cuisine at Alain Ducasse's Louis XV. She returned to the Ramsay fold in 2007.
Smyth's respect for the heritage of Restaurant Gordon Ramsay is palpable. The menu reflects the evolution of London's iconic restaurant with original Ramsay dishes and standing side by side with the dishes of Smyth's own creation. Both mentor and protege are chefs driven by precision and finesse.


Smyth talks about Ramsay's food with as much enthusiasm as she describes her own, describing Ramsay's Ravioli of Lobster, Langoustine and Salmon as 'the perfect dish."
Ramsay deciding the time is right to let Smyth shine in her own right and in recognition of her talent and energy channeled into Restaurant Gordon Ramsay, has given her a share of the business. Together, the new partners have invested in both the space and their team. A new chapter is about to begin.
Ramsay says, "I'm incredibly proud of Clare and what she has achieved. She is an amazingly talented chef and the time is right for her to build on this. Restaurant Gordon Ramsay will always be very special to me and Clare becoming Chef Patron is testament to my partnership with, and trust in, her."
Restaurant Gordon Ramsay will retain its fine dining legacy but will modernize its guests' experience.  The theater of the drink and cheese trollies will remain and will be further enhanced by an opulent liquor library.  Smyth and Ramsay have also created a chef experience table to celebrate its regular clients.  Regulars will have the opportunity to interact with the chefs and have a menu created just for them.
Taking inspiration from Art Deco design, Ramsay and Smyth worked with Fabled Design on the ambitious renovation.  Luxurious materials emphasize the mood of the restaurant*s different spaces.  Smyth comments, "The refurbishment is our celebration of all that makes Restaurant Gordon Ramsay so special."
As London's longest running three Michelin beneficiary, the acclaimed Restaurant Gordon Ramsay is booked months in advance.  Smyth remarks, "I am hugely passionate about Restaurant Gordon Ramsay and delivering the best possible guest experience, everything we do has to be immaculate: food, wine, service." Furthermore she adds, "I am also hugely motivated in the continuation of our commitment to developing and nurturing the next generation of chefs and front of house."

Restaurant Gordon Ramsay
68 Royal Hospital Rd  London, Greater London SW3 4HP, United Kingdom
www.gordonramsay.com
THIS ARTICLE IS WRITTEN BY