Ricardo Pagan And Claridge Properties, Part Of Investment Group To Build Tallest Building in Western US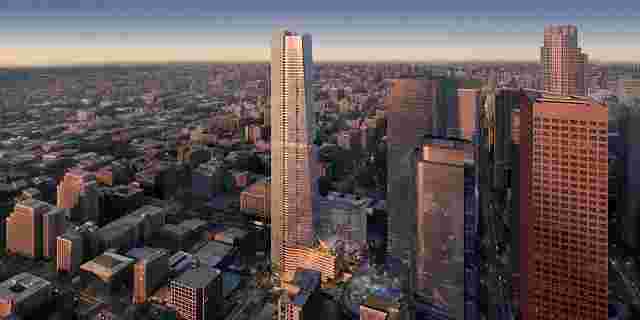 Angels Landing Partners LLC, a 100% minority-owned team comprised of the Peebles Corporation, MacFarlane Partners and Claridge Properties, has been selected by the City Council of the City of Los Angeles, California to manage development of the coveted Angels Landing Site, and will build the tallest building in the Western US as part of the plan.
"Our team is inspired by the great opportunity to transform the Los Angeles skyline with our iconic building, enhance residential life downtown, and forever change how large buildings are built in Los Angeles by ensuring that all residents and businesses receive equal access to career and business opportunities. We look forward to working with the City of Los Angeles and their team, Council member Jose Huizar and the Chief Legislative Analyst, Oscar Ixco," said Don Peebles, Chairman and CEO of the Peebles Corporation.
Following a unanimous approval from the City of Los Angeles Economic Development Committee, the full City Council approved the approach by the team to develop the 2.24-acre site at Fourth and Hill Streets. The estimated budget, including acquisition, is $1.2 billion with a construction phase expected to run for 41 months with completion due in late 2024.
"We join our partners in thanking the City of Los Angeles for their support of our team and our plan," said Victor MacFarlane, Chairman and Chief Executive Officer of MacFarlane Partners. "Having invested in properties in downtown Los Angeles for the past 15 years, we are firm believers in DTLA and enjoy a valuable working relationship with Councilmember Jose Huizar. Angels Landing gives us an exciting opportunity to broaden the transformational work we are doing nearby in developing the Park Fifth residential project and supporting the Pershing Square Renew effort."
Ricardo Pagan of Claridge Properties commented on the award, "We are honored and thank the city of Los Angeles, council member Jose Huizar, the CLAs office and the selection committee for supporting and entrusting us with the future of Angels Landing. We will remain committed to bringing forward a world class asset to the city and provide opportunity and growth for Angelenos. Today's vote marks an important day in the future growth of this city, our team is grateful for being a big part of it."
Claridge Properties is a 100% minority owned real estate investment and development firm. Pagan brings over 16 years of experience in real estate acquisition and development. He is an established real estate developer, investor and operator with projects in the New York City Metro area and Los Angeles as well other major markets which include Detroit, Atlanta and Phoenix. Over the span of his career, he has completed well over $1 Billion in acquisitions and development of assets in his specified markets encompassing well over 3,500 residential units and over 500,000 sf of office space.
The winning plan aims to increase pedestrian flow and activity, engage the public, and activate the site and surrounding neighborhood. The proposed transit-oriented development will provide a better experience for Pershing Square Metro Station commuters as well as pedestrians by increasing accessibility to the site—currently, one of the major issues affecting the difficult hill-like structure.
In addition to building two towers, one of which will be the tallest residential building in the Western US standing at 1,000 feet, the master plan for the mixed-used development will deliver approximately:}}
Two Hotels operated by SBE (192-key SLS hotel; 289-key Mondrian hotel)
425 apartments, including affordable housing units
250 condominiums
Nearly 45,000 SF of restaurant and retail space
An elementary charter school serving K through Grade 5
+50,000 SF of publicly accessible open space, including a 25,000 SF central outdoor gathering space for year-round events called "Angels Terrace"
A mini food hall which will incorporate local businesses
The design team is led by Handel Architects and OLIN, two global design firms recognized for their excellence and distinguished projects. Handel which will oversee the design, recently completed one of the most critically-acclaimed high rises in Los Angeles, Ten Thousand Santa Monica. OLIN, best known for The Plaza at Santa Monica and ONE Beverly Hills, will handle the landscaping.
Angels Landing Partners is a synergistic collaboration between two of the leading minority-owned national real estate development firms in the country and a local minority-owned real estate developer. The team is committed to a transformative inclusionary process by providing contracting opportunities for the project to minority and women-owned businesses. Their goal is to exceed the M/WBE requirements and generate significant employment opportunities, with a focus on strengthening the middle class.
THIS ARTICLE IS WRITTEN BY