RIVIERA NAYARIT – A Place To Accomplish Bucket List Experiences for Millennials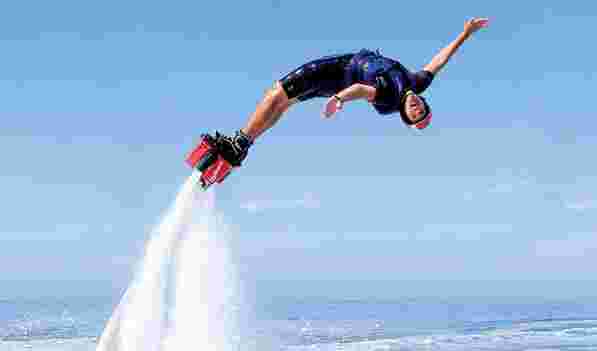 The millennial traveler "bucket list" cites authentic experiences, unusual adventures, meeting interesting people and local cuisine, something found nowhere else in the world.  Check…Check…Check. Riviera Nayarit delivers. The destination is filled with hidden gems of breathtaking and picturesque experiences that every millennial traveler is going to want to add, and immediately check-off, their bucket list. From literally flying above the water to swimming with whale sharks, there's plenty to discover throughout Riviera Nayarit's nearly 200 miles of coastline framed by rainforest covered Sierra Madre Mountains. Whether travelers are looking to learn all about a new culture or want a heart racing adventure, Mexico's Pacific Treasure will not disappoint.
The following is a sample of activities that millennials are sure to enjoy:
Flyboarding (pictured above)
Fly above the water with one of the world's newest and most breathtaking extreme sports, flyboarding. With the use of a water-propelled jet pack, riders are shot through the water and into the air where they can hover and fly. While it may seem extreme and difficult, flyboarding is easy to learn. Hand and foot controls allow for amazing acrobatics, somersaulting and twirling through the air and zipping around under the sea. For more information, please visit Punta Mita Adventures.
4×4 Safari
Experience the real Mexico with this off-road adventure. Hop on a Mercedes Benzunimog jeep and go on a voyage of discovery through the Sierra Madre Mountains. The journey takes adventurers through historic towns, making stops along the way to interact with the locals and gain a better sense of their lives and cultures. Travelers ride through amazing scenery, fruit orchards and culminates in a fact-filled hike through the region's forests to learn about the area's rich vegetation and wildlife. For more information, please visit Vallarta Adventures.
Catch & Cook Adventure
The Catch & Cook Adventure at Four Seasons Resort Punta Mita provides a look into the region's rich fishing heritage. The resort offers excursions to the Bahia de Banderas for guests to try their hand at catching what's in season including mahi mahi, sea urchin, yellow fin, snapper and octopus. Back at the resort, a chef will guide guests on through the preparation of the chef's favorite dishes including Zarandeado Red Snapper and Grilled Mojo Shrimp using the catch of the day.
Swim with Whale Sharks
The abundant marine life of San Blas allows travelers to swim with whale sharks all year round. Travelers can catch a boat tour with specialized guides that will take them out to shark's habitat where they can also get a view of dolphins, sea turtles and giant manta rays, in addition to humpback whales if they're around during their migratory season from mid-December through mid-March.
Waterfall Hike
Hike up the mountain village of El Cora and explore all three of its 70-foot waterfalls. Travelers can take a plunge into a 40-foot pool or get a neck massage from nature standing in the shallow pool of the waterfall above. There's also a hidden cave behind the falls to explore. For more information, please visit San Blas Eco Tours.
Cave Swim to Hidden Beach
A boat trip through Banderas Bay takes visitors to the Marietas Islands protected sanctuary.  Here you will swim through a cave to reach Hidden Beach, a white sand beach with a hole in the island rock that opens to the blue sky. For more information, please visit Punta Mita Expeditions.
For more information about Riviera Nayarit, please visit www.rivieranayarit.com.
THIS ARTICLE IS WRITTEN BY