Seafood Recipe For Dia De Los Muertos Dinner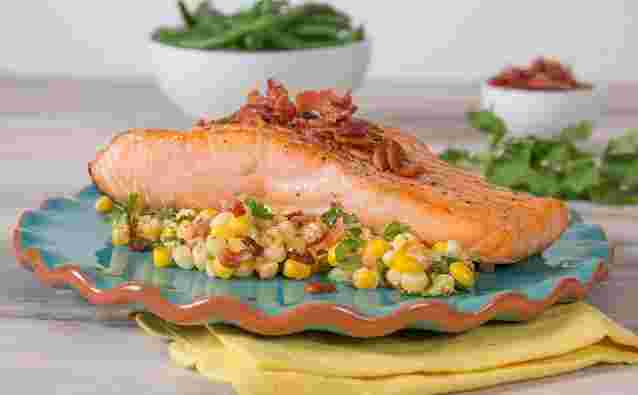 It's finally fall and you know what that means – cooler weather, fallen leaves, and the kick off to the holiday season. If you're celebrating, Día De Los Muertos this November 1st, add some seafood to your festivities, in honor of National Seafood Month (October) to accompany the tribute dinner for your loved ones who have passed.
Mexican Michelin-Starred Chef Carlos Gaytán has created a recipe by adding Salmon Topped with Esquites and Bacon to his feast, adding a hint of Mexican flavors. While the recipe is sure to be a favorite all month, it will also be a great addition to your Día de Los Muertos celebrations outside of tamales, as it adds a savory taste to the traditional foods served during the festivities, like pan de muerto and sugar skull cookies.
Salmon Topped with Esquites and Bacon
Created by Chef Carlos Gaytán of Mexique
Serves 6
INGREDIENTS
6 slices of Farmland Hickory Smoked Classic Cut Bacon
6 fresh epazote leaves*
3 ears of yellow corn, on the cob
1/4 cup mayonnaise
3 tablespoons parmesan cheese, grated
1 tablespoon chili powder
1 cup olive oil
6 salmon pieces, 6 oz. each
Salt & pepper to taste
DIRECTIONS
Arrange bacon strips in a single layer in shallow baking dish. Bake at 375°F. for 12 to 17 minutes or until browned and crisp. Once cooked, crumble the bacon and set aside.
In a large pot, boil water and remove corn from husk.  Cut the corn off the cob and place in boiling water for 5 minutes.
Julienne the epazote leaves.
Discard the water and place corn in a bowl, adding mayonnaise, Parmesan cheese, chili powder and julienned epazote leaves. Mix all ingredients together. Add salt and pepper to taste.
Heat olive oil in a pan. Once the oil is hot, sear each piece of salmon, 4 minutes on each side and add a pinch of salt to each side.
PLATING
Place corn mixture on plate; place one piece of salmon in the middle. Top with crumbled bacon.
*Use 1/4 cup of cilantro leaves as a substitute for epazote leaves if unavailable
THIS ARTICLE IS WRITTEN BY