So Fresh, So Clean with CHASSIS for Men – Premium Care for Down There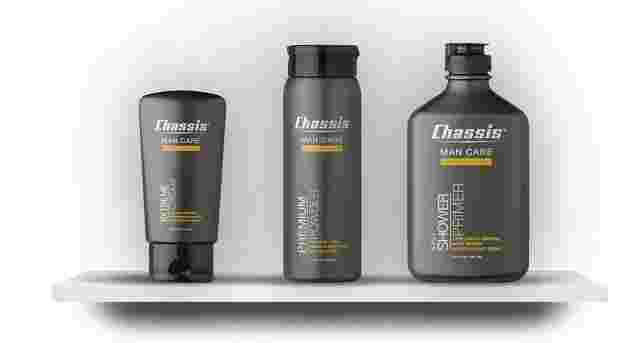 With the summer heat in full bloom, Chassis, arrives just in time.  As the brand new men's grooming line for down there, Chassis is the first and only premium men's care line specifically engineered from the ground up to prevent odor and chafing through even the most extreme situations. As you hit the gym harder to prep your beach bod, make sure to keep the Chassis Collection in tote to ensure your goods are fresh and dry despite your sweaty workouts.
Comprised of a Shower Primer, Premium Powder, and Extreme Cream, this innovative line is formulated with a Power Extract Blend of powerful ingredients like Hops and Pumpkin Seed. Check out Alpha M.'s review on YouTube and see below for additional information on these revolutionary products.
Chassis 5-in-1 Shower Primer – Your First Line of Defense
This is the first line of defense against chafing. Many men repurpose conventional hair products as options to soften body hair and reduce friction in the nether region. Now with the 5-in-1 Shower Primer, guys can use this multi-benefit product that's specially crafted to address the top issues encountered down there:
1. Deep Cleans 2. Eliminates Odor 3. Moisturizes Skin 4. Softens Body Hair 5. Reduces Friction
How to Use: Apply daily to areas of the body prone to heat, sweat and chafing. For best results, wait at least 30 seconds before rinsing.
Chassis 5-in-1 Shower Primer is available on ChassisForMen.com for $18.
Chassis Extreme Cream protects and soothes skin in even the most extraordinary situations. This revolutionary cream is tough enough to keep skin fresh and friction-free through a weekend in the wilderness, but gentle enough for even the most sensitive skin.
The unscented Chassis Extreme Cream is formulated with a proprietary Power Extract Blend of potent natural ingredients that work wonders on skin and provide quick relief from irritation.
Apply as needed to any area that is raw or chafed. Use with the Chassis collection or in place of Chassis Premium Powder on days where additional protection is necessary.
Chassis Extreme Cream is available on ChassisForMen.com for $18.
Chassis Premium Powder – Stay Cool. Stay Dry. Stay Fresh.
Featuring Hydro-Shield Technology and a mild scent that complements every man's lifestyle, Premium Power offers all-day protection against sweat, chafing and odor, while also soothing irritated skin. Chassis Premium Powder ensures you stay dry and comfortable in the most demanding environments.
How to Use: Shake powder into palm of hand and apply to areas of body prone to heat and sweat. For best results, apply to dry, freshly cleaned skin and use in conjunction with Chassis Shower Primer
Chassis Premium Powder is available on ChassisForMen.com and Amazon.com for $18
All products share the brand's proprietary formula, while added natural ingredients aid in conditioning skin and providing extra protection against heat and activity:
 HOPS – has anti-inflammatory effects, is antimicrobial and can be used as a skin-conditioning agent
 PUMPKIN SEED – works to promote natural oil regeneration
 ALOE VERA – heals, soothes and rejuvenates while fighting off unwanted bacteria
 WITCH HAZEL – astringent ingredient helps to condition and protect skin; reduces irritation from minor abrasions + conditions hair
 OATMEAL – contains antioxidant, anti-inflammatory, and moisturizing characteristics which soothe, smooth and nourish skin
 MEADOWFOAM – amazing hydrating and rejuvenating capabilities to soften, protect and help skin form a barrier to retain moisture
Chassis for Men is available for $18 each (or $49 for all three) at ChassisforMen.com and Amazon.com
THIS ARTICLE IS WRITTEN BY