SOLEIL J And The "Domino Effect" To Stardom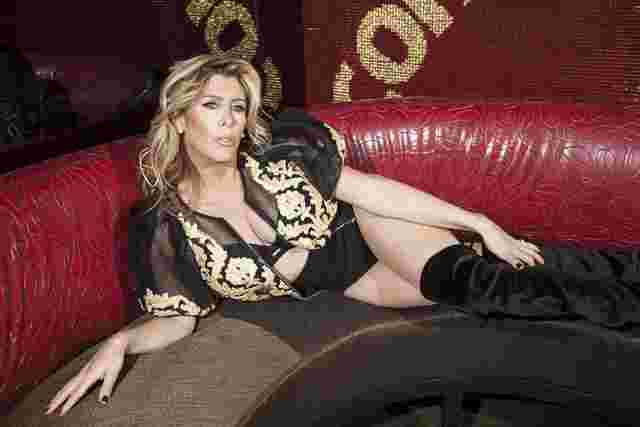 This summer Soleil J seemed to come out of nowhere and take over the airwaves. Her catchy tune "Despertare," rapidly climbed the Billboard charts where it remained for months. The remix with Tito Rojas was another fan favorite, especially in Puerto Rico. Now the new single seems headed in the same direction. But who is Soleil J? We sat down with the popular songstress at a recent Madison Square Garden concert sponsored by husband Johnny Falcones, and his company Viva Entertainment Group. In our exclusive conversation she reveals the beginnings of her career, and her plans for returning to The Garden – next time as the headliner of a sold-out concert.
HOMBRE: What can you tell us about the new record?
Soleil J: The new album is called "Domino Effect." The first single is a cover of the a Grammy winning song by Jorge Moreno called "Despertare." It was initially done as a pop song, I'm doing both a salsa and a pop version. We did a version in Puerto Rico with Tito Rojas. We're very happy because Tito is an icon, and the song is playing everywhere, especially Puerto Rico. Now the song is playing in New York, Miami, and all over the U.S.
H: Why do you think the song is so popular?
SJ: I write also, but my team said let's begin with a song that people are familiar with and we began with a salsa song. It's a romantic song. Promoters, producers, everyone said 'that's a hit,' and when we began to play it on the air it was a accepted right away. I'm a new artist and when you're new people scrutinize you. But with this song it was smooth. And with the feature by Tito Rojas even better. In the billboard charts we made it to #6. We're very happy.
H: Tell us about your career.
SJ: I lived in Miami and began as a DJ and played for over seven years, playing mostly dance and trance music. I first picked up a mic about five years ago and began to sing, and people liked it. I first did as a hobby, not thinking it would be my career. When I moved to New York I met my future husband Johnny Falcones. He met me as a DJ and started managing me. Things started to go well. And it was him that convinced me that I should sing. When he was managing me as a DJ he suggested that I start mixing Latin music, and I started to fall in love with Salsa and Bachata. It was a different from the trance and dance music world I was used to. I DJ'd at the Copacabana. I decided I wanted to sing salsa. Then we sat down and decided that I would do this professionally. Jorge Moreno is a friend of ours and we decided to start with "Despertare." It was the best way to open the doors with a song people knew.
H: How long have you been singing professionally?
SJ: I would say two and a half years. Everything takes time. This is the second song I record. I recorded my own song in Reggaeton format, which I love, but it's not what identifies me. I love Salsa and I feel we need new artists. I would like to be like a Marc Anthony, I see there's a void in the market. I love rock too, but I decided my niche would be salsa.
H: Who are some of your musical influences?
SJ: Celia Cruz, and Marc Anthony in Latin music. In Dance Pop I admire Madonna. But not only the way she sings, but as a business woman. My manager, Johnny, told me that you have to understand that music is a business. Once you understand that everything is easier. I learned to listen. I realized that Marc and Celia got to where they did because they listened. JLo is someone else. They had to have something to get where they did, it's not only their voice. Understanding that is major gift.
H: What about your early days?
SJ: I'm an immigrant, didn't know English. I come from a middle class family in Argentina, but here I had to start from zero. I had to work as a waitress, as a bartender, it wasn't easy. To reach your dreams you need to find the right people. You have to be humble, appreciate things. It's important to value journalists, people you meet. I want to keep my values and my feet firmly planted on the ground. I want to remain humble and listen to the people in my team. I'm dedicating my all to music.
H: What can you tell us about the next single?
SJ: The next single will be done in Salsa and also in Bachata. I love Bachata.
H: What are your aspirations?
SJ: There are so many tragedies going in the world. I want to be a light. I want to always transmit humility, honesty, and the importance of family. It's important to dream. Before getting here I had to suffer. People saying you're not going to make it. The most important thing is to believe in yourself and always move forward. No matter the dream, I assure you, you'll get there.
Prayers are important. No matter the religion. You need conviction in what you have to offer and have the faith. Everybody has a story to tell, the secret is who is going to tell their story. In ten years I will tell my story. I will tell it so that people are inspired. When I began nobody believed in me, not even my own family. They would say 'find another career.' But I would say, 'No I'm going to make it.' I have a purpose, and it's not only my message. I want to begin a foundation to help especially Latinos. Maybe give people the opportunity that I didn't have. I would love to help immigrants because I am immigrant.
H: What's next for you?
SJ: I have something very clear. I will not stop singing until I fill Madison Square Garden. Lets say each song has a span of 3 to 4 months, every four months I will have a new song until "Domino Effect" is done.
H: Tell us about the album and how did the album name come about?
SJ: My husband plays domino. And when he and his friends would play they would say 'your song is going to have a domino effect.' I believe when people name things they happen. We'll have between 10 -12 songs, both English and Spanish, both originals and covers.
I believe maybe the third song will be my original, we're waiting to see when that will happen. Maybe by January. We're going little by little. Now I'm taking a pause. In October I'll have my one and only daughter. Family is first but I want to pursue my career after working so hard for so long. My daughter will live on a plane (laughs).
H: What are some of your other future plans?
SJ: To motivate. I admire what Ariana Grande did over the summer (with her benefit concert). I believe that was a beautiful gesture, to dedicate her time to that. I think it's important. With the money I make with music I want to invest it in my career, to continue advancing, but I want to donate a large portion to different causes, helping immigrants in whatever is needed, create a Foundation. That's my main goal.
Professionally I would like to crossover, sing in English. They also offered me film roles for the next year, and it's in our plans. Acting is something that will help solidify my career. But with music you talk directly to the people. Music is really in my heart.
Soleil J photographed exclusively for HOMBRE by Paul Tirado
Shot on location at Copacabana NY
THIS ARTICLE IS WRITTEN BY