St. Paddy's Day Cocktails from Hilton Caribbean & Latin America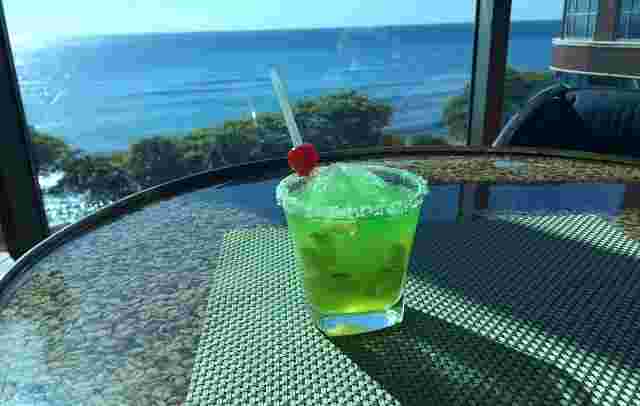 When March 17 rolls around, everyone's a little Irish—that's because St. Patrick's Day, with its parades, parties and green libations, is a welcome usher to spring and warmer weather. This St. Paddy's Day, Hilton's sunny hotels and resorts in the Caribbean and Latin America are proud to offer you green cocktails for the inspiration to dig out of the snow and celebrate!
Kiwi Piña Colada at Caribar, Caribe Hilton
The original piña colada, the official drink of Puerto Rico, was created at Caribe Hilton just over 60 years ago. This St. Patrick's Day twist on the world-famous cocktail comes as the hotel anticipates its brand new bar—Caribar—opening in March 2015, promising new takes on the old classic.
Kiwi Piña Colada Recipe: 
-2 oz. rum
-1 oz. coconut cream
-1 oz. heavy cream
-6 oz. fresh pineapple juice
-½ cup crushed ice
-6 oz. Kiwi tropical fruit
Leprechaun's Treasure, created by Francisco De Los Santos for Sol & Sombra Bar at Hilton Santo Domingo
Created in a heated mixology competition, Leprechaun's Treasure includes a variety of green ingredients, complementary flavors and slushy ice for a too-tasty way to celebrate Ireland's patron saint and the beginning of spring.
Leprechaun's Treasure Recipe:
-1.5 oz. Midori Liquor
-1.5 oz. White Dominican Rum
-½ oz. key lime juice
-½ oz. liquid sugar
-Splash of sprite
Garnish:
-0.5 oz. Green crème de menthe
-Crushed ice snowball (this is the treasure!)
-Rocks or margarita glass
-Half a key lime (muddled)
St. Paddy's Crunch, by Yackeisha Marcelina for Captain Bligh's at Hilton Curaçao
The Irish spirit of simplicity inspired the simple but festive St. Paddy's Crunch. The taste, color and catchy name promises multiple rounds of this green cocktail.
St. Paddy's Crunch Recipe: 
-Fill the glass halfway with ice
-Add 2 oz. of vodka
-Add ½ oz. of Midori
-Mix the contents using an agitator or a straw
-Place a spearmint leaf at the top, within the ices
Deschamps Green, by Lewis Deschamps for Bar Perle Noire at Embassy Suites by Hilton Santo Domingo
From Hilton Worldwide's newest hotel in the Caribbean, opened in June 2014, comes the delectableDeschamps Green, a sweet and sour drink that looks and tastes like adult candy.
Deschamps Green Recipe:
-2 oz. White Rum
-½ mint
-1 ½ oz. lemon juice
-2 oz. Passion Fruit Juice
-1 oz. liquid sugar
-Serve in frosted margarita glass, garnished salt and lemon twist
St. Patrick's Day Sin, created by Rodman Paixão for Canvas Bar at Hilton São Paulo, Morumbi
An audacious blend of Jameson Irish Whiskey, sour Midori and sweet sugar syrup, Canvas Bar's St. Patrick's Day cocktail is a sinfully delicious homage to Ireland's favorite liquors.
St. Patrick's Day Sin Recipe:
-25 mL Freshly grated Basil and Lemon Juice
-20 mL sugar syrup
-10 mL Chartreuse
– ½ mL Midori
-1 shot of Jameson
Foam Ingredients and Presentation Instructions:
-Add all ingredients to a shaker and fill with ice
-Dry shake and double strain into a cocktail glass
-Add egg white foam—1 egg white for every 16 oz. of lemon juice
THIS ARTICLE IS WRITTEN BY