T-Mobile Now Includes Netflix For Free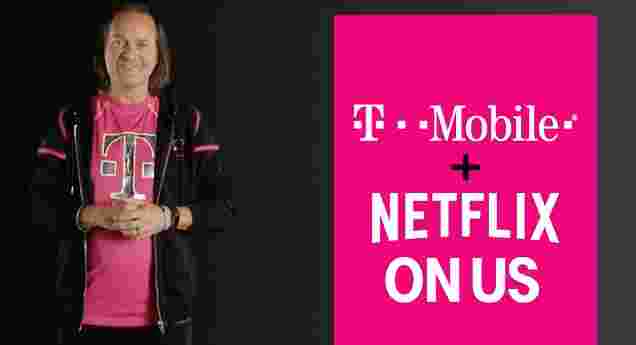 T-Mobile has unveiled the company's latest industry-changing Un-carrier move: 'Netflix On Us.' Through an exclusive new partnership with Netflix, T-Mobile ONE family plans will now come with Netflix — at absolutely no extra charge. Now, the Un-carrier is going ALL IN on unlimited by adding Netflix to T-Mobile ONE family plans. Which means anyone with two or more qualifying T-Mobile ONE lines can get Netflix On Us. And T-Mobile ONE with unlimited everything — and now with Netflix included — is $40 per line for a family of four. Monthly taxes and fees are included.
"The future of mobile entertainment is not about bolting a satellite dish to the side of your house or resuscitating faded 90s dotcoms. The future is mobile, over-the-top and unlimited," said John Legere, president and CEO of T-Mobile. "While the carriers spend billions on their franken-strategies to cobble together carrier–cable–content mashups, the Un-carrier just leapfrogged them all by partnering with the best and giving it to customers at no extra charge. Because that's what we always do. Give more to you without asking more from you."
"This is the right move at the right time — for all the right reasons," said Reed Hastings, co-founder and CEO of Netflix. "More and more fans are bingeing on mobile, so we're bringing together Netflix's award-winning TV shows and movies with T-Mobile's award-winning, unlimited network."
The new frontier for carrier bundles is mobile video. As the Internet becomes the Mobile Internet, video is becoming mobile video. This year, Americans have crossed a tipping point, spending over 50% of screen time on smartphones and digital devices versus traditional TV. And the trend is only accelerating — mobile viewing is expected to more than double by 2020.
Getting Netflix On Us couldn't be simpler. Starting Tuesday, September 12th, qualifying T-Mobile ONE customers can activate their Netflix subscription online, in-store or by calling T-Mobile's award winning customer care. And, if you already have a Netflix subscription, T-Mobile will cover the cost of a standard subscription for you — meaning you'll save nearly $120 every year.
To qualify, all you need are two or more paid voice lines on T-Mobile ONE with taxes and fees included. Even customers with free lines from the Un-carrier's wildly popular recent "line-on-us" deals qualify. Customers on Unlimited 55+ or 2 lines for $100 can get Netflix On Us simply by switching to the latest T-Mobile ONE plan.
On top of all this, T-Mobile ONE families who get Netflix On Us will also get T-Mobile's Family Allowances (https://www.t-mobile.com/customers/family-allowances) at no extra charge. Family Allowances allow parents to manage their kids' phone usage — like setting guidelines for talk time, text messages, download times and which numbers their kids can contact.
For more information about T-Mobile ONE with Netflix included, visit https://www.t-mobile.com/netflix.
THIS ARTICLE IS WRITTEN BY