The Future of Motion Gets Major Upgrade With ONEWHEEL+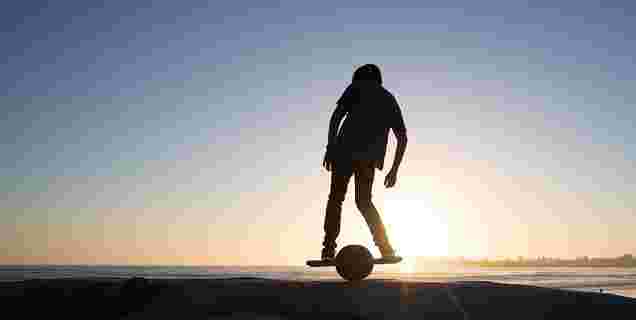 Onewheel, the much-loved transportation/recreation product gets a major upgrade for 2017 with a new premium model called Onewheel+. The improvements feature a newly redesigned motor with breakthrough, patented Hypercore technology that provides even smoother, quieter riding, more torque at all speeds, better hill-climbing and higher top speeds up to 19 MPH. Also new for Onewheel+, Surestance footpads combine CNC-machined hardwood tip and tail kick for comfort with 100% sensor coverage making it easier to learn and more comfortable to ride.
Onewheel+ is based on the proven Onewheel battery platform which is well-proven and reliable.
"People are using Onewheel in all kinds of ways we never imagined," says Onewheel Inventor and Future Motion CEO Kyle Doerksen. "Based on what we've learned so far, we've made Onewheel+ a significantly more refined, more capable product that's approachable for first-timers and delivers progression for advanced riders."
"It's a whole new ballgame," says Jack Mudd, Onewheel Chief Evangelist. "The comfort, control and confidence of Onewheel+ is going to unleash a whole new wave of both using Onewheel to go places (with its higher top speed) but also riding features and terrain that was previously impossible. It really is next level."
Since launching at CES in 2014, riders around the world have come to enjoy Onewheel's intuitive control, powder snowboarding-like ride feel and effortless ability to ride both on and off-road.
Advanced Technology and American Manufacturing
Made in America: Designed and manufactured in California
What's inside: powerful custom-designed Hypercore brushless hub motor and proprietary balancing electronics propel riders up to 19 MPH (up from 15MPH on the original Onewheel)
Surestance hardwood tip-and-tail kick footpads create a comfortable and confident ride
Recharging: Ultracharger recharges state-of-the-art lithium iron phosphate batteries charge in just 20 minutes to provide a range of 6-8 miles
Balancing: Solid-state inertial sensors and carefully tuned algorithms balance the board to provide a hands-free experience
CNC machined 6061 billet aluminum frame
Responsive and durable board inspired by a combination of boardsports, motorsports and aerospace design influences
Dynamic stabilization: riders simply lean forward to drive forward, lean back to stop, and press their heels or toes to turn the board
Regenerative braking: recovers ~30 percent of total power output
Lighting: Intelligent LED head and tail lights guide the way for night rides and switch as the rider reverses direction
The board's single wheel is an Italian made go-kart racing slick, a scaled down version of a Formula 1 racing tire
Future Motion vigorously defends its intellectual property which includes several US and international patents on various core Onewheel technologies as well as the vehicle configuration and design.
The Onewheel+ and Ultra Charger can be ordered now at $1,499 (+ shipping, tax and duty), and in select European retailers for €1,699.
Onewheel products are made in the USA, and are available online at www.onewheel.com and through exclusive specialty retailers.
THIS ARTICLE IS WRITTEN BY