The MOTO Z2 Force Edition Is Here To Transform Your World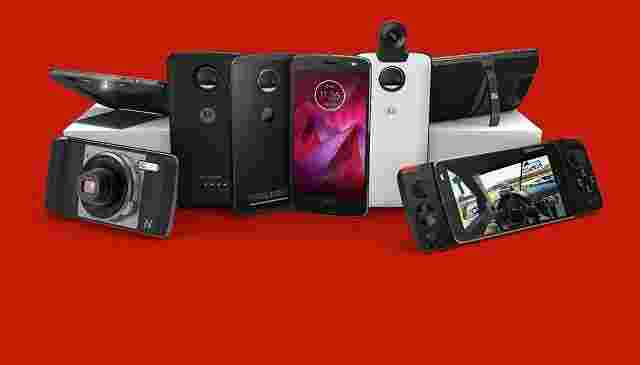 A few days ago we had a chance to get a first look at the latest smartphone from Motorola. The company that pioneered the cell phone era has created the new Moto Z2 Force Edition, designed to transform itself quickly and easily and allow you maximum flexibility at the flip of the wrist. With the Moto Mods concept you can turn the device into a 360˚ camera,  gaming console, a movie projector, stereo speaker, battery powerhouse, and more. Whatever your passion, there's a Moto Mod for you. The smartphone itself is thin, light, fast, and best of all shatterproof.
Let's start with the camera. The Moto Z2 Force gives you two 12 MP rear cameras for professional-looking photos with enhanced depth of field. Add a blur effect to the background or foreground while keeping the subject in focus or use selective black & white to give full-color photos a distinctive look. Plus, you can make adjustments in real time, so you know the image you're capturing is the one you want.
You can shoot sharp photos day or night with Motorola's first camera that combines laser autofocus and dual autofocus pixels. The 5 MP front-facing camera gives you a dual cct flash for great selfies in any light, and with the wide angle lens, can fit everyone into the frame.
It responds to every tap, touch and swipe with the fast data speeds, download books, movies, and large files in no time. You can stream music, shows, and videos effortlessly—even in Ultra HD.
This smartphone is ultra-slim with aluminum unibody delivering both style and strength. The thin, all-metal design helps stand up to everyday wear and tear. And with the shattershield, your screen is guaranteed not to crack or shatter. It also has water-repellent nanocoating which protects against light water situations.
It has has TurboPower which means with a single charge you can get up to 30 hours of battery life thanks to a 3000 mAh battery. The charger allows you to get up to 8 hours of battery life in just 15 minutes.
And with the one-button nav you can easily navigate your phone using the fingerprint reader. Swipe left to go back, right to access recent apps, tap to go home, and use one long press to lock your phone. With no buttons to clutter the screen, you get a much better view.
Now let's talk about the Moto Mods. These additions add cool new features and versatility to an already multi-functional device. The options are varied. You can capture interactive 360-degree 4k video, transform your phone into a gaming console, turn it into a powerful stereo speaker, shoot with a 10x optical zoom camera, double your battery life, and project a movie to watch with friends.

Moto Power Pack
Instantly add up to 16 hours of battery life to your phone without adding bulk. The 2220 mAh moto power pack snaps on easily so you can recharge on the run, all in an ultra-thin, lightweight design. Just snap and go.
High Quality JBL Sound
Instantly add premium JBL-quality stereo sound to your smartphone and get the party started — no pairing required. Whether you're listening to music, watching videos or cheering on your favorite team, the built-in kickstand gives you a hands-free, immersive audio-visual experience.
Get a full night's worth of music with 10 hours of playtime built right in. Or take your music on the road and keep that vacation soundtrack going strong.
The JBL soundboost 2 is protected with a water-resistant coating.

360-Degree Camera
Snap on the Moto 360 camera and capture interactive video, audio, and images from every direction. Share your favorite moments and relive the action all around you. You can record 4K Video with 3D Sound Capture 360° interactive 4k video with immersive 3D audio. Play it back and hear sound coming from every direction as it follows your moves. You can edit your 360° photos and videos right on the spot. Just use your phone — no computer required.
With the Ultra Wide-Angle you can capture 150° ultra wide-angle front and rear images, giving your still photos a fresh perspective that you just can't get from any other smartphone. You an also live stream 360° videos on your social channels.
For more information on the Moto Z2 Force visit www.motorola.com
THIS ARTICLE IS WRITTEN BY