Top Artists Join Univision's "Unidos Por Los Nuestros" Benefit Special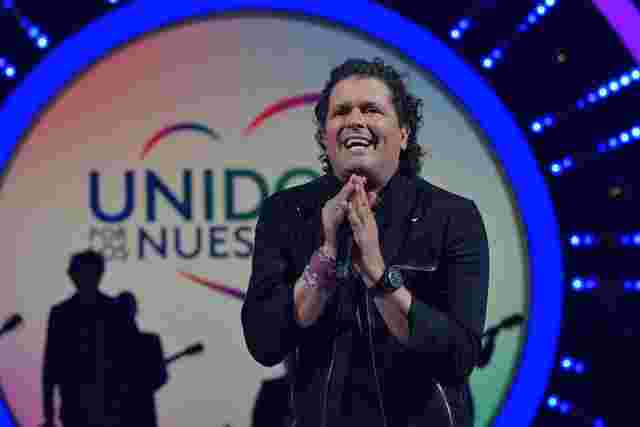 Univision on-air personalities and guest artists came together for Unidos por los Nuestros (United for Each Other), an unparalleled celebrity-packed entertainment extravaganza to raise funds for the survivors and victims of this week's Mexico earthquake and Hurricane Maria, as well as ongoing support for communities impacted by Hurricanes Harvey, Irma and the earthquake in Oaxaca, Mexico, earlier this month.
Unidos por los Nuestros originated from Miami, Los Angeles, New York, Mexico City, Houston, Orlando, and Puerto Rico, with the special airing live on Univision Network, Univision Deportes Network, Univision NOW, and streamed LIVE on Univision.com, Facebook Live, and YouTube.
In addition, a liveblog featured behind-the-scenes footage with Univision talent, celebrities and families and individuals affected by the natural disasters sharing their stories.  Viewers can still join the conversation on social media using#UnidosPorLosNuestros on Twitter and Instagram and at Facebook.com.
Celebrity guests, performers and phone bank volunteers included Chayanne, Carlos Vives, Luis Fonsi, Ednita Nazario, Marco Antonio Regil, Ricardo Montaner, Chyno Miranda, Natalia Jimenez, Jesse and Joe, Leslie Grace, Kany Garcia, Jorge Posada, Julian Gil, Jonatan Sanchez, Christian de la Fuente, Blanca Soto, Karla Monroig and Prince Royce.
Univision personalities participating included Alejandra Espinoza, Karla Martinez, Alan Tacher, Pamela Silva, Raul de Molina, Satcha Pretto, Carlos Calderon, Lourdes Stephen, Enrique Borja, Clarissa Molina, Daniela Digiacomo, Roberto Hernandez; and news anchors María Elena Salinas, Enrique Acevedo, and María Antonieta Collins.  Jesús Bracamontes, Félix Fernandez, Hristo Stoichkov, Adriana Monsalve, Rodolfo Landeros, Pablo Ramírez and Iván Zamorano.
The special will help raise funds to benefit communities in the heavily affected areas of Houston, Texas; Oaxaca/Chiapas, Mexico; South Florida; Mexico City and Morelos; the Caribbean and Puerto Rico.
Donors are still able to contribute to one or several of the disaster locations by calling Univision's exclusive toll-free number (1-800-842-2200) and visiting www.Univision.com/Unidos.  The American Red Cross is working with Univision across all the disaster relief efforts. Plus, Univision is working with local relief organizations, like Catholic Charities USA, in specific impacted communities.
THIS ARTICLE IS WRITTEN BY