Top Five Reasons To Plan a Summer Trip to Yucatán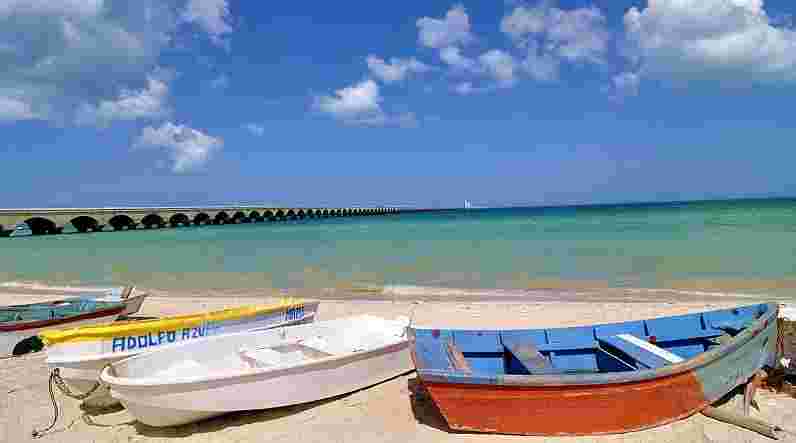 The summer travel season will soon be here, and Yucatán can be the perfect getaway. You can create unforgettable memories by experiencing superb archaeological sites like Chichén Itzá, historical cities of the Colonial era, natural attractions such as cenotes, and a vast cultural heritage expressed through music, dance, and cuisine. Yucatán offers every visitor a unique and colorful experience, and, now, with a favorable exchange rate against the peso at approximately 17:1 (for the USD), it is an economical destination as well.
1.       Ease of Travel:
Getting to the capital city, Mérida, has become even easier thanks to extended service by the American Airlines and United Airlines networks. Recently, American Airlines launched a new route into Manuel Crescencio Rejón International Airport (MID) from Dallas Fort Worth International Airport (DFW), which operates five flights per week via an Airbus 319 aircraft. Additionally, United Airlines has recently increased its summer service (June – August) into MID with daily non-stop service from Houston George Bush Intercontinental Airport (IAH) via a Boeing 737-700 aircraft. These new flight options open numerous connections to Mérida from the extensive American Airlines and United Airlines networks.
2.       Explore Top Archaeological Sites:
Travelers looking to check major "must-see" spots off their lists can visit Chichén Itzá, a UNESCO World Heritage Site and one of the 7 Wonders of the Modern World, located in eastern Yucatán about 75 miles from Mérida. The archaeological site was one of the greatest Maya Centers in Mexico, and its impressive monuments include the Great Ball Court, El Caracol – the Observatory, Temple of Kukulkán (The Feathered Serpent God), and Temple of the Warriors which are among the most undisputed masterpieces of Mesoamerican architecture. The site is open daily from 8am to 5pm, and also features a cafeteria, library, an auditorium with audiovisual displays of Mayan culture, and  a nightly light and sound show offered at 8pm.
3.       Experience the Beach:
The Yucatán area has more than 230 miles of white sandy beaches. Progreso, a port city, offers one of the most ideal beaches for rest and relaxation. Located 30 minutes from Mérida, the beach town is famous for its laid back ambience, sunny climate, and multitude of Yucatecan cuisine and souvenir shops.
4.       Visit a Colonial-era City:
Dzibilchaltún, which means "the place where there is hand-writing on flat stones," is located 30 minutes from Mérida. Dating back to the middle of the classic period 700 – 800 AD, the city features the infamous "Temple of the Seven Dolls" structure and is named after the seven small statues that were found at the site when the temple was discovered. Other highlights of this archaeological site are the large plazas, sacbe trails, and the open chapel, a unique amphitheater structure. Another draw is Cenote Xlacah, which is located at the center of the city's ruins, and recent archaeological findings revealed that it was used as the center of a religious cult. Today, the cenote is used as a swimming pool by many people who visit the site.
5.       Engage in Local Culture:
Every Sunday in Mérida, the city's central plaza comes alive with the "Mérida en Domingo" street festival, when the city streets are closed to vehicle traffic so pedestrians can enjoy workshops and exhibitions where wonderful art and crafts are on sale, performers display traditional and contemporary musical and dance acts, and visitors and locals can savor regional cuisine. The weekly event is located at Main Plaza, stretching from Calle 60 to Hidalgo Park and Santa Lucía Park, and runs from 9am until 9pm.
The state of Yucatán is located in southeastern Mexico, along the Gulf of Mexico in the north section of the Yucatán Peninsula. The region boasts both a coastline of pristine beaches and interior sections rich with natural preserves. Yucatán is home to several designated UNESCO World Heritage sites including the well-preserved Mayan towns of Chichén Itzá and Uxmal, as well as two "Magical Towns" – the former Spaniards regional capital of Valladolid and the colorful Colonial-era town of Izamal. The state's capital, Mérida features a vibrant culinary scene, modern museums and historical attractions, while its main port city of Progreso is a popular cruise ship destination famous for its pier that extends an impressive four miles into the Gulf of Mexico. Yucatán has become an increasingly popular tourism destination for its diverse attractions that include natural underwater swimming pools, world-famous archeological and historical locations, unique luxury hacienda accommodations, and diverse natural wildlife.
Travel to Yucatán is easily accessible via Manuel Crescencio Rejón International Airport (MID), with several non-stop daily flights from the United States and Canada. The airport is conveniently located approximately 10 miles from downtown Mérida, a 30-minute drive.
For more information on Yucatán, please visit www.yucatan.travel or follow us on Instagram @yucatantourism and Twitter @yucatantourism.
THIS ARTICLE IS WRITTEN BY