Traditional Mexican Feast For Thanksgiving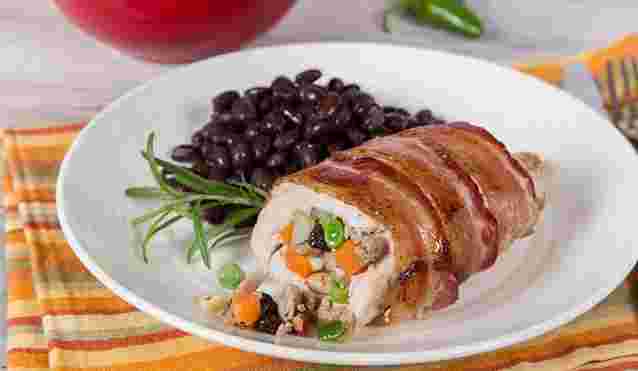 With the holiday season finally here, we know that everyone is busy shopping for the best gifts, decorations, and ingredients for dishes on their holiday menu to make sure all the celebrations are perfect this year. With this in mind, we wanted to share a festive recipe created by Michelin-star Chef Carlos Gaytan and inspired by his Mexican roots.
Chef Gaytan is the first Mexican chef to earn a Michelin star and after working his way up, he opened his own restaurant – Mexique in Chicago in 2013. As he says, "One of my favorite memories in Mexico was preparing the holiday dinners. Each year, my mom made a Pollo Festivo, a traditional dish from the south of Mexico that includes potatoes, queso asadero, jalapeños, and bacon, and the family would gather together at the dinner table to enjoy the meal."
Chef Gaytán continues to create unique, yet traditional recipes that incorporate Mexican ingredients like his Pollo Festivo. 
Pollo Festivo
Bacon-Wrapped Stuffed Chicken
Created by Chef Carlos Gaytan of Mexique
Serves 6
INGREDIENTS
1/4 cup peas
1/4 cup cooked carrots, cubed
1/4 cup cooked potatoes, cubed
1/4 cup jalapeños, minced
1/4 cup raisins
1/4 cup almonds
1/4 cup asadero cheese*
1/2 cup ground chicken
1 teaspoon ground cumin powder
1 teaspoon fresh rosemary, chopped
Salt & pepper to taste
6 chicken breast halves, boned and skinned
18 slices Farmland Hickory Smoked Classic Cut Bacon
DIRECTIONS
Preheat oven to 350°F.
In a large mixing bowl mix all ingredients except chicken breast and season well to make stuffing filling.
On a baking sheet, place 18 slices of bacon in groups of three and place chicken breast atop three slices season with salt and pepper. Repeat for all six chicken breasts.
Slice each chicken breast in half and stuff with 3 tablespoons of stuffing mixture and individually wrap each chicken breast with three slices of bacon.
When done, use butcher string to tie the bacon around each breast, tight enough so the chicken breast won't open while cooking.
Cook in the oven for 16-20 minutes.
*Use queso fresco as a substitute for asadero cheese if unavailable
THIS ARTICLE IS WRITTEN BY