VILLA DEL PALMAR & DANZANTE BAY At The Islands of Loreto – The New 'Must-Visit' Mexican Destination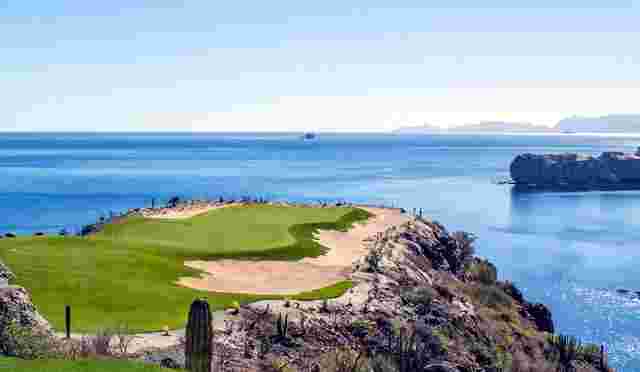 Rising as an alluring mirage amongst the mountains, desert, and Sea of Cortez stands the majestic Villa del Palmar at the Islands of Loreto, and Danzante Bay, a new master planned community with a splendid offering for demanding golf aficionados. In a recent trip we had the opportunity to experience this superior resort destined to transform the Loreto community in Baja Califonia into a must-visit for those eager to experience supreme luxury in new, undiscovered destinations.
Villa del Palmar at the Islands of Loreto, and Danzante Bay at the Islands of Loreto, is the latest creation of Owen Perry, and Luz Maria Torres the founders of the Villa Group, a real estate consortium specializing in hotels, residential full ownership residences, mixed use properties, and now developer of master planned communities. The company has been a pioneer in creating new communities and currently has 16 projects spread out throughout Mexico.
The Villa Group decided to make a significant investment in Loreto before anyone else. They arrived when there was only one small hotel, and one flight a week. Six years ago Villa Del Palmar at the Islands of Loreto opened as the first phase of what is fast becoming the new 'hot spot' in the Mexican Pacific.
When the resort opened in 2011 occupancy rate was at 20%, in 2016 it increased to 56%, and now in 2017 it's expected to rise above 80%. From a town with of six employees in hospitality, the master planned community currently has a workforce of over 600. Loreto is only a two-hour flight from Los Angeles International Airport (LAX), and is now serviced by 3 airlines and has almost daily flights.
It's easy to understand the speedy growth. The resort has been honored with numerous awards in recent years including being recognized by USA Today's 10 Best, as 16th best resort in Mexico by Trip Advisor, and winning recognition by the World Travel Awards as Mexico's Best Beach Resort for 2015 and 2016. It earned recognition as Mexico and Central America's Leading Resort by the same prestigious organization. Even Wine Spectator has recognized the property for its outstanding wine program.
LOCATION
What makes Villa Del Palmar and Danzante Bay so special?
Let's start with the location. Here you find desert, mountains, and sea at every turn; which allows for a wide selection of activities. But even if you choose to do nothing, the pleasure of immersing yourself in the innate beauty of the surrounding nature will provide enough enjoyment to last a lifetime.
THINGS TO DO
If you choose to indulge in physical activities there are numerous options. In the Sea of Cortez and surrounding Islands of Loreto you can enjoy some of the best fishing available, there's scuba and snorkeling, or simply boating and riding the waves alongside the dolphins – or whales, depending on the season. You can take on the mountains for some hiking, mountain biking, or ATVs. Of course a prime activity now available is golf, a subject we'll delve deep into.
RELAX
If you'd rather go easy on activities, Villa Del Palmar has multiple offerings to arouse your senses on-site.
It starts with the spacious and luxurious suites and their oversize balconies with unobstructed views of the Sea of Cortez or the Sierra Giganta Mountain Range. Suffice it to say that the residential-style Deluxe Suite is twice the size of a standard hotel room at 645-square-feet, with the next level being a one-bedroom with 1,300-square feet of space. From there you can upgrade to a Danzante Bungalow, a Two or Three bedroom suite, all the way up to an Ambassador, Royal, or Presidential penthouse.
You will feel quite at home with the plush bedding, familial living rooms, and practical full kitchenettes which include microwave, stove, fridge, dishwasher; completely equipped with silverware, chinaware and glassware. Let's not forget about the large screen Smart TVs with satellite service, wireless internet, and the luxury bathrooms with  granite counter-tops and  whirlpool tubs that can comfortably accommodate two. The high level of comfort is such that you will be tempted to remain in your suite, especially if your significant other has joined you on the trip.
DINING
Once you decide to explore the resort, options are extensive. Starting with dining, Villa del Palmar offers three top of the line restaurants with delicious cuisine surrounded by the serenity and natural splendor of the Islands of Loreto. These restaurants perfectly exemplify the area's traditional cuisine that combines northern cooking, seafood, and recipes brought over by the missionaries.
The Market Restaurant can be described as the Mediterranean meets America meets Mexico in a casual buffet-style eatery, where you can also choose from an International a la carte menu.
Casa Mia is a picturesque restaurant offering everything from wood oven pizzas, to tacos, sandwiches, salads and more.
Finally Danzante Fine Dining is a seafood and steakhouse – with a Mexican flare. The venue offers a classic atmosphere and an exquisite culinary experience. Devoted to fusion cuisine made with seafood, fresh fish, and fine cuts of meat, the flavors of the world deliciously blend together. A large selection of Mexican wines is available, and the adjoining bar features a variety of cigars.
AMENITIES
Beyond the restaurants, Villa Del Palmar is prepared to anticipate your whims. Tennis courts, five swimming pools including a kids pool, hiking trails, a full-service water activities center, a boutique, a Kids club, a Deli, supermarket and pharmacy, an Activities department, Concierge services, a Transportation company, and a Doctor's office are all steps from your suite.
SPA
The Sabila Spa and Wellness Center at the Islands of Loreto offers a relaxing environment and generous selection of specialty healing treatments within its ultra-luxurious facility. The Spa has been named to SpaFinder's Best Spas in Mexico and one of the Most Fascinating Spa Resorts in the World by Vacation Idea.
It offers a peaceful mountain view and has fully-equipped wet areas with soothing sauna, relaxing spa tubs, cold water plunge and many other high-quality areas.
The spa will tantalize all your senses with a plethora of traditional and modern treatments that can leave you totally transformed.
Sabila Spa features state-of-the-art massage and treatment suites. Other popular spa services include body wraps, facials, invigorating body scrubs and a full-service beauty salon. The spa therapists will take you to an endless summer of harmony, balance and pure pleasure. The Sabila Spa also features aromatherapy, reflexology and hydrotherapy specials.
All in all there is enough on-site at Villa del Palmar to keep you occupied for weeks.
GOLF
The new significant offering at Villa del Palmar and Danzante Bay at The Islands of Loreto is the recently inaugurated, Rees Jones designed, Danzante Bay Golf Course. Even if golf is not your sport of choice you will be mesmerized by the marvel of this site. Of course, if you are an avid golfer you will find that few courses will compare. The course has the first 11 of 18 holes completed and can be a challenge and a pleasure at the same time. From hole to hole you will traverse a landscape that includes mountains, valleys, desert and unequaled views of the Sea of Cortez.
This 7,000-yard golf course is a true rarity, featuring a mix of stunning views and luscious green holes, including the breathtaking Hole 17, which Jones praises as one of the best in the world for its panoramic view of Montserrat Island.
The Danzante Bay Golf Course offers a one-of-a-kind golf experience for players of all skill levels.
RESIDENCES
The pleasures found in Villa del Palmar and Danzante Bay are so many and so splendid that you may not want to leave. Fortunately very soon you won't have to. In the next 12 months the golf course will be completed, and there will be a commencement of the first residential cloister consisting of 140 lots.
For those seeking a real estate opportunity that provides luxury and true relaxation, look no further than Danzante Bay. With its quiet beaches, scenic vistas, rich history and astounding natural habitat – and offering every modern amenity and truly exceptional service – this 734-acre master planned community is the perfect getaway. The community is designed as a collection of distinct neighborhoods — each capturing the genuine characteristics of its natural landscape. The raw, natural beauty of Baja California and the Sea of Cortez is matched only by the refinement of the community's amenities.
So yes, paradise can last forever.
For more information on the resort and spa Villa Del Palmar at the Islands of Loreto visit www.villadelpalmarloreto.com
For more information on golf and real estate visit www.danzantebay.com
All photographs exclusively for HOMBRE Magazine by Francisco Romeo


THIS ARTICLE IS WRITTEN BY