WINGSTOP And Rick Ross Celebrate Milestone 1,000th Restaurant Location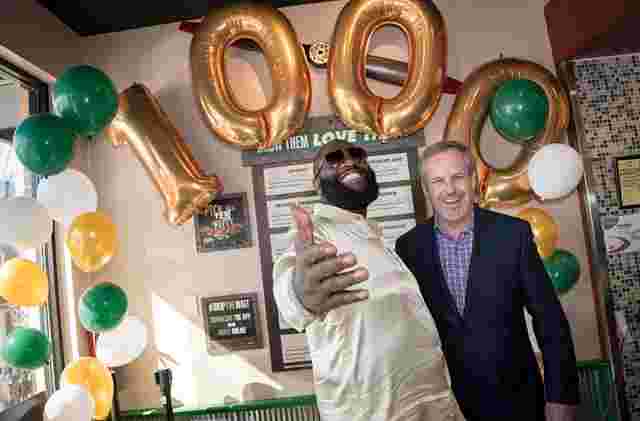 Wingstop, Inc., the award-winning wing concept, is celebrating rapid global growth with a major milestone: its 1,000th restaurant is officially open for business in the Atlanta market. On January 26th the grand opening kicked off at 4920 Flat Shoals Parkway, Ste. 102 in Decatur, GA with a ribbon cutting ceremony led by Wingstop CEO Charlie Morrison, Boss Wings franchisees Tawanda and Tommie Roberts and Rick Ross, who own the 1,000th location. Representatives from local nonprofit Hands on Atlanta accepted a $5,000 donation from Wingstop Restaurants, Inc., in honor of the grand opening.
"Today is a very significant day for Wingstop, and the culmination of our entire team's dedication to building this global brand. I want to thank our incredible franchise partners, hard-working team members, and all those who have contributed to this milestone achievement," said Morrison. "Whether it's our first store or our 1,000th, we remain focused on what we do best – providing our fans with fresh, cooked to order, hand-sauced and tossed wings, fries and sides.  We're the wing experts, and today is another important step forward in our mission to serve the world flavor."
Wingstop's 1,000th store opening is indicative of the Company's overall business growth strategy and success.  Additional corporate attributes and achievements include:
Global Footprint: Wingstop currently operates in 40 U.S. states as well as Mexico, Singapore, Philippines, Indonesia and United Arab Emirates.
International Development: Recently announced international development deals include 100 locations in Saudi Arabia over the next ten years and 30 locations across Colombia and Panama over the next five years.
U.S. Expansion: The Company sees opportunity for a total of 2,500 locations across the U.S.
Extraordinary Results: 2016 marked Wingstop's 13th consecutive year of positive same-store sales growth.
Guest Profile: Nearly half of Wingstop guests are millennials (49 percent); and 53 percent of customers are women.
Digitally Focused: By close of fiscal 2016 Q3, digital sales accounted for 19 percent of total sales.  Further, digital orders average $4 higher ticket than in-restaurant orders.
Socially Engaged: Wingstop was the first restaurant to successfully launch dynamic social ordering on Facebook Messenger and Twitter (June, 2016); and was the first to launch voice activated ordering with menu item customization on Amazon Alexa (January 2017). The Company was recently acknowledged as the most beloved fast casual restaurant brand on social media by NetBase.
National Reach: The Company's first ever national TV advertising campaign is slated for launch in February, 2017.
Giving Back: The Company recently launched the Wingstop Foundation, focused on providing educational opportunities for guests and team members in communities that have embraced the Wingstop brand.
"This is an incredibly exciting day for the entire Wingstop team, and we are proud to be sharing this achievement with the Greater Atlanta community," continued Flynn Dekker, Chief Marketing Officer of Wingstop. "As part of our commitment to supporting educational opportunities in communities that have embraced Wingstop, we are proud to join Boss Wings in celebrating this milestone with a $5,000 donation to Hands on Atlanta."
THIS ARTICLE IS WRITTEN BY