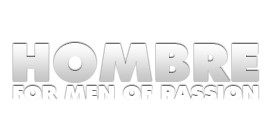 HOMBRE is the world's leading publication for Latin men. The magazine launched in 2006 and now has
the largest circulation in its category in the U.S.A. and Canada. And Hombre1.com, the magazine's
internet portal is currently the most visited lifestyle destination for Latin men.
HOMBRE attracts the biggest names in entertainment, politics, culture and sports along with top tier
advertisers. This year Spanish language editions will begin distribution in Central and South America.
Latin men are passionate, complex, exciting and fun… and so is HOMBRE.
HOMBRE goes beyond the stereotypes to clearly define the new Latino male. With interviews of
successful hombres; features on finance, health and lifestyle and photo layouts that spotlight today's
brightest menswear designers and the world's most beautiful women; HOMBRE is the magazine for the
modern Latino.
HOMBRE targets a coveted young, affluent and sophisticated consumer and is the perfect vehicle for
advertisers seeking a growing and untapped market: Latino Men.
HOMBRE is Javier Bardem, Carlos Slim, Alex Rodriguez.
HOMBRE is Jennifer Lopez, Sofia Vergara, Penelope Cruz.
HOMBRE is business…fashion…sports…entertainment.
HOMBRE captures the essence of Latino men and translates it to the printed page.
Latinos are the largest ethnic group in the United States and FINALLY there is a magazine – and a
website – that addresses their needs.
HOMBRE can be best described as a combination between GQ and Esquire; but with the difference that
sets Latin men apart: PASSION.
HOMBRE also has a sense of culture and style unique to the Latin experience.
HOMBRE is more than a noun; much more than a magazine, it's a way of life.
HOMBRE: The definitive guide for the Latino man of today and beyond.
CONTENT
Profiles – Moda – WOMEN … More
Departments include:
• ACCENTS: Stylish accessories for the sophisticated Latino.
• ELLA: Relationship advice from her point of view
• ESCAPE: Exotic travel locations.
• EXITO: Finance and banking advice
• FUERZA: Health & Fitness regimen designed for active lifestyles
• HOT SPOTS: The nation's best hotels, restaurants, nightclubs and lounges
• QUICK HITS: Latest entertainment news
• SPEED: Late model cars, motorcycles, boats and airplanes
• SPIRITS: The newest and the best brands in liquor, along with clever recipes.
• TOYS: Trend setting gadgets and electronics
---
The Hispanic market's buying power is projected to reach $1.3 trillion in 2015, a cumulative increase of
over 25%. Over 50 million Hispanics are now living in the U.S. with a powerful influence on the American
cultural and economic landscape. The impact of Latinos on American society will get even stronger over
the coming decades. The 133 million Hispanics expected to be living in the U.S. in 2050 will account for
30% of all Americans making progressively more acculturated Latinos a demographic capable of shaping
the nation's future economic and marketing trajectory.
The Latino population is growing faster than any other ethnic group.
It has grown 58% in the past 10 years, from 22 million to the current 50 million. In the past year alone
Hispanics account for 45% of the total U.S. population growth. The growth in income level along with the
astonishing growth in population establishes Hispanics not only as the fastest growing group in the U.S.,
but the fastest growing Market as well.
Latino buying power more than doubled in the past decade to an estimated $600 billion and will soon
surpass $1 trillion.
**Quick Facts – Latinos by the Numbers:
• There are 50.4 million Hispanics in the U.S., making it the nation's largest ethnic group.
• Hispanics constitute 16 percent of the nation's total population. In addition, there are over 4 million residents of Puerto Rico, a U.S. territory.
• There is a 3.1% increase in the Hispanic population between July 1, 2009, and July 1, 2010, making Hispanics the fastest-growing ethnic group.
• A U.S. Hispanic population of 132.8 million is projected for 2050. According to this projection, Hispanics will then constitute 30% of the nation's population.
• The U.S. Hispanic population ranks as the second largest in the world. Only Mexico (111 million) had a larger Hispanic population than the U.S. (48.4 million).
• The Median Age of the Hispanic population is 27.4 years. This compared with 36.8 years for the population as a whole.
• In 2010 there were 107 Hispanic males per every 100 Hispanic females. This is was in sharp contrast to the overall population, which had 97 males per every 100 females.
• There were 3.5 million Hispanic-owned businesses in 2010, up 43.6 percent from 2007.
• The Hispanic purchasing power in the U.S. is One TRILLION. Growing faster than the purchasing power of any other group.
• In film, Latinos bought 11 percent of the movie tickets sold nationally.
• Politically, Hispanics represent the majority or close to the majority in 50 or more of the new Congressional districts.
With such impressive numbers the future for HOMBRE only becomes brighter.
---
Language: English
Frequency: Bi-Monthly
Market: U.S.A. & Canada
Circulation: 150,000 / 600,000 Readership
Primary Audience: Latin Men (21-39) / $80,000. Average HHI
Content: Profiles of business, entertainment and sports leaders;
Features on topics important to Latin men;
Columns on finance, health, fitness, and lifestyle;
Menswear fashion editorials; Photo essays of the world's most beautiful women;
The nation's best hotels, restaurants and nightspots;
Trend setting gadgets and electronics;
The latest cars, motorcycles, boats and planes
Price Per Copy: $ 5.99
Yearly Subscription: $ 29.99
Printing Process: Web Press
Trim Size: 8 3/8 x 10 5/8
Paper Stock: 60 lbs. text / 100 lbs. cover
Binding: Perfect
Publisher: Hombre Publishing Group LP

DISTRIBUTION:
HOMBRE has a guaranteed, minimum circulation of 150,000 copies In the U.S.A and Canada.
The magazine has a combination of controlled, subscription and outlet distribution.
CIRCULATION: 150,000 READERSHIP: 600,000
PROMOTION:
HOMBRE is a unique and effective medium that is intensely promoted with a strong media campaign in
the country's top Hispanic markets. The Magazine is frequently featured in popular print, radio and
television media. HOMBRE produces or is actively involved in the country's most important Latin events.
The HOMBRE promotional campaign includes:
• Outdoor advertising in select markets
• Trade advertising
• Point of purchase displays
• Online banner advertising
• Social Media & mentions
• Television, radio and print appearances by key staff members
• In-store promotional tie-in's with major department stores
• Extensive publicity campaign to support each new issue