HOMBRE Men of The Year Presented By Hennessy V.S.O.P. Privilege Recognize Latin Men Making a Difference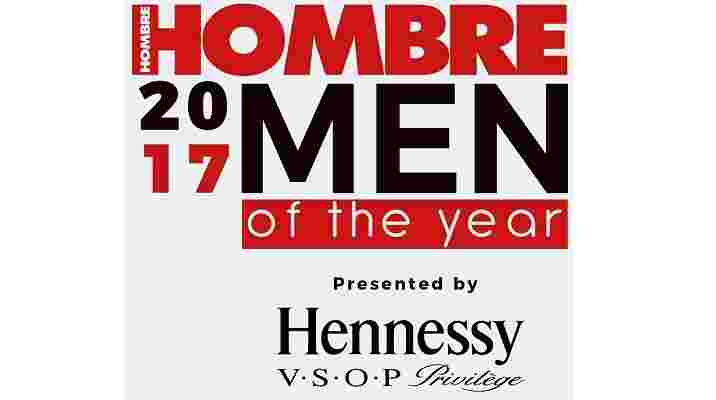 The 2017 HOMBRE Men of The Year Awards presented by Hennessy V.S.O.P Privilege  celebrate achievement at the highest level, aiming to inspire and empower the next generation of multicultural professionals. The ceremony will take place tonight, Monday, November 13, in New York City.
HOMBRE Award honorees stand out as role models and embody HOMBRE Magazine's mission of success, and uplifting involvement with the community. They exemplify the very best America has to offer.
This year's honorees include the following individuals.
'MasterChef' judge and restaurateur Aarón Sánchez,
Boxing Champion and Hennessy Brand Ambassador Saúl 'Canelo' Álvarez
CFDA fashion designer Carlos Campos,
Ballet Hispanico Artisitic Director/CEO Eduardo Vilaro,
Businessman and technology innovator Johnny Falcones, and
Fragrance creator Rodrigo Flores-Roux.
Hennessy, the world's best-selling Cognac, is the title sponsor celebrating Latinos. This year, Hennessy aligned with Canelo Alvarez, one of the honorees, to celebrate the notion of "Never stop. Never settle." The original creative tells the remarkable story of Alvarez, who like Hennessy, epitomizes the importance of family and the pursuit of excellence.
"Our inaugural awards recognize the Latinos who are truly making a difference in their communities and who are inspiring the next generation of young men to achieve their full potential," says Francisco Romeo, editorial director and founder, HOMBRE magazine.
For more than a decade HOMBRE Magazine (www.hombre1.com) has been promoting and inspiring Latin men to live their best lives. The brand remains the only media outlet targeting Latin men in an upscale environment, presenting the world's best brands and lifestyle experiences in an aspirational context that provides readers with a blueprint for triumph.
The event is also sponsored by Ford Motor Co. and VivaliveTV.
Aarón Sánchez
Chef & Restaurateur of the Year
(Restaurateur/Chef/Judge on FOX's 'MasterChef'/ Owner Johnny Sanchez Restaurant)
This year the most important cooking competition on network television gained a Latin voice. Chef Aarón Sánchez joined Chefs Gordon Ramsay and Christina Tosi in the popular MASTERCHEF, airing on FOX, Wednesdays at 8PM ET. The talented chef brought his extensive knowledge and charismatic personality to spice up the show with much needed Latin flavor.
Sánchez is an award-winning chef, TV personality, and cookbook author. He is the chef/owner of Mexican restaurant Johnny Sánchez, with locations in New Orleans and Baltimore. An active philanthropist, he launched the Aarón Sánchez Scholarship Fund, an initiative empowering aspiring chefs from the Latin community to follow their dreams and attend culinary school. One of the world's most distinguished Latin chefs, he is also passionate about preserving his family's legacy through food, and encouraging diversity in the kitchen.
Saúl 'Canelo' Álvarez
Athlete of the Year
Hennessy Brand Ambassador
(Middleweight Boxing Champion – WBC, Ring Magazine, and Lineal)

Saúl 'Canelo' Álvarez is well on his way to joining the select club of legendary Mexican boxers. After 51 fights his record stands at 49 victories, with one draw and only a split decision loss four years ago. Between September 2016 and September 2017 the best pound-for-pound boxer in the world sold-out Dallas' AT&T Stadium, defeated Julio Cesar Chavez Jr., and faced Gennady Golovkin in one of the most anticipated boxing matchups. In May he announced his partnership with Hennessy, the world's best-selling Cognac.
Born in Guadalajara, Jalisco, Alvarez grew up as the youngest of eight children, seven of them boys and all professional boxers and together, they push each other to their fullest potential. He earned the nickname 'Canelo' because of his red hair, and started boxing after watching his older brother debut as a professional boxer.
After turning pro, he went on to hold the WBA (Unified), WBC, and Ring Light Middleweight titles between 2011 and 2013, and the WBC and Lineal Middleweight titles between 2015 and 2017.
This year, Hennessy aligned with Canelo Alvarez to celebrate the notion of "Never stop. Never settle." through original creative that tells the remarkable story of Canelo Alvarez, who like Hennessy, epitomizes the importance of family and the pursuit of excellence.
Carlos Campos
Fashion Designer of the Year
(CFDA Designer – Carlos Campos New York)

Designer Carlos Campos was born in Honduras and arrived in New York at thirteen years old to pursue his own version of the American Dream. He is now giving back his native country by providing educational opportunities to deserving students, and working with the Honduran Government and private business on the development of Honduras' first college for fashion design. This year for his bold and convention breaking spirit as both a designer and American entrepreneur he was selected to create a capsule collection for a top brand Tequila.
Campos studied design at The Fashion Institute of Technology, afterwards embarking on a successful career as a design consultant for such brands as Zara, and PvH and as a Broadway costume designer for "Jersey Boys," and "Fiddler on The Roof." He has been awarded The Fashion Group International's Rising Star for Menswear, and was a top-ten finalist for the CFDA/Vogue Fashion Fund. He was the first Latino-American Menswear designer to have been nominated as a fund finalist.
Eduardo Vilaro
Arts & Culture Pioneer of the Year
(Artistic Director/CEO – Ballet Hispanico)
Eduardo Vilaro began his tenure as Artistic Director of Ballet Hispanico in 2009, becoming only the second person at the helm since the company was founded in 1970. In 2015 he expanded his role to also become Chief Executive Officer of the organization. Already the leading Hispanic dance organization in the U.S. Vilaro now plans to expand Ballet Hispanico's vision and transform it into a household name. New initiatives include having 'Ballet Hispanico Communities' in different parts of the United States. There's also the relationship with Cal State University in Los Angeles to involve their students in innovative programs. Houston and Miami are also in the works.
Vilaro was born in Cuba and has been part of Ballet Hispanico since 1985 as a principal dancer and educator. Vilaro has infused Ballet Hispanico's legacy with a bold and eclectic brand of contemporary dance that reflects America's changing cultural landscape.
Johnny Falcones
Technology Innovator of The Year
(Chairman & CEO VIVA Entertainment Group)
After a career that began in the 80's as DJ, music producer, and manager of the major Tropical artists of the time including Celia Cruz, Tito Puente, and Marc Anthony, Falcones has done a turnaround as the man behind one of the most exciting Apps to reach the market: VIVALiveTV
His VIVA Entertainment Group is a publicly traded company that delivers television services using the internet. The iOS version of Vivalive App for all iPhone, iPads, and Android devices is available for free to download. This year the stock continues to rise as the independently owned company is ready to tangle with the internet giants.


Rodrigo Flores-Roux
Fragrance & Grooming Trailblazer of the Year
(Givaudan Vice President of Perfumery-Fine Fragrance)

Rodrigo Flores-Roux is one of the most multi-dimensional perfumers in the industry and the only Latin American fine fragrance perfumer in the world. He is the nose behind the entire John Varvatos portfolio and fragrances for Tom Ford, Calvin Klein, Badgley Mishcka, Eizabeth Arden, and Clinique, among others.
After more than two decades of experience in the industry, Flores-Roux has acquired profound knowledge of his art, but what makes his style so thoroughly original is the high-voltage energy and exuberance he brings to his work. His fragrances have complex personalities, a sensual interplay of nuances, exhilarating story lines, and his passionate touch.
THIS ARTICLE IS WRITTEN BY