Diego Luna & Gael Garcia Bernal are 'Rudo y Cursi'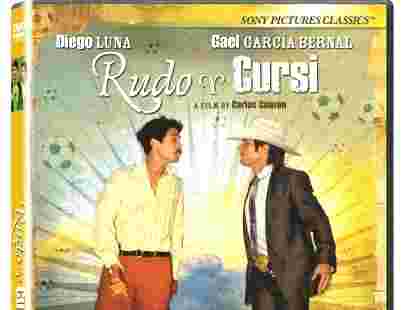 Diego Luna and Gael Garcia Bernal have been friends since childhood and their on-screen chemistry is undeniable. Individually they are two of the most talented and successful actors of their generation.
So it stands to reason anytime this exciting duo comes together the end result is a must see film. Such is the case with "Rudo y Cursi," their first on-screen collaboration since "Y Tu Mama Tambien."
In the fun filled, comedic drama the duo are rival soccer playing brothers living in a poor Mexican town. Their fate changes when a talent scout gets stranded, discovers them and whisks them away to Mexico City to play in the big leagues where they quickly achieve fame. Beto is nicknamed "Rudo" for his hotheaded goalkeeper style and Tato is called "Cursi" for his peculiar scoring technique.


Luna says of his character, "Beto is an honest guy. He says what he feels. He is very loyal to his family but he is hardheaded and likes to have a good time." While according to Bernal, "Tato is a good guy, sort of innocent."
The two brothers become stars in competing teams but their new found fame and fortune jeopardizes their family values and causes them to risk losing everything. Rudo descends into gambling debt and drug abuse and Cursi is distracted by women and a second career as a pop singer. Having come so far, will the siblings escape the precipice of failure and despair and remember their original goal of building a home for their mother?
Viewers may think the sudden success of the characters parallels the real life experiences of the actors. But that's not the case. According to Luna, "Success for me took a longer time. I began working when I was 9. It's hard when success is so sudden. But I had my friends. I had my family." Those feelings are shared by Bernal, "I come from a show business family so I learned early on about the demands of fame and that helped me avoid the pitfalls."

For Bernal the experience of working with his best friend is very special. "We had a great time. We took a couple of trips to the area where we would film to understand the world of our characters. Diego is my best friend, so working with him is always a pleasure."
The two enjoy working together so much that they formed their own production company, Canana. As Luna tells it, "There was a need to have a company that would generate projects, to own what we do. We all have our own careers but we want to produce projects of people we like and also our works. I directed one film and am now working on my second. I'm taking a long pause from acting to dedicate myself to directing my new film."
The friends also have their own festival, Ambulante. "We want to support films that we believe in. Many people don't have the opportunity to see great works, especially documentaries, so we wanted to create a vehicle for more people to discover great talents and great works," says Bernal.
And the advice to anyone interested in entering the film business? "It's important to have a clear point of view," says Luna. "We have to be sure of what we want to say because it's what gives personality to a project," adds Bernal.


"Rudo y Cursi" is
written and directed by Carlos Cuarón and produced by Alfonso Cuarón, Alejandro González Iñárritu and Guillermo del Toro. The Sony Pictures Classics film was an official selection at the 2009 Sundance Film Festival and is now available on Blu-ray and DVD which include deleted scenes, director and actor commentaries and a "making of" featurette.

"Rudo y Cursi" es la nueva colaboración entre Diego Luna y GaeL Garcia Bernal desde "Y Tu Mama También." Los famosos y talentosos actores han sido amigos desde la niñez. Aquí hacen el papel de hermanos que son descubiertos en un pequeño pueblo y luego se convierten en estrellas de futbol. Sin embargo el dinero y la fama se puede convertir en tragedia y la pérdida de los lazos familiares y todo lo que han logrado. La película ahora está disponible en DVD y Blu-ray.
Gael Garcia Bernal photographed exclusively for HOMBRE by Shacham Zaguri
THIS ARTICLE IS WRITTEN BY