Edinburgh, Scotland::Hotel Missoni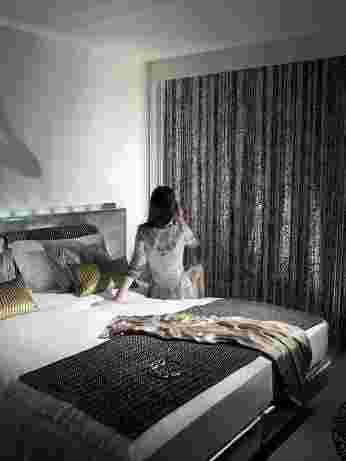 Where does one of fashion's most recognizable brands choose to open its first hotel? Edinburgh, Scotland! Under the creative direction of Rosita Missoni, Scotland's capital now has a world exclusive hotel.
 The 136 room property combines the prestigious Missoni name with the respected hotel management experience of the Rezidor Hotel Group to provide optimum service with unique style.  Centrally standing in the city's Royal Mile, the hotel is indeed fit for a king.
As expected, Hotel Missoni is a fashionista's dream.  The black and white pattern that surrounds the hotel is enhanced with rich hues and multicolored accents; all blending perfectly to bring a sense of energy and vibrancy that awakens the senses. There is a different dominant color palette that dominates each floor –magenta, turquoise, tangerine and lime green. Each room has floor-to-ceiling windows and is uniquely configured with the trademark fabrics that make Missoni an original.  There's the geometric patterned bedspread, the black and white curtains, bright retro-style chairs and black and white patterned robes. The creativity in design is evident in every detail, from the carpeting to the faucets in the bathrooms which have walk-in rainshowers, grey mosaic tiling, mirrored walls and Missoni-branded products.


Warm and bold, each room offers all the amenities the demanding HOMBRE traveler requires. Here you'll find the DeLonghi Espresso machine, the Bang and Olufsen flatscreen TV, a desk and 24-hour room service. Other well thought out features include a daily newspaper; a minibar with bottled water, Peroni beers, milk and juices; in-room movies and two items of laundry; all included free of additional charges. There's also free wired and wireless internet in the rooms and WI-FI in the public areas.


The majestic structure stands out in modern contrast to the historic city and the Old Town buildings that surround it, near museums, cultural landmarks and the best shops. Located in the hotel's main floor is Cucina, a family style restaurant serving classic Italian offerings. The Missoni Bar has become a centerpiece of action, perfect for people watching and enjoying savory drinks. The hotel also has versatile meeting rooms and a fitness center.


As one of the city's most prominent hotel developments of the past decade and the attachment of a major brand to its design and name, Hotel Missoni has already become a favorite for major celebrities. Other versions of Hotel Missoni will follow in Kuwait, Dubai, Brazil and Oman; but for now Edinburgh is your only choice.  Visit the city and immerse yourself in the ultimate luxury that is Missoni.


La marca Italiana Missoni ha abierto su primer hotel en Edinburgh, Escocia. Hotel Missoni esta centralmente localizado en el Royal Mile, en el centro de la ciudad, junto a instituciones culturales y las mejores tiendas.  El hotel está diseñado en el original diseño de Missoni en blanco y negro con toques de vibrantes colores. El estilo es original y el servicio impecable.

Hotel Missoni
1 George IV Bridge, Edinburgh, EH1 1AD, UK
Tel: (0131) 220 6666.
www.hotelmissoni.com
THIS ARTICLE IS WRITTEN BY