Father's Day Gift Guide: GADGETS & TECH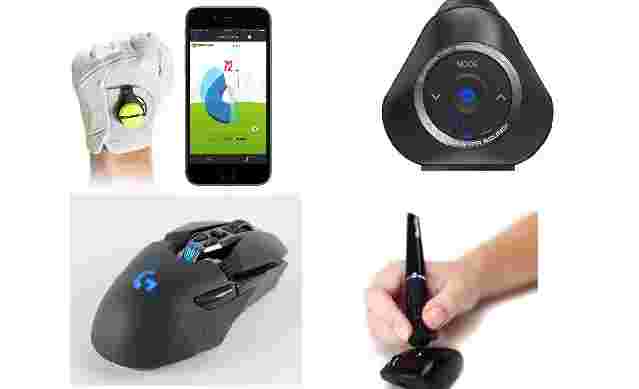 Gadgets and technology always rank among the top in most guys gift wish list. It sure beats the annual tie. The items we've chosen to feature are among the latest offerings from some of our favorite brands. These gifts are practical, innovative and will make dad seem coolest among his friends. Our selection of smartphones will be featured separately.
Zepp 2 for Golf and Baseball/Softball
If dad takes his golf seriously, or steps up to the plate every now and then the Zepp 2 is perfect. He can simply attach the device to a golf glove or bat handle and see the results immediately on his smartphone.  The Smart Coach system that empowers athletes to train smarter and improve faster than ever before.
Users simply take a few swings, then Zepp diagnoses areas to improve, and offers personalized training programs based on each individual's swing data. The training programs come from the best players and coaches in each sport. Regardless of a player's skill level, Zepp takes the guesswork out of training to shows users where and how they can take their game to the next level.
MSRP: $149.99
Zepp.com 
Amped Wireless REC22P Plug-In Range Extender
Prevent dad from having a slow connection at home. With this Wi-Fi Range Extender it's easier than ever. You can add up to 11,000 sq. ft. of ultra-fast Wi-Fi coverage with eight High Power amplifiers, and both an internal and external antenna. Eliminate Wi-Fi dead spots, charge devices faster with the USB charging station and even plug in multiple devices with the pass-thru outlet
MSRP: $89.99
www.ampedwireless.com

Penclic MouseThe Penlic Mouse R2 Wireless
Make dad's day to day working and surfing more efficient. Penclic Mouse looks, feels and moves like a pen. Simple to use, it offers users the ability to benefit from the natural control we all have in our fingertips and hands. The mouse provides a refreshingly different user experience when compared to a standard mouse. The mouse is so easy to use it feels like a natural extension to your hand, allowing comfort and precision.
MSRP: $80
www.thehumansolution.com/penclic-mouse.html
Logitech G900 Chaos Spectrum
If dad takes his gaming as serious as he takes his work, the G900 from Logitech will be a good addition to his desktop setup. This new professional-grade wireless gaming mouse features industry-leading wireless technology, an advanced optical gaming sensor, a flexible ambidextrous design, customizable lighting, mechanical pivot button design and lightweight construction, for maximum performance and comfort over long gameplay sessions. The gaming mouse sensor precisely interprets every hand movement onto the screen for smooth, responsive performance, even at high sensitivity. The reduced power consumption allows play continuously for 32 hours.
MSRP: $149.99
www.logitech.com
Logitech G610 Orion Brown and Logitech G610 Orion Red Keyboard
In addition to G900 mouse from Logitech, you should complete the package with the Logitech G610 Orion Brown or Orion Red mechanical gaming keyboards. Both feature Cherry MX mechanical switches as well as customizable bright white LED key backlighting and dedicated media controls.
By using Logitech Gaming Software, he can get full control of each keyboard. Easy to select and personalize brightness for each key to match your style, system or environment, or set lighting to sleep when not using the system. He can also use LGS to synchronize lighting patterns and effects with other Logitech G gaming gear. The keyboards also feature dedicated media controls that can be used to play, pause and mute music and videos instantly, in order to control your background track without switching out of your game.
MSRP: $119.
www.logitech.com
Kindle Oasis
For a dad that values his reading the new Kindle Oasis is the go to reader. Kindle's eight generation, crafted from the ground up for readers, with an all-new, incredibly thin and light design, plus an included charging cover that delivers months of battery life.
MSRP: $289.99
www.amazon.com/kindleoasis.

AUDIO
GET UP STAND UP Bluetooth Home Audio System
For a dad that connects with the spirit of Bob Marley, or simply appreciates great sound in a stylish looking device comes this Bluetooth audio system with the convenience of wireless audio streaming. Earth friendly materials continue the vibe. And a USB power port allows to charge hundreds of devices and a pair of auxiliary inputs make connecting any non-Bluetooth device simple and easy.
$299.99
www.thehouseofmarley.com
SuperStar Monster Blaster Boombox
Music and sound play an important part in dad's life. And Monster Products new additions make for some pretty cool options. First a throwback to earlier times, the Boombox. This one incorporates new innovative design and technology with its V-shaped angled cabinet design. But it's not all looks. The drivers on both sides project room-filing sound on either side of the speaker. This creates direct and reflective sound that comes towards you and bounces off the wall to create a complete immersive experience V-Sound. The Blaster also features Monster's proprietary PowerBass, an integrated powered subwoofer for real bass response. Its Indoor and Outdoor Dual EQ Voicing Profiles optimize its sound in any environment, and enhances bass further for outdoor listening sessions. It is equipped with an efficient rechargeable battery that offer hours of playing time while charging a mobile device with its built in USB port. And if it rains, or near the pool it can be submerged into 3 feet of water and still come out and performs great.
MSRP $399.95
www.monsterproducts.com
adidas Sport adistar Bluetooth by Monster In Ear headphones
For the active dad on your list choose these headphones, designed to meet the needs of the most demanding runners and cross trainers. Enhanced for a richer wireless listening experience, they deliver Monster's signature Pure Monster Sound with dynamics and deep bass to inspire athletes of all levels to reach their maximum performance in each and every workout.They integrate advanced components, tuning techniques and methodologies to reproduce music with unprecedented clarity and range to create "Pure Audio Adrenaline." Attractive streamlined styling and 100% sweat-proof and washable design keep them fresh and make them look as good as they perform.
A universal ControlTalk on-cable mic enables calls to be taken with convenient hands-free control and supercharged with five hours of battery life.
MSRP: $99.95
adidas.com
Plantronics BACKBEAT GO 3
Dad will enjoy quality audio and cord-free comfort with these wireless earbuds. The custom speakers deliver high-resolution sound, and the audio codec lets him experience every detail of the music. Compatible with most Bluetooth-enabled devices, the Plantronics BackBeat Go 3 wireless earbuds give 6.5 hours of listening time, and the charging case provides an additional 13 hours.
MSRP: $129.
www.plantronics.com
Plantronics Voyager 5200 Bluetooth Headset+'
Every dad – or busy guy – making multiple phone calls daily needs this. The audio quality is unbeatable. With six layers of exclusive WindSmart technology and adaptive noise cancelling microphones there's exceptional clarity indoors and out. Activate Siri, Google Now or Cortana with a dedicated button and a voice command, and whispered alerts for talk time and incoming calls. The design is effective and comfortable plus the water- and sweat-resistant nano-coating guards against damage from light rain, sweat and humidity.
Get the additional charging carrying case to keep things simple.
MSRP: $119.
www.plantronics.com
UE Roll
At a recent T-Mobile sponsored event we had a chance to preview this new portable speaker. It pairs perfectly with dad's smartphone's T-Moblie service for big, bold, beautiful sound.
He can the speaker to a bike, backpack, kayak or anywhere on the go. It's waterproof for up to 30 minutes and a depth of 1 meter. Ultra-portable and so light with 100 ft. Bluetooth wireless range and 9 hr. rechargeable battery life.
MSRP:$99.
www.t-mobile.com

THIS ARTICLE IS WRITTEN BY