2014 INFINITI QX60 and QX70: The Couple's Dream!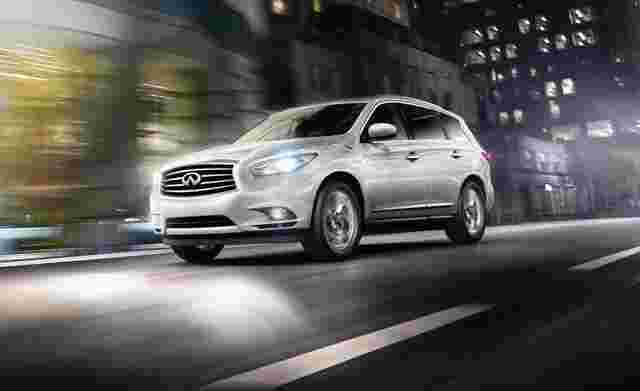 Both you and the wifey have maintained that mad swag possessed from the very first day you met. In fact living large and remaining fit, the two of you have managed to shine even brighter with time. And with kids now in tow, she's definitely not having it: You driving a hot whip while she sports some sluggish mini van, mediocre crossover or other "family" sedan. That's because she shares a passion similar to yours in terms of the desire to look good and feel great in a whip that still sends chills up and down your spines. At the same time, the goal remains to keep the family intact. Enter Infiniti QX60 and QX70.
Both the QX60 and QX70 may sound new. In essence, they're not. Introduced as the crossover that handled like a sports sedan, the FX35 is the QX70. And remember Infiniti's groundbreaking safety technology that debuted with the 2013 introduction of the seven-passenger JX35? It's now the QX60. And it doesn't stop there. For 2014, the entire Infiniti lineup has been renamed with a Q, with just one exception for now: The G Sedan.
So what up with the new "Q" nomenclature? Kyle W. Bazemore—Infiniti's senior manager of communications, says it's all about expansion.
"We will be expanding the Infiniti line, adding cars below the current Q50, as well as reward and aspirational vehicles at the top of the Infiniti range. Our previous nomenclature strategy of a letter or letters with two digits signifying the engine size could no longer support our future plans, as most letters of the alphabet are already in use, or are already trademarked by other luxury automotive brands."
He continues, "In addition, a hierarchy based upon engine size would ultimately not work, as the trend is lower displacement, higher compression engines – and what would we do when we eventually have a zero emissions luxury car with no engine at all? And, further,  if there is a "50" in the name, that had to mean a 5.0-liter under the hood – in other words, we didn't want to be like other luxury brands and lie. Therefore, we chose to use the letter "Q" to base our nomenclature upon, a letter we launched the Infiniti brand with in 1989, and a letter that we solidly owned as a trademark. Further, the number following the "Q" (for passenger cars) or "QX" (for crossover and sport utility vehicles) shows the hierarchy in the Infiniti line, with 10 being the least expensive, 90 being the highest."
2014 Infiniti QX70 3.7 Rear Wheel Drive
Base: $44,950 / Loaded @ $56,495 including destination charges
Passenger Seating: 5 on 2-rows
Fuel economy: 19 mpg combined, for 17 city / 24 highway
Power: 3.7 liter, 325 horsepower V6 engine with 267 lb-ft of torque, with a 7-speed automatic transmission
Throughout its reign as the FX, I always assumed the "F" stood for fierce. It's pitbull-like stance softened by exciting curves and fine lines both then and now (as the QX) continue to command the attention of all passing -by. But the greatest thrill of all is the one that comes straight from the seat of command.
The combination of aerodynamic finesse and prowess in conjunction with its overall power and agility–thanks to speed sensitive power steering, independent suspension on the front and rear wheels, is well suited for the thrill seeking individual, yet practical for the family man or woman. And while available trim levels include a 5.0 liter 390 horsepower V8 with 369 lb-ft of torque, a "Sport" driving mode with Continuous Dampening Control and a standard set of 21-inch rims, you will never be at a loss with the base model's 3.7 liter engine.
QX70's intelligence comes by way of a plethora of intuitive features such as the brand's pioneering Lane Departure Warning and Prevention feature that calls to your attention the fact that without a turn signal you have exceeded the boundaries of your current lane and helps ease you back over. Distance Control Assist can be activated or deactivated from the steering wheel column to intuitively adjust both throttle and brakes according to the flow of traffic. That too is an Infiniti first. Intelligent Brake Assist and Forward Collision Warning work in tandem to first alert you of an impending collision and then respond accordingly if by chance for whatever reason you should opt not to act. Then there's Intelligent Cruise Control. Nowadays, this feature is something luxury car owners have come to expect as a standard, just like rain sensing wipers. With ICC, the flow of traffic is detected to control the speed of the vehicle, slowing or stopping as necessary, then resuming to the preset speed in accordance with the flow of traffic.
Another Infiniti favorite is the Around View camera with Moving Object Detection. Unlike other rear view cameras can that can get you into a collision if you depend solely on the camera's view, Around View gives a bird's eye view of all sides of the vehicle. The added function to detect moving object both alerts the driver and brakes the vehicle.
The rich, lacquer appointed cabinet is quiet and free of wind noise. The spacious, cozy front seats are both heated and cooled. Rear seat passengers can enjoy a video monitor of their own behind each headrest in a climate controlled zone of their own.
Oh, and be sure to do it right with optional set of 20-inch rims, versus the 18-inch standard set.
2014 Infiniti QX60 3.5 All Wheel Drive
Base: $42,950 / Loaded @ $57,240 including destination charges
Rows of seating: 7 on 3-rows
Fuel economy: 21 mpg combined, for 19 city / 25 highway
Power: 3.5 liter, 265 horsepower engine with 248 lb-ft of torque, with a Continuously Variable Transmission.
When the JX debuted for model year 2013, I thought it was kind of mundane in terms of styling, yet chock full of innovative safety features—such as Backup Collision Intervention. But with this and and all of the above "Intelligent" features described in the QX70, the QX60 adds a sweet sparkle for the soul by way of both style and performance.
Available in a 3.5 liter engine with Rear Wheel Drive, a second trim level with same engine and All Wheel Drive and a Hybrid, QX60's curvaceous physique offers the perfect balance of sex appeal and aerodynamic capabilities. Definitely upgrade to the $3,450 Deluxe Touring Package for the 20-inch rims (versus the standard set of 18's): In addition to a nice list of interior features–including climate controlled front seat, heated second row seats, a second and third row moonroof with a power sunshade, a killer Bose Cabin Surround sound system and more, the set of 20's makes a simply stunning visual difference.
Speaking of interiors, maple accents (included in the Deluxe Touring Package) and an overall layout that softly conveys a message of "luxury" (without screaming it) feels good to both driver and passengers. Passengers on the second row also have the viewing pleasure of monitors behind the front row headrests. As for the third row, spacious access is as simple as the flip of a level at the top of the second row seats. And unlike some other full size SUV's and crossovers, QX60's third row is comfortably accessible to adults.
Perhaps one of the most pivotal reasons why both you and the Mrs will be pleased to depart in the QX60 would have to be "Sport" driving Mode. Choosing Sport over regular, Eco or Snow is like hitting a switch marked "ADRENALINE." Throttle, steering, suspension each take on a whole new feel of power and glory that allows you to soar when driving in Sport– the driving mode you'll want to call home.
If in the minds of today's tech savvy consumer there's anything said to be lacking in either the QX60 or QX70, it would have to be the absence of LED daytime running lights. Nowadays, DRL's are well branded as a key consumer indicator in the look of luxury. "Stay tuned," says Bazemore.
"The Q50 has them, and with that being the future look of Infiniti, you can expect that there will indeed be a signature "face" for the Infiniti line. And don't forget, we were the first automotive brand to have LED taillights across its entire line."
THIS ARTICLE IS WRITTEN BY