9 Tips to Make Your Proposal Memorable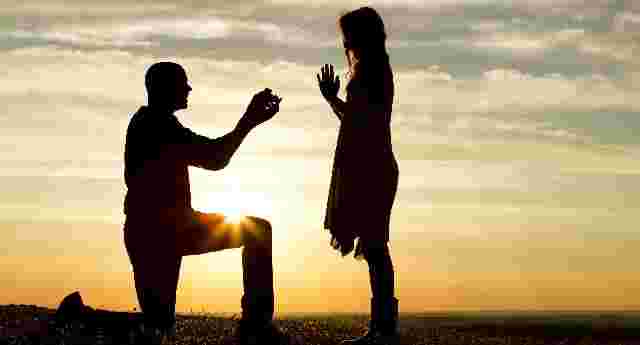 As the end of year grows nearer some guys may be getting ready to make the ultimate commitment. If your'e planning to pop the question between Christmas and New Year's Eve here we bring you 9 tips to Make Your Proposal Pop, from  CaratsAndCake.com, a network representing qualified providers from the wedding industry. While girls get giddy at the thought of the proposal, it can be a little more stressful for guys. From popping the question to picking out the ring, it can be overwhelming for guys who are ready to take the next step.
The proposer's new best friend and wedding expert is Jess Levin, CEO and founder of the wedding website  CaratsAndCake.com. She has some great tips to make the proposal process a little easier for guys who are ready to pop the big question!
WING IT
"It doesn't have to be rehearsed—sometimes off the cuff is more sincere and memorable."
– Heather Lowenthal, Owner, Posh Parties
LOCATION, LOCATION, LOCATION
"Select a location that means something to you both. Perhaps you had your first date here, or your first kiss here. A place that has fond memories for you both."
– Merilee Hennings, Owner & Wedding Planner, EverAfter Events
CAPTURE THE MOMENT PROFESSIONALLY
"If you choose a private or destination proposal, hire a photographer or videographer to record your loved one's reaction. They'll appreciate being able to send them to loved ones later, and it's a great way to remember the sweetness of that time in your lives."
– Rachel Ashcraft, Owner & Photographer, Rachel Red Photography
WRITE IT DOWN
"There is nothing in the world like knowing why and how you are loved. When creating your perfect proposal, consider writing down your feelings in words. You can write poem, a meaningful list of all of the reasons you love him or her or even the vows that you plan to say on your wedding day. It can be simple and handwritten or you can have an artist or calligrapher help breathe your vision into life. Either way, you will not only be creating a beautiful memory, but a tangible representation of your proposal story and a truly special gift that can be treasured and passed down through time."
– Melanie McKinley, Creative Director, Mayhar Design
IT'S ALL ABOUT THE DETAILS
"Think about the little details … presenting the ring in a beautiful heirloom box will be such a fun keepsake and something they will cherish forever!"
– Brooke Keegan, Owner, Brooke Keegan Special Events
DON'T UNDERESTIMATE THE ELEMENT OF SURPRISE
"Make it a surprise! Find a time and place where it isn't expected—if you can do this, you will help create a memorable and special engagement memory."
– Adam Donovan-Groves, Owner & Wedding Planner, Donovan-Groves Events
SHOWER THEM WITH FLOWERS
"Surprise your loved one with a bouquet of flowers. Keep in mind men appreciate the sentiment of nature as well."
– Alise Davis, Owner & Principal Design, Olive Willow Designs
8.      (RING) SIZE MATTERS
"The simplest but often overlooked thing you can do when proposing is to make sure the ring fits! If you can't find her/his exact ring size, ask your jeweler to size it a little large. It's better to have a ring that's too big than one that doesn't fit at all. There's nothing more anticlimactic than not being able to get the ring on right after she/he says 'yes.'"
– Teissia Treynet, Founder & CEO, Firefly Events
INCORPORATE THE ONES YOU LOVE
"If your bride- or groom-to-be is extra close with family and friends, planning a proposal that somehow incorporates their favorite loved ones can help make the event even more special. Whether that means having them present when you are down on one knee or planning a post-proposal party, this is an incredibly thoughtful way to make your engagement a family affair."
– Stephanie Bradshaw, Owner & Creative Director, Stephanie Bradshaw
THIS ARTICLE IS WRITTEN BY