A Foodie Weekend With JETBLUE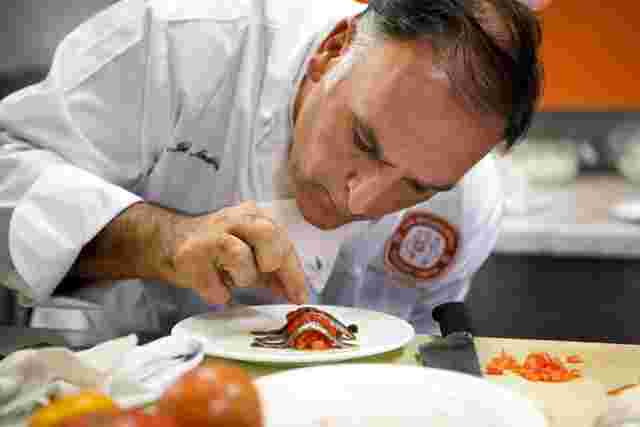 After a long work week sometimes you just want to get away and explore new adventures. JetBlue has just the ticket for all foodie weekend warriors looking to dine and have a good time in cities that offer the greatest restaurants, bars and iconic cuisines.
New York
Take a bite out of The Big Apple with New York's Hometown Airline. JetBlue flies customers conveniently into JFK and LaGuardia making it easier for them to begin their culinary adventure in any of the five boroughs.
Known as the hub for international cuisine, New York has a wide selection of Latin restaurants including Jose Andres' and Bobby Flay's Spanish restaurants, The Bazaar and Gato NYC; Cuban-Chinese fusion restaurant Calle Dao; and Mexican restaurant and bar Rosa Mexicano. Spend the weekend strolling along Central Park, looking out on the bustling city below from atop the Empire State Building or Top of the Rock, taking in all the lights in Times Square, and indulging in one of New York's finer restaurants. Don't forget to accompany your dinner with a great Broadway show.
Los Angeles
The City of Angels provides a melting pot of world cultures combined with the glitz and glamour of Hollywood in a perfect picturesque setting. Los Angeles is filled with world renowned celebrity chefs that have opened an array of Latin restaurants throughout the city including: Ray Garcia's Broken Spanish and Wes Avila's Guerilla Tacos.
Visitors can spend an entire weekend here and find that choosing where to dine will be just as important as choosing what to do and where to shop. Take a day trip to Disneyland or Universal Studios, go on a shopping spree on Rodeo Drive, stroll along the Walk of Fame on Hollywood Blvd and have a picnic in Griffith Park.
Fort Lauderdale
In the past Fort Lauderdale has often been compared to its neighbor Miami, but in recent decades the city that is known for fun in the sun has been able to establish its own identity. One of JetBlue's major focus cities, Fort Lauderdale has become a top destination for visitors wanting to travel south for the winter and relax in the sand in one of the many beautiful beaches the city has to offer. Weekend warriors can visit The Bonnet House Museum and Gardens, shop at Sawgrass Mills, and bike or hike through the Everglades.
No trip would be complete without indulging in a culinary experience at one of the Latin restaurants in Fort Lauderdale such as: Rocco's Tacos on Las Olas Boulevard, among others.
Austin
The "Live Music Capital of the World" has created a unique vibe among visitors and locals through their multiple festivals throughout the year including South by Southwest and the Austin City Limits Festival. Any adventure in there would be on a grand scale because as they say "everything is bigger in Texas".
Because the Hispanic community is so prominent in Austin, the city has its fair share of Latin restaurants like Lima Criolla, Hecho en México and Chago's. Visitors can immerse themselves in some of the country's history by visiting Lady Bird Lake, LBJ Presidential Library and the famed Paramount Theatre while sticking close to their roots with authentic Mexican, Peruvian and Cuban cuisine, among others.
For more information on JetBlue destinations visit www.jetblue.com/wherewejet/
THIS ARTICLE IS WRITTEN BY