BELSTAFF Presents Men's and Women's 'Jolly Roger' Collection During London Fashion week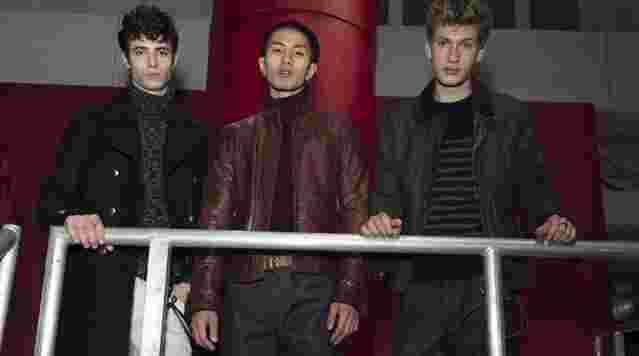 For Autumn/Winter 17, Menswear and Womenswear are unified in a theme rich with Belstaff's military heritage: the "Jolly Roger" naval and submariner inspired collection is both tribute and testament to the incredible clothing worn by the British Royal Navy throughout WWII. It had to endure the harshest of conditions while at sea, protecting sailors, boatswains and submariners alike, and it was upon the ocean that the genesis of the four-pocket waxed cotton motorcycle jacket was born.
The collection then interprets the harsh realities of life at sea through colour, fabric diversity and an array of special vintage wax treatments for a worn-in look. Classic maritime silhouettes such as the pea coat and duffle coat have been faithfully reproduced in luxury Melton wool, while waterproof hand-waxed cotton and leather reinforce the stylish functionality of naval outerwear. The parka plays an integral role this season, emphasised by a technical foul-weather version based on a Belstaff archive piece that was created for the military in 1960.
Collection Creative Director, Delphine Ninous says "The formal naval-inspired pieces are contrasted with a more rugged and free-spirited look appropriate to downtime on the docks. This sense of temporary escapism is reflected in edgier elements such as naval tattoo designs and the Jolly Roger flag, giving a sense of rebellion and individuality."
Sharing the same colour palette across menswear and womenswear, this season focuses on industrial tones of red, brown, blue and military green, particularly throughout Belstaff's core pieces. Charcoal grey, black and true navy form a base from which emerge brighter hues such as spruce teal, sanderling, cardinal red and burnished gold. In leather and waxed cotton, colours have been given an aged effect for a unique patina. Much brighter and more vibrant colours are found in the naval tattoo motifs which add a personalised touch.
To recreate the mood of life on the ship or in the docks, models are positioned at varying heights in front of large metallic cylinders around the presentation space.
Gavin Haig, Belstaff CEO said: "Belstaff has a history in dressing the British Navy and we wanted to tap into this inspiration, especially considering our progression in the field of innovation in materials, silhouettes, functionality and protection with this collection. We are proud to be finally presenting an evenly shared presentation between men's and women's and be one of the first brands to do so in the London schedule."
For more information visit www.belstaff.com
THIS ARTICLE IS WRITTEN BY