HOMBRE Exclusive: Chef AARÓN SÁNCHEZ Brings Latin Flavor to FOX's MASTERCHEF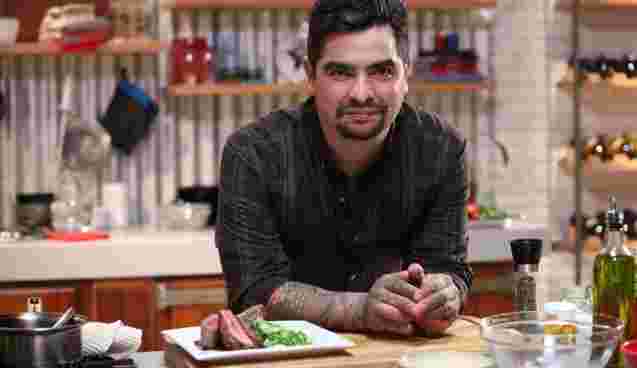 The most important cooking competition on network television has a Latin voice. Chef Aarón Sánchez joins Chefs Gordon Ramsay and Christina Tosi in the popular MASTERCHEF, now airing on FOX, Wednesdays at 8PM ET. He brings his extensive knowledge and charismatic personality to spice up the show with much needed Latin flavor. In an exclusive interview Sánchez reveals the show's behind-the-scenes secrets, offers his advice for success, and helps in the romance department with some seductive cooking tips.
Sánchez is an award-winning chef, TV personality, and cookbook author. He is the chef/owner of Mexican restaurant Johnny Sánchez, with locations in New Orleans and Baltimore. An active philanthropist, he launched the Aarón Sánchez Scholarship Fund, an initiative empowering aspiring chefs from the Latin community to follow their dreams and attend culinary school. One of the world's most distinguished Latin chefs, he is also passionate about preserving his family's legacy through food and encouraging diversity in the kitchen.
HOMBRE: How do you come into the eight season of MASTERCHEF?
Aarón Sánchez: The season prior they had a bunch of different chefs be part of the show. They had me on 2 or 3 episodes to offer a different point of view. I didn't realize that would be sort of a little audition to be the permanent fixture. I guess they took what I had to say and then Gordon made the request to have me as a permanent judge and that's what I'm doing now.
H: How is this show different from other programs you've done?
AS: What I find interesting is that there's a lot more cooking, and more challenges. A challenge may be to recreate one of my dishes or Gordon's dishes. There's a lot more of a teaching component to it, as opposed to a strictly judging and critiquing role. There's also a lot of in the field stuff, being put out there in the elements, and more hands-on stuff in real-time which raises the game.
H: How is the chemistry with Gordon and Christina?
AS: It's fantastic. I knew Christina from New York. I have mutual respect for what she does and her point of view with food.
As far as Gordon he is the pinnacle, he's the 'big dog' and if there's somebody that I want to strive personally and professionally to be more like it's him. He's an amazing person that impacts everywhere he goes and everything he does. I have love for his food and for his restaurants. I'm so inspired by him and I'm in a position to teach him about a cuisine I think he doesn't know a lot about. It's a win-win.
H: Are you bringing Latin flavor to the show?
AS: Absolutely. We're going to see a lot more of those dishes being put forward, a lot more of the vibe, and a lot of the ingredients and classic dishes being interweaved with the challenges and the whole identity of the show. It has been great. That's what people want to see.
H: What does that mean for the Latin community and Latin cuisine?
AS: It's fantastic. The idea of a bilingual Mexican-American chef being part of arguably the biggest cooking show in the world shows that our cuisine is taken seriously, that our cuisine is taken at the highest level. To have a me representing it is huge. It allows our people to see that you can not only cook this food at a high level and it be respected with the best cuisines in the world, but also that I can act as a role model for young Latinos and Latinas. That they can go and get it. If I can do it, they can definitely do it. It has that mentoring part too.
H: That's a big responsibility.
AS: Absolutely. And it's intense man. It's the real deal. And we're very much committed to all the contestants and all the people that participate. It's a long journey. It's months and months of time we're with these people. We want everybody to do great.
H: What do you look for in the contestants?
AS: I look for tenacity, I look for an idea that's original in the challenges, not being defeated easily. And also to be able to continue to grow, adapt, and overcome the situations. And to study their ass off. After they're done cooking they should have their head in cookbooks all night and continuing the process. That's what I look for. Being a good student, respectful to the craft, learning where you are on your skill level, and then the idea of being humble to the process.
H: Was doing television something you always wanted to do?
AS: My dream was always to have my own restaurant. And television was a by-product that came with it. The only reason I wanted to do TV was because it was a way to market my restaurants. It was more a tool to get people to come to the restaurant. Now it's a bigger message because now I'm teaching people about my culture, my family, and my ingredients through television, so the message has changed a bit.
H: What's the best part of the show?
AS: The best part was just learning from Gordon. Learning from Christina and seeing someone who's a completely amateur cook walking out of there as a master chef. I think that's amazing. It's so triumphant to see someone come in months before without that much confidence in their cooking abilities and then leave as a MASTERCHEF. It's amazing. That process is very inspiring.
H: To what do you attribute the success of the show?
AS: To Gordon's unbelievable commitment to keeping it fresh, to keeping it relevant, to being executive producer as well as the talent. And him continuing to have high standards. He's always in there touching every part of the show. He's a cool leader and I'm there to support him, to give my point of view, and make the show better.
H: What is the secret to having a successful restaurant?
AS: The key is to have a team that buys into what you're doing. Putting your feelings aside for someone else is extremely crucial. And to have a narrative with your food that is honest and genuine. And that the people who are involved can continue on a daily basis to get better at their craft. That right there is what makes a successful restaurant.
H: Do you plan on expanding your restaurants to other markets?
AS: I would like to eventually. I open-up restaurants not for myself necessarily. I open them for chefs and general managers that have worked for us for a long time. As an incentive for them to continue to work with us. If I expand it would be because part of our team wants to, not because I want to.
H: Your mom was very influential in your career, what is best advice she gave you?
AS: The best advice she gave me was to develop my own style. If someone was to close their eyes and eat my food they should know it was my dish.
H: And what advice can you pass on to aspiring chefs?
AS: My advice would be to make a list of food that you admire, of people that should mentor you, and then carve out a year for these mentors and soak up as much knowledge as you can. Once that process starts happening you'll see your own confidence grow and your ability to start to develop your style. The other thing I would suggest is to travel and be inspired by your gradma's and your mom's food. Continue to be uplifted by that food. That would be my advice.
H: What about general advice for being successful?
AS: First having respect for you body, taking care of it physically, taking care of your mind, your soul. Try to find happiness and have balance outside of your workplace. It's important to give back. Figure out what you have and those that don't have, and figure out how to bridge that gap. Giving back to your community is important.
H: What should a man cook for his woman?
AS: Make something light, something easy. I like to start with ceviche. Something refreshing. Maybe something you can prepare ahead of time so you can spend moments with her. The idea is to cook something that has spice, that has acid, that has herbs. And you have to have a banging dessert, you have to have a little parfait, a little dulce de leche, a little something that you can say, 'Oh by the way, aqui estamos.'
H: Finally, why should people tune in to MASTERCHEF?
AS: They should watch the show for the simple fact that they're going to see a new voice that is going to make the show refreshing, new, exciting. The challenges have gotten more intense. We'll see a more diverse group of home cooks that represent what America is all about. People of different backgrounds working hard towards a common goal of being a MASTERCHEF. I don't see anyone else having a show with this much intensity, with this much on the line. I think it's untouchable as far as its reach and the what we set forth. People should watch it. It will keep you on your toes. You'll want to root for the fine people on the show.
THIS ARTICLE IS WRITTEN BY