HOMBRE Exclusive: EUGENIO DERBEZ On The Secrets of 'How to Be A Latin Lover'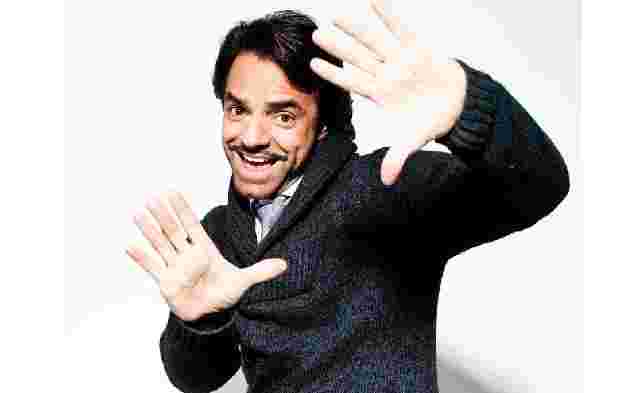 Eugenio Derbez, Latin America's most popular comedic actor returns to the big screen in "How to be a Latin Lover.' The film starring Salma Hayek, Raquel Welch, Kristen Bell, and Rob Lowe opens Friday April 28th. We spoke with the multifaceted thespian during our exclusive photo shoot in LA's notorious Venice Beach. During our one-on-one conversation Derbez spoke about his career, his beginnings, his influences, his advice for success – and of course- the secrets of being a 'Latin Lover.'
In 'How to be a Latin Lover' Maximo (Derbez) gets the surprise of his life when his wealthy, 80-year-old wife dumps him for a younger car salesman. Forced out of his mansion, he must now move in with his estranged sister Sara (Hayek) and her nerdy but adorable son Hugo (Raphael Alejandro). Anxious to return to the lap of luxury, Maximo hatches a scheme to seduce a widowed billionaire (Raquel Welch) and live the high life once again.
Derbez is an actor, writer, director and producer and one of Latin America's most influential creative forces. Last year he received the 2,576th star in Hollywood's Walk of Fame. Derbez's previous film Instructions Not Included became the most successful Spanish-language film ever in the US and worldwide, breaking numerous box office records everywhere, earning over $100M. Variety recently recognized him as the #1 most influential Hispanic male in the world.
HOMBRE: How was it when you first arrived in Hollywood?
Eugenio Derbez: It's very different. First there's a lot more technology, the budgets are enormous and everything has great quality. I love that about working here. The language is an issue for me. I have a dialogue coach.
It takes more time for me to learn my lines; I had to rehearse longer than everyone else to accomplish what I accomplish in Spanish. It's sort of going over twenty years back in my life when my career began. It's like starting from zero, in another country, in another language, where nobody knows me. Every day I have to prove that I can do it.
H: It must be exciting.
EG: Yes, it's not only starting from zero but to have that hunger again at this stage in my life is exciting.
H: You are famous because of your comedy in Latin America, how is it to now translate that style of comedy to English?
ED: The comedy I've done is farce. Us Latinos like more exaggerated comedy, with stronger mannerisms, broader, more physical. American comedy is more natural, more measured. It's been difficult. I've had to adjust to that style without losing my essence and I think I found equilibrium. I found a balance between what they want and what I do.
H: As an artist that challenge must be stimulating.
ED: When you start something new like this it's very gratifying because you have been so long in a comfort zone. Sometimes work can become a routine and when life brings you the opportunity to reinvent yourself, it's beautiful. I'm very thankful. It's been a huge change but I'm learning so much. It's like going back to school.
H: And now that we've talked about reinventing yourself, let's go back; did you want to be a comedian as a child?
ED: I didn't know what I wanted to do. I remember when I made the decision to be an actor, around 12 years old. I wanted to do so many things; I wanted to be a fireman, tennis player, a bus driver, futbol player, a doctor. I asked my mom, how do I decide? She said think about what you really want to do. I said, I want to do it all. One day I realized the only way I can do it all is by being an actor. I started acting in my mom's soap operas, but I never imagined being a comedic actor. I never thought I was funny. I was prepared to be a serious actor. I started doing comedy much later, when I was 27. That's when I learned I could make people laugh.
H: How did you discover you could make people laugh at 27?
ED: There were many years where I was always in search of a job. And I never got anything worthwhile. One day they called me for a show named "Anabel," which was a sketch comedy show. Doing the sketches I realized I was funny. They asked me to be a regular part of the cast. That's when my career began to shine. When I discovered I had the gift of comedy, prior to that I had no idea.

H: Who were your acting influences?
ED: First of all, my mother, Sylvia Derbez. She was a very well-known soap opera actress, the queen of soap operas in Mexico. She made the first soap opera in all Latin America. At the time, 90 percent of Mexican soap operas starred my mom. She was my main inspiration. In comedy, those who've influenced me the most have been Peter Sellers and Woody Allen. I like Allen because he takes chances, sometimes he makes mistakes but he takes risks and I like that. And I love Adam Sandler, Ben Stiller and now I discovered Rob (Schneider). I think our series was his best work.
H: How does the idea of creating your own projects comes about?
ED: Two things. After two years of doing "Anabel" I learned they didn't let me grow. I would tell jokes and they would censor me. They would tell me to stick to the script, even though everyone laughed. They would say to me as they say in Mexico, "No Produzcas!" I knew I had much more to offer, so I left the show. Around the same time I was already doing live shows and was having great success with a show written with a friend. It lasted around 5 years and won many awards as the best live comedy show.
Everyone went to see me from Televisa (Mexico's most important television network), including Emilio Azcaraga (the company's president) and all his people, and they loved it. Thanks to that show I met with Televisa executives
who had seen me there and presented them my first show which was "Al Derecho Y Al Derbez" and they loved the idea. They offered me the opportunity to do my own show.
H: Talk to us about your fashion style.
ED: I love fashion. I always try to dress well. Over many years I was on the worst dressed list in Mexico. You can't imagine how terrible I dressed. I would wear fluorescent colors. I could wear very bright purple pants, with purple shoes and purple suspenders and a bright yellow shirt and I would combine all those colors (laughs). It was terrible.
You can't even imagine.  Then in 97 / 98 I met a fashion designer who was my girlfriend for 6 years and she was the one who changed my style and taught me how to dress. Since then I learned how to dress and what clothing to buy!
H: She forbid you to wear yellow pants?
ED: She came into my closet and just started raiding everything, having a field day. I thank her enormously.
H: What designers do you like?
ED: It depends on the garment. I think the only one I would go with automatically, especially for suits is Hugo Boss or Armani. Besides them, a little bit of everything. From designers to non-designers, from expensive stores to not expensive stores. One can dress well even with little money.  That's what I learned from my ex-girlfriend.  You don't have to spend thousands of dollars. You just need to have good taste.
H: You've always had success with beautiful women, what advice can you give our readers on being a 'Latin Lover'?
ED: It may seem that way, but I'm somewhat shy in reality. But I'll give you some advice: The best aphrodisiac there can be is humor. A woman will always prefer to laugh than to be with a handsome man. I bet you.  The good looking guy can be okay for a while, but then becomes boring. The important thing is to have a sense of humor.
H: And finally what advice would you give someone starting in their career?
ED: Discipline. Success is a combination of many factors. I know I'm an extremist but I've never tried alcohol, never tried a cigarette, never tried drugs. I'm constantly preparing. I remember when I was 20; my friends would always go out on weekends. I would spend the time studying. Learning whatever I could; singing, dancing, film, acting. I studied everything, day and night while my friends were partying.  And I knew one day I would be having more fun than them. Fortunately now I have a beautiful career and everything is going well and I'm very happy with what I've
accomplished.  And I've accomplished it because of discipline, hard work. And I'll give you another piece of advice.
Don't ask for work. Offer work. That's the secret. For many years I would go and leave my photos and say 'Don't be mean, give me a role, you can help me…'
The day my life changed is when I discovered I could create. I could write.  When I went to Televisa I went with a script. I came to offer them a series. That's when doors finally opened for me. And it's always been like that. What I've accomplished has been because I've offered instead of asked.
Eugenio Derbez photographed exclusively for HOMBRE by John Hong
Location: Venice Beach, California
THIS ARTICLE IS WRITTEN BY