HOMBRE Exclusive: LUIS GUZMAN Steps Up in Quest to Increase 'Most Interesting Man in the World' Ranking – And You Can Too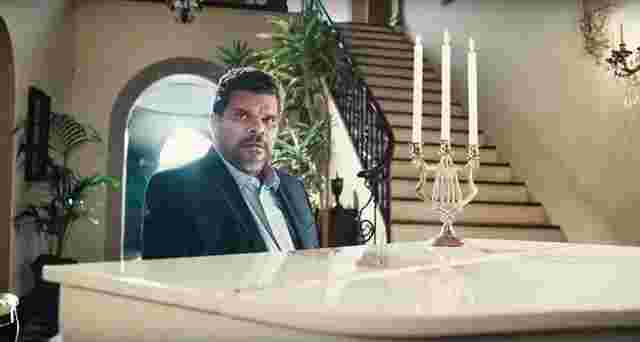 How interesting are you? Dos Equis has the answer, ranking and all. Since the departure of The Most Interesting Man in the World on a one way mission to Mars, the search is on to find a fitting replacement. To that end we meet Luis Guzman, famed Latin thespian who has appeared in some of your favorite feature films and television series.
Dos Equis has enlisted Guzman in their summer commercials as they await the announcement of their next Most Interesting Man.
Using the "Dos Equis Interesting Index," a proprietary algorithm built for the Facebook platform, the brand is sharing how interesting you are and where you rank in the world. In our exclusive interview we discover why Luis Guzman has proven to be the 8,507th Most Interesting Man in the World.
The Dos Equis Interesting Index algorithm scrubs through users' specific Facebook data to determine a "score" in four different categories: originality, thirst for knowledge, worldliness and sense of adventure, which then produces an overall worldwide ranking.
Guzmán has spent much of is career playing character roles. Lucky enough to work with some of film's best directors he is a favorite of director Steven Soderbergh, who cast him in 'Out of Sight,' 'The Limey,' and 'Traffic,' and Paul Thomas Anderson, who cast him in 'Boogie Nights,' 'Magnolia' and Punch-Drunk Love. He also voiced Ricardo Diaz in 'Grand Theft Auto: Vice City' and 'Grand Theft Auto: Vice City Stories.' He recently starred in the HBO original series 'How to Make It in America' and the Netflix series 'Narcos.' He currently stars in the CBS medical drama 'Code Black,' where he portrays senior nurse Jesse "Mama" Salander. He is also co-starring as Gooch a seasoned crew tour bus driver on Cameron Crowe's 'Roadies' a comedy-drama on Showtime.
Guzman's numerous movie credits also include 'Carlito's Way,' 'Carlito's Way: Rise to Power,' 'Welcome to Collinwood,' 'Stonewall,' and Lemony Snicket's 'A Series of Unfortunate Events.' He has also appeared on the TV shows 'Homicide: Life on the Street,' 'Frasier' and 'Oz,' and starred in the short-lived 2003 television comedy Luis.
HOMBRE: First off, Congratulations on such a long and successful career. And now here we are with Dos Equis, how do you feel about being a part of the new Dos Equis campaign?
Luis Guzman: It's an honor. When a company like Dos Equis says they want you to represent them, that's awesome. They have a great brand. I'm not mad at them for making me the 8,507 Most Interesting Man in the World, even though that's a big number, its not a big number, its more like number 2. I'm honored to be a part of the Dos Equis campaign.
H: Is it tough following on the footsteps of The Most Interesting Man in the World?
LG: Let's put it like this, he opened the doors being the Most Interesting Man and I came through the door. So he did a good job, thank you Jonathan.
H: What do you think of your ranking as the 8,507th?
LG: Listen, it could have been worse. It could have been 85,075,003. You figure there are 7.1 billion people on the planet 8,507 is not too bad.
H: What are you doing to improve that ranking?
LG: That's a very good question. I'm sending my people out there, knocking on doors, sending out tweets, instagramming, facebook, Tumbler; see if we can make a difference. But I'm happy where I am. Trust me.
H: Talking about all the social media, I know Facebook plays a big part on this campaign. IThe ranking is based on an algorithm. What do you think of that. How special is it?
LG: It's a different world now man. I think social media is so important. You get to see the pulse of how people are feeling, people's opinions, it's an incredible way of communicating or putting your stuff out there; be it music, poetry , art, your opinion. It's a way of people asking for help or stepping up and wanting to help. It's a multifaceted type of thing, social media.
H: What accounts do you have?
LG: I have twitter IamLuisGuzman, Instagram Loueyfromthehood, and Facebook Luis Guzman. I have others I don't know about.
LG: I have to ask you this, what's the most interesting thing you've ever done?
H: That's a very good question. I was in the US Marines, I think that was one of my proudest moments. 1989 that's when I joined, 1990, 1991 was Dessert Storm and for me those were the most important years in my life.
LG: I want to thank you for serving brother, that means a lot to me.
H: Thanks you. I appreciate it. Moving on how was doing 'Puertoricans in Paris'?
LG: It was very exciting. We shot that movie in 17 days. We shot it in Prague, Paris and New York. It was an idea we put together, we put this whole movie together. I'm very proud of it. Proud of the outcome of it. I just need more people to see it. It's on demand. I'm promoting it, just like I'm promoting Dos Equis.
H: Having so much success, what advice can you give to an actor wanting to be the next Luis Guzman?
LG: I can't tell you what to do to be like me because there's only one me. But I can tell you as a human being; be humble, be respectful, ask questions, appreciate the people you work with, be ready, and always remember where you come from because some day you may have to go back there.
H: Having done so many projects which stands out in your mind the most?
LG: You mean besides Dos Equis (smiles). I've had so many, 'Carlito's Way,' 'Q&A,' 'Anger Management,' 'Traffic,' 'Boogie Nights,' 'Magnolia,' 'Code Black,' 'How to make it in America'… I'm gifted.
H: What's next for you?
LG I'm just finishing 'Roadies' for Showtime with Cameron Crowe and shooting 'Code Black' for CBS and once again promoting Dos Equis, that's my job.
H how long will you be with Dos Equis?
LG: Hopefully for the next ten years cause I can work it out with my schedule, you never know. We gonna meet again.
THIS ARTICLE IS WRITTEN BY